The June Scholastic Event in Chalmette saw some high caliber play from high caliber talent. In Part I, I reviewed players that received a lot of buzz during day two of the event. In part two, I will look at players who had a good day and will probably be hearing from coaches that were in attendance very soon.
Jamaria Clark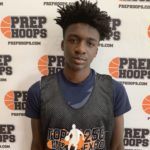 Jamaria Clark 6'2" | CG Doyline | 2023 State #227 Nation LA (Doyline | 2023 | 6'3″)
Clark showed off his shooting range on the day with a couple of dribble pull-ups from three.  One of them was from about 27 feet.  Clark also displayed how quick he can get to the rim with the dribble blowing by defenders with decisively quick bursts.  He is a wiry guard who can get from A to B quickly.  With his shooting ability as a combo guard, Clark can be an asset to any team on the next level.  
James Turner (Biloxi | 2023 | 6'0″)
Finding guards who can probe the lane and find players in tight spaces are at a premium when it comes to playing on the next level.  Turner is a guard who can do just that.  He found his way into the lane on several occasions on Sunday and was able to find cutters behind the defense using his superior passing skills.  Everything from bounce passes to lobs were used in his arsenal.  Turner displayed a nice floater game as well which made him very hard to stop during play on Sunday.  
Chris Carpenter Chris Carpenter 5'9" | PG Huntington | 2023 State LA (Huntington | 2023 | 5'9″)
Carpenter is one of the smoothest, high IQ point guards that we have in Louisiana.  His day two in Chalmette displayed those traits and a few other things in his bag.  Carpenter never lets a defender speed him up and gets to his spots using his handles.  He attacks the paint and elevates to shoot his mid-range jumper or looks to make lobs or dump down passes as he did on Sunday.  Carpenter also makes crafty plays by stealing inbound passes and timely steals.  He might be short in stature, but Carpenter has a game that is big as any guard in the Boot.  
De'Vion Lavergne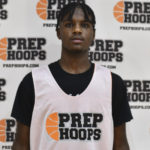 De'Vion Lavergne 6'3" | CG North Central | 2023 State LA (North Central | 2023 | 6'3″)
Lavergne picked up an extra game helping to fill out the roster of another team on Sunday.  That is how much he loves to play basketball.  He is also one of the best in Louisiana at it.  Lavergne played both ends of the floor like his life depended on it.  He defended all of the perimeter positions, scored at all three levels, and was often one of the finishers on the fast break.  His energy and competitiveness exuded throughout the whole day and displayed what type of player he was.  
Brandon Rodgers-Hardy Brandon Rodgers-Hardy 6'4" | SG Zachary | 2023 State #214 Nation LA (Zachary | 2023 | 6'3″)
Rodgers-Hardy showed how good he is as a two way player during a couple of show court games on Sunday.  Getting out in transition is one of the things he does very well and the trapping defense he and his teammates used was conducive to him doing so.  Rodgers-Hardy used his quick hands and reflexes to produce tips and deflections constantly.  In turn, he was able to show his above the rim finishing ability.  Brandon also proved he can score from the other levels of the floor and be a playmaker.  His ability to do multiple things well is big for the next level. 
Shad Levy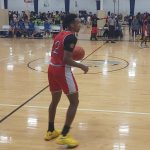 Shad Levy 6'3" | CG Dunham | 2023 State LA (Dunham | 2023 | 6'3″)
Levy spent the day making an impression on coaches and fans by how he attacked the rim.  He was not deterred by the height and length of the Mississippi defenders and found his way to the rim on several occasions.  Levy displayed how athletic he was during these downhill attacks attempting to finish above the rim or forcing the defense to block his shot.  His play in transition was very good as well and fully displayed how athletic a player he is.  
Other standout guards
Bryson Colbert Bryson Colbert 6'2" | CG Southside | 2023 State LA (Hamilton Christian | 2023 | 6'2″)
Colbert played well with some of the top players in Louisiana and also showed he could really make the jumper from downtown.
Jayce Depron Jayce Depron 6'3" | CG Madison Prep | 2024 State LA (Madison Prep | 2024 | 6'3″)
Super athletic guard who can really defend.  He plays passing lanes well and is really good in transition.  
Kam Johnson Kam Johnson 5'9" | PG Archbishop Shaw | 2023 State LA (Archbishop Shaw | 2023 | 5'9″)
Scoring point guard who can shoot it from deep.  His use of the handle to get to his spots is next level.  Better passer than given credit as well.  
Jai Johnson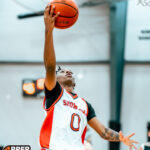 Jai Johnson 5'10" | PG Hahnville | 2023 State LA (Hahnville | 2023 | 5'10″)
Quick guard who can get to the rim maybe faster than any guard I have seen.  Very good defender as well.