New Jersey is one of the few states in the country where every conference, every county and every corner of the state is filled with players who are capable of rising to the college level. That unique depth can be found in few places outside the Garden State and is what makes it one of the hotbeds for high school hoops.
The Skyland Conference, comprised of mainly large regional schools in the northwestern portion of the state–An area that was rural by NJ standards until the last 20 years, is producing some quality talent, especially in the suburban areas of Somerset County, which have exploded with population and development.
Cameron Snowden | 6'5" | F | Franklin
The big bodied forward had a stellar junior year. A lefty who can finish in traffic easily thanks to his 220lb frame that is still maturing. He runs the floor well for a big guy, can step back and hit mid range jumpers and is comfortable with foul line jumpers. Very difficult to defend in the post. He had 23 vs Montgomery, 18 vs Notre Dame and Hunterdon Central and also chipped in 15 vs Watchung Hills. He grabbed over 100 rebounds. He plays for United NJ on the AAU circuit. He's an interesting prospect who's still growing into his body. A strong senior year should see plenty of interest from D3s in the region and his size and physicality could bring a D2 scout around to take a look.
Zion Harrison Zion Harrison 6'4" | SG Hillsborough | 2024 State NJ | 6'4" | G |Hillsborough 2024
Harrison is an athletic guard who's capable of finishing at the rim and in the mid range well. He's a tough defender and hits the boards hard. Definition of a good two way player who's got potential to continue developing. He showed flashes as a sophomore, scoring 24 vs Watchung Hills, 20 vs Princeton and 15 vs Summit and Brindgewater. He plays for the NJ Panthers during the summer and is one of the top players to watch at Skyland public schools for his class.
Matt Schwartz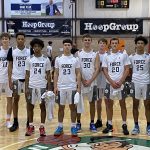 Matt Schwartz 6'3" | SG Hunterdon Central | 2024 State NJ | 6'3" | G | Hunterdon Central 2024
A lefty wing who can run the floor well, finish at the rim and hit shots from beyond the arc. At his bestin a catch-and-shoot in the corner. He was an underclass contributor on a senior heavy team, so he'll be able to show his skillset in a broader spectrum as a junior. He had 17 vs Gill St Bernards and 12 vs Immaculata, an indication of his potential.
Johnny Magner Johnny Magner 6'4" | SG Bridgewater-Raritan | 2024 State NJ | 6'4" | G | Bridgewater Raritan 2024
The 6'4" guard played a role for Bridgewater but is poised to make a name for himself this summer and into the next season. He's a matchup problem with his height and he's got a nice jump shot. He can finish at the rim. His shooting ability is his marquee.  He had 18 vs North Hunterdon and 16 vs Wardlaw and should see more production as a junior.
Players To Watch
Jake Novielli(2023) and Cam Brown(2024) Franklin