The Rocky Mountain Showcase was better than it has been in the past as many high school opted to stay in town and give the players a traveling break as many went to AZ for Section 7. This long week and weekend featured some really good programs and a few players looking to make a name for themselves with a splash of a performance. Here are a few names in this first installment of prospects that showed-out.
6'0 PG Quentin Meza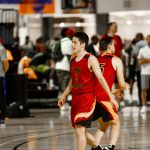 Quentin Meza 6'0" | PG Cyprus | 2023 State UT || Cyprus High School || 2023 ||
Game: COLD
Quentin has a game that is solid and complete in all aspects. In other words the kid is COLD! Always interested to see what teams will try to do to him and company defensively and it seemed like teams couldn't figure it out. Quentin could get what he wanted at will almost all week, but he passes and moves and oh, does he rebound. One of the best rebounding guards at his size. Really like how he draws the defense in and then hits them with the step-back. Watching him set up his moves and run the floor was a sight to see. He continues to prove the doubters wrong. Quentin is a Division 1 prospect. 
6'3 W Ty Christensen Ty Christensen 6'4" | CG Cedar Valley | 2023 State UT || Cedar Valley High School || 2023 ||
Game: HIGH MOTOR
This kid can do a little bit of everything as we have seen him play quite a few times in the last month or so and he is making a really good case for himself as a next level prospect. He is obviously doing what he needs to do to help his team win and that includes playing the 3 and the 4, but at the next level he will have to be a 3. He can knockdown shots and he is fast. Talk about a kid who plays fast and goes hard on every possession. He is not the only one built like that on his squad. Big time motor and effort from this prospect. 
6'5 W Micah Madry Micah Madry 6'5" | CG Hillcrest | 2023 State UT || Hillcrest High School || 2023 ||
Game: FINISHER
Micah can be a player that you put in a situation to finish games because he has such a versatile game. That smooth and now powerful lefty game is taking shape. Micah can hurt you in the post with his strength and touch. He can step outside and nail those long jumpers in rhythm. Micah is a dual sport athlete as a QB and he does see the floor well and he makes some tough passes that will be caught at the next level on the court or on the field. 
5'9 PG Carlo Mulford Carlo Mulford 5'8" | CG Herriman | 2026 State UT || Herriman High School || 2026 ||
Game: ALPHA
Sometimes a team needs a player that will demand the ball and get it to where it needs to be in order for there to be balance and this young PG in Carlo shows some of that already. You can see the qualities he brings to a team that has some talent on the roster. He is young but he has that look and demeanor and not to forget his game. He has a good handle and shot. He is one of those players that you will need to wait and see as he is just getting started. 
6'7 F/W Jaxon Johnson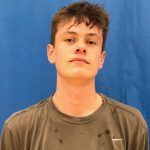 Jaxon Johnson 6'8" | SF Alta | 2024 State UT || Alta High School || 2024 ||
Game: LOCKDOWN
When really good prospects usually go head to head it is always great to see who defends who and Jaxon was not ducking anyone as he was and was willing to guard anyone as he was using his length to bother smaller guards in the perimeter. He has improved on that and he is putting it to the test as he made it difficult for a lot of talented scorers. Upside is crazy because the kid can shoot the ball from deep and many players can across the state too but not all of them are 6'7 or 6'8. Jaxon seems locked in. Will be a D1 prospect no doubt, he's a no brainer.