More showcase standouts that performed at a high level. 
6'2 PG Dravyn Gibbs-Lawhorn || 801 Elite || 2023 ||
Game: FUTURE STAR
Dra is on a different level and he was just out there having fun. In one game he might have scored 40+ and had 10 or so dunks in the game and some of them were major posters as he displayed his 5-star talent and elite athleticism. Dra will be attending Purdue next summer and he is going to be a star. He really turned some heads as soon as he hit the ground attending Montverde. This is one of the most explosive players you will see. 
6'3 PG Jordan Barnes Jordan Barnes 6'3" | PG Olympus | 2024 State UT || Olympus High School || 2024 ||
Games: DROPS DIMES
If you are looking for a floor general that drops dimes Jordan Barnes Jordan Barnes 6'3" | PG Olympus | 2024 State UT is where it is at, Jordan has an elite passing package. Jordan rebounds and his eyes immediately go up and scan the floor and e finds players pushing up the floor often and puts the ball on the money. He leads players to open areas and gets them the ball on the move. He can drive and create and kick the ball to the right players. He has a high IQ as he can figure out who is in help and expose defenses and their rotations. Jordan has a D1 game and don't get it twisted the kid can shoot the ball and score. Defensively he creates havoc and racks up steals. 
6'2 CG Hunter Schenck Hunter Schenck 6'0" | PG Weber | 2024 State UT || Weber High School || 2024 ||
Game: MONEY
Hunter has done a good job taking advantage of any platform he is in by putting p big numbers. He has an offensive game that really is mature and continues to develop as he is showcasing those mid-range turnarounds and pull-ups. He is getting pushed off the three and he simply gets passed his defender and either gets to the rim or finds that mi-range to score if he needs to. He has some high IQ plays in the pick n' roll. He is going to be a late shot clock elite scorer. 
6'5 SF Hayden Gribble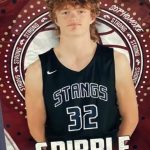 Hayden Gribble 6'5" | SF Herriman | 2024 UT || Herriman High School || 2024 ||
Game: BOUNCEY
Hayden was slightly showing some of his bounce in the layup lines like most kids that can get up above the rim. Then after the tip, he went to work moving around staying active on both end and he spaces himself well and he is ideal to have in that short corner area because he can elevate quickly and get above the rim. Hayden runs the floor well and he is finishing some difficult above the rim dunks. Look for him to get a few posters here and there this upcoming season. 
6'3 G Mason Bendinger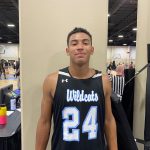 Mason Bendinger 6'3" | CG Woods Cross | 2023 State #25 Nation UT || Woods Cross High School || 2023 ||
Game: WORKER
Mason finds different ways to effect the game as he is usually doing something that effects the game, such as rebounding and getting the ball up the floor at a different level, Mason was taking these young players into the pos t and basically working them like the vet that he is. Mid-post continues to be elite as he is not just on the money with his shots he is working on different footwork variations. Mason should be one of those stat stuffing players next season in the rebounding, scoring and assist category.