GLENDALE, Ariz. – The 2022 Section Seven Showcase held at State Farm Stadium was yet again the premier scholastic live evaluation event of the summer. The set up featured 12 courts inside the NFL stadium and drew teams from multiple states, including some of the top-ranked talent in the country. I this piece we give a more detailed look at the best players we saw over the weekend with some household names and unfamiliar prospects included.
Trent Perry, 2024, Harvard-Westlake – Perry has been one of the elite jump shooters in California for the last couple of seasons, but it was great to see him add some point guard feel to his game. The 6-foot-3 guard flashed improved ball-skills and playmaking ability for teammates in both transition and half-court settings.
Tru Washington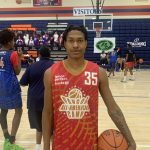 Tru Washington 6'3" | CG AZ Compass Prep | 2023 State #58 Nation AZ , 2023, Mountain Pointe (AZ) – The lefty scorer continued to raise his recruiting stock after a stellar performance at the Pangos All-American Camp. Washington, a 6-foot-3 wing, has great feel when creating his own shot off the bounce as his hesitations and balanced step-backs allow him to create space from the defender to get off a clean look. Washington is trending as one of the more intriguing scoring guards out west.
Tyler Harris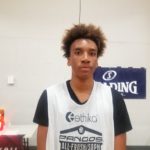 Tyler Harris 6'6" | SF Salesian Prep | 2023 State #76 Nation , 2023, Salesian – Harris stood out to us because of his positional size, ability to control the pace of a game and his high basketball IQ when creating for himself and teammates off the dribble. The 6-foot-6 guard/wing can play both on or off the ball and is a crafty finisher around the basket when slashing through the lane.
Zoom Diallo Zoom Diallo 6'5" | PG Curtis | 2024 State WA , 2024, Curtis (WA) –Diallo is a 6-foot-4 power guard who really has a knack for scoring in the lane. He uses his combination of strength and speed to bully defenders and get into the lane where he can finish with either hand and through contact. Diallo is a guard who plays off of two feet in the painted area, has great feel and court awareness when pivoting and knows how to use the backboard to his advantage when scoring inside.