June 16-19 I attended the Section-7 tournament at the State Farm Stadium in Glendale, AZ. 
I didn't watch every Arizona team from the state, but I saw a good number of standouts.
Here are 56 players that caught my eye. We have seven reports with Small School Gems, Newcomers, Sleepers and the 2023-2026 standouts.
We move over to the Sleepers:
Marcus Heatherly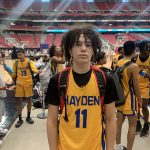 Marcus Heatherly 6'4" | SG Carl Hayden | 2023 State AZ Carl Hayden 
A transfer from Sunnyslope is getting his time to shine. He has good size and skill. He has a pure shooting stroke from the three point line and uses the floater well. He plays a cerebral brand of ball and is a sneaky good passer. He will be a huge addition to the Falcons. 
Marsai Mason Marsai Mason 6'6" | PF Phhoenix Prep | 2024 State AZ Mountain Pointe
A long power forward does a lot of the dirty work for the Pride. He uses his unusual length and athleticism to rebound at a high level and block shots. He alters many shots near him and he will score it around the rim consistently. He is a fluid athlete who also defends well in space.  
Camren Houser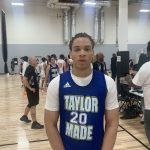 Camren Houser 6'1" | SG Estrella Foothills | 2024 State AZ Estrella Foothills 
A scoring guard with a physical brand of ball. He has long arms and plays the passing lanes well plus is a good rebounder for position. He is a sneaky good passer and loves getting downhill and scoring through contact.  
Wyatt MacKay Wyatt MacKay 6'3" | SF North Canyon | 2024 State AZ North Canyon 
A high energy wing forward with a live body. He likes playing inside and scoring after he corrals a rebound, but he is becoming an improved shooter. He can make the three point shot or hit from mid-range. He runs the court well and grabs out of area boards and makes many hustle plays during a game. 
Gage Galbreath Gage Galbreath 6'3" | PF Centennial | 2024 State AZ Centennial 
A physical forward with a thicker frame. He is a super productive inside and out threat to score it around the hoop or step out to the perimeter. Him and Emery are forming a tough tandem. He may be undersized but has the length to grab boards and a toughness/strength to score through contact.   
Jeremiah Hinds Jeremiah Hinds 5'10" | PG Saguaro | 2023 State AZ Saguaro 
A quick point guard is improving his offensive game. He can still thread the needle to a teammate with next level court vision and speed. He hits the three more consistently and has a polished floater game. He is now the team leader and they go as he goes. Look for him to lead the Sabercats back into the playoffs. 
Joven Allen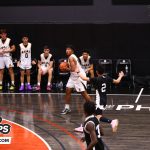 Joven Allen 6'2" | SF Desert Edge | 2023 State AZ Desert Edge (Pictured) 
Another physical power forward that brings that much needed edge to the Scorpions. He is an efficient scorer in the paint who is very aggressive. He carves out space to the basket and moves without the ball to score on layups and he will hit the open three. He rebounds with his big mitts and throws timely passes to his teammates.   
Calvin Windley Calvin Windley 6'3" | SF Peoria | 2023 State AZ Peoria
A long wing forward is a two-way player. He defends multiple position on the court from the 1-4 and the lefty can score it. He is a natural driver to the rim with a nice layup package using his long arms and some bounce. He is very good on the break and always plays with a motor for the Panthers. Him and Camacho will be a tough duo.  
Nehemiah Williams Nehemiah Williams 6'4" | SF Cactus | 2025 State AZ Cactus
A point forward type handles most of their point guard duties. He has good size and length for position. He has a thicker build and likes getting to the rim. He will make the open catch three and will defend on the ball. His passing and versatility will be intriguing to track over the next three years.