When you watch these young kids play you see a lot of kids scoring and hitting shots but then there are a few players that just have some extra pop to their game. Some of them are young and new and some are vets that continue to show these youngsters that they will not be caught. Here is a list of a few players that showed some pop yesterday at the Rocky Mountain Showcase. 
6'2 CG Hunter Schenck Hunter Schenck 6'0" | PG Weber | 2024 State UT || Weber High School || 2024 ||
While Weber has some players that can play and score Hunter is just hitting the ground a bit different these days as he has an open floor and at times it's like a blank canvas and he is out there to create. He is one of the ball handlers but he is not waiting for the ball or calling for it he gets out and runs and fills. the lane and really open things up. He has really tuned up that pull-up jumper in the mid-range and it is falling. Had himself a good one yesterday as a lot of shots were falling and when they didn't he just kept playing and he is starting to really get a better feel for the game. Looks taller, stronger and faster. Should have a solid year at the high school level. He will also be a player to watch this summer. 
6'0 PG Quentin Meza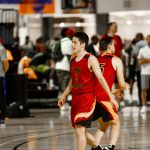 Quentin Meza 6'0" | PG Cyprus | 2023 State UT || Cyprus High School || 2023 ||
Quentin was up to his his usual self yesterday as he was stopping and popping, he was breaking players off the dribble and dropping dimes. He has this really good handoff screen pass that really gets his shooters space and good looks. Superb IQ as always but the pop came from him rising up for a dunk that he converted on a foul. It caught everyone by surprise but Quentin has really added so much to his game over the years and as he proved at Section 7, if you leave him open he's going to hurt you. Plays witha lot of passion on both ends. He is a winner and a D1 college program is going to add a winner. 
6'2 CG Zuriel Marquez Zuriel Marquez 6'2" | CG Juan Diego Catholic | 2023 State UT || 801 Elite || 2023 ||
This kid is a sleeper! He can shoot and he is has a super shifty handle. Yesterday he was on one and he was just elite as he showed how he can create separation with various moves. Had about 5 dunks and the most impressive one came off of an inbound under tha basket as he went sky high and threw one down hard. College player for sure. 
6'2 CG Parker Sneadacker Parker Sneadacker 5'2" | CG Bingham | 2026 UT || Bingham High School || 2026 ||
New kid that we saw when he was a 7th grader but he has really transformed over the past year as he is making plays and hitting shots having multiple people ask "who's that" With a little bit of size the baby face incoming freshman blended in well with the JV squad. his team was not very good but he was a highlight with a smooth pull-up and some good easy moves. Stayed active all over the floor that led to offensive rebounds/put-backs and some good crash rebounds. Bingham has some youngsters they need to play. 
6'0 G Isaiah Beh Isaiah Beh 6'0" | CG Murray | 2026 UT || Murray High School || 2026 ||
Coming from an athletic family as his oldest sister is playing at West Virginia and another sister is a D1 athlete as well Isaiah does stand out as he is still developing and although he might not be a speedster or a freak athlete he gets it done and he has fundamentals that really stand out. Murray is likely to reload quickly after the next year as they develop young talent like Isaiah. He is a player to watch at the lower levels that might come out of nowhere for some people.
6'2 Dravyn Gibbs-Lawhorn || 801 Elite || 2023 ||
When a 5-star player shows up to a random AAU tournament the kids come flocking as Dra put on an absolute show. The score didn't really matter as he was just in town to play for his dad and show the young kids what Purdue University will get the following year. Let's just say that he ended the game with 10 or so dunks. He posterized maybe three players and was hitting from the outside. He will be in town for he summer and we will likely see more of him in town. Check out his Instagram for a few of those crazy dunks.