Some of the top scorers in the state wasted no time getting buckets in the opening day of the Rocky Mountain Showcase. 
6'3 CG Mason Bendinger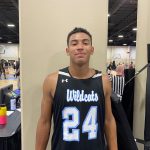 Mason Bendinger 6'3" | CG Woods Cross | 2023 State #25 Nation UT || Woods Cross High School || 2023
Bendinger is an elite scorer and showed everyone why in the first game of action on Friday. The 6'3 combo guard got buckets in a multitude of ways, as he often does when giving opposing defenses nightmares. Bendinger is comfortable setting screens and popping out for threes as well as darning them off the dribble. His strong frame allows him to shake off contact as he drives through the lane. Bendinger was also posting up on the elbow, where he got his teammates involved by dishing out dimes from the free-throw line.
6'5 CG Ike Palmer Ike Palmer 6'4" | CG Herriman | 2024 State UT || Herriman Highschool || 2024
Palmer continues to grow his offensive game as he's showed off his shot making abilities. He can hit threes and use his strong frame to score at the rim. Palmer likes to drive to the hoop but could be even more challenging for other players to guard if he posted up more. The 6'5 combo guard also showed why he runs the point for Herriman, as he can fit any pass through a tight window for an assist. Palmer doesn't panic with the ball in his hand and is willing to wait for plays to develop. 
5'10 G Jackson Clements || Northridge High School || 2024
Clements is one of the toughest guards in the state who relentlessly attacks the basket. Despite his size, Clements will go at anyone as he tries to score or get to the free-throw line. He possesses a great handle with a bevy of moves that allows him to get past defenders. Clements also does an excellent job of creating separation from taller defenders to get his shot off and can hang in the air for acrobatic finishes. 
6'0 SG Jaxson Workman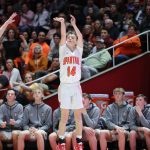 Jaxson Workman 6'0" | SG Murray | 2023 State UT || Murray High School || 2023
Workman showed why he's one of the best shooters in the state in one of the tournament's first games. The sharpshooting guard drilled triple after triple from all over the floor. Workman does a great job of working off the ball to get open and can get his feet set in a moment's notice. The 6'0 shooting guard drilled threes from deep and came off curl screens to knock more down. Workman also showed off his defensive instincts jumping passing lanes to generate turnovers and allow his teammates to shine in transition.