F Jake Hamilton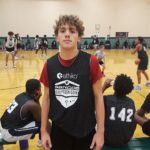 Jake Hamilton 6'3" | SG Sacred Heart Griffin | 2023 State IL , SHG, Sr
The best scorer I watched was probably Hamilton. The lefty has a very smooth stroke and found baskets all over the floor. he finished through contact and spaced out well for open shots. He also shared the rock and got his teammates involved.
G Brock Harding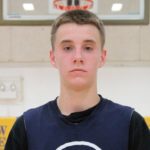 Brock Harding 6'0" | PG Moline | 2023 State #222 Nation IL , Moline, Sr
This was the first time I had ever seen Harding play, and I absolutely loved watching him. His ball-handling abilities and quickness are top-notch. But his ability to break off defenders and create space with the ball is extraordinary. He found lots of scoring chances throughout the game from all over the floor.
C Owen Freeman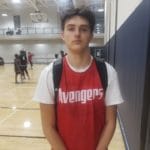 Owen Freeman 6'10" | C Moline | 2023 State #179 Nation IL , Moline, Sr
Freeman brings tons of size and athleticism and fit really well with this group. One of the biggest takeaways from the game I watched was his ability to score over numerous defenders in the paint. His spacing, footwork, and off-ball movement looked to par against Whitney Young. Opening the game with a 3 showed he can score from long range too.
G Dalen Davis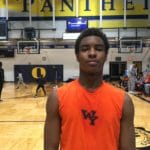 Dalen Davis 6'0" | PG Whitney Young | 2023 State #167 Nation IL , Whitney Young, Sr
The best shooting performance probably came from Davis. Against Moline, he showed a tremendous amount of confidence beyond the arc. I counted six 3-pointers in that game. He truly kept them in it with some strong defensive play too. 
G Jake Fiegen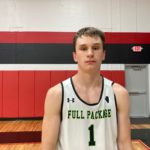 Jake Fiegen 6'3" | SG New Trier | 2023 State IL , New Trier, Sr
Fiegen was his usual self. Knocking down difficult shot after difficult shot. He converted a four point shot TWICE this afternoon. It's not too often you see that in a single game. He led all scorers against St. Rita with 26 points. 
F Morez Johnson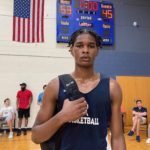 Morez Johnson 6'9" | PF St. Rita | 2024 State IL , St. Rita, Jr
Johnson came through in the clutch against New Trier. He got great length and excellent footwork when working down low. He'd back down multiple defenders at once for some difficult buckets. On defense, he created lots of problems, especially late. He slowed down guards and forced their tough shots and passes. 
G Josh Pickett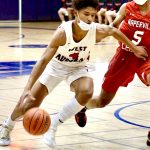 Josh Pickett 6'5" | SG West Aurora | 2024 State IL , West Aurora, Jr
Pickett has a great physique and can get it done on both ends. He displayed a ton of confidence with his shot selection and decision making with the ball. His ability to get up and down the floor also stood out. He had two very nice outing where he scored in double figures against Ridgewood and SHG
F Quentin Jones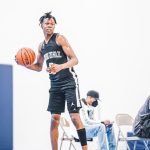 Quentin Jones 6'5" | SG Marian Catholic | 2023 State IL , Marian Catholic, Sr
I saw jones make lots of plays today. He's got a really nice midrange game, as he probably made more midrange shots than anyone else today. His size and length make him a solid athlete, and he contributed all over the floor. 
C Wesley Rubin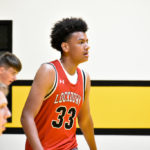 Wesley Rubin 6'7" | PF Simeon | 2023 State IL , Simeon, Sr
This kid has been throwing a block party the past couple weeks. He's got tremendous length and athleticism, and moves well in the paint.