The Ridgewood Live Event closed out on Sunday with another great slate of nine sessions of games!  There were big performances all day and we look at the storylines from day three in Ridgewood Live Event: Scotty B's Sunday Notebook!
Sobelo Worth Early Morning Eval, but St. Viator Senior Hits Game Winner
First game of the day we got there at 8 AM to check out Lane Tech 2024 small forward Shaheed Solebo Shaheed Solebo 6'4" | SF Lane Tech | 2024 State IL put on a show in the first half, but it wasn't enough as St. Viator won at the buzzer on a corner shot by Eli Aldana Eli Aldana 5'11" | PG St. Viator | 2023 State IL .  The senior guard is a fun small college prospect that can really score with his shot making from distance and creative handles.  They have a 2025 guard duo to track in Joey Hernandez Joey Hernandez 5'9" | PG St. Viator | 2025 IL and Josiah Calvin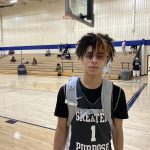 Josiah Calvin 5'10" | PG St. Viator | 2025 IL who both had solid outings in the win.
When it comes to Solebo you are looking at a left handed scoring wing that came out super aggressive trying to make a statement for the coaches that has their donuts and coffee watching him play.  Good straight line slasher and transition finisher that pushed well off the glass.  Capable shooter and solid defender who went for 18 points with most coming in the first half.  Dalton Scantlebury is a 6'6" 2025 to monitor here as he displayed solid footwork and rebounded well in his area.
Oswego East Looks Primed for Big Season in Win Over OPRF
The Oswego East squad was stellar last year and has even higher expectations for this season.  They looked the part in a 61-38 win against Oak Park River Forest.  Oswego East 2023 small forward Mekhi Lowery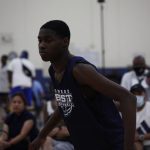 Mekhi Lowery 6'5" | SF Oswego East | 2023 State IL is a long and rangy prospect that impacts on both ends of the floor.  Opened snatching a defensive rebound and taking it coast to coast.  Rebounded well on both ends and showed a skilled game with the ball in his hands creating for himself and others.  It was also a big day for Jehvion Starwood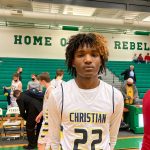 Jehvion Starwood 6'3" | SG Yorkville Christian | 2024 State IL in both of their games as the 2024 small forward is such an explosive athlete playing above the rim and he had his three point shot flowing!  At the point transfer Bryce Shoto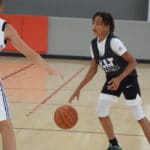 Bryce Shoto 5'4" | PG Plainfield Central | 2023 State IL gives them a rock solid option with his shifty handles and decision making to go along with a killer floater game.  Ryan Johnson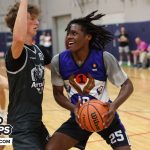 Ryan Johnson 5'11" | PG Glenbrook South | 2024 IL burst on the scene as a 6'6" 2023 prospect who shot it well and always seemed to be around the ball. 
On the OPRF side their top prospect is 2024 point guard Max Johnson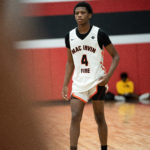 Max Johnson 5'10" | PG Oak Park River Forest | 2024 State IL .  Smooth handling lead guard that is a quality pull up three point threat.  Alex Vincent is a big to track in 2025 with his pure size and a touch on the mid-range shot. 
Peoria High Captures Win Over Proviso East
Peoria 2024 combo guard Dekwon Brown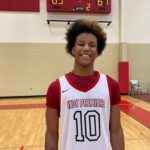 Dekwon Brown 6'3" | PG Limestone | 2024 State IL is potentially the top lead guard in the rising junior class.  Was a bit up and down in the game we saw, but there is no denying the raw talent with his burst in the open floor, shot making potential, and overall scoring package.  Eli Love was also was a big factor as the wide bodied post was excellent finishing around the hoop in this one.
Sacred Heart Griffin Goes 2-0 Including Win Over Kenwood
This was the top game of the day and was an intense matchup defending 3A state champs Sacred Heart Griffin defeated Kenwood 43-35.  Class of 2023 shooting guard Jake Hamilton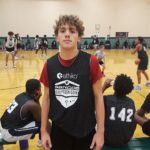 Jake Hamilton 6'3" | SG Sacred Heart Griffin | 2023 State IL was phenomenal!  He shot it well from distance especially off the catch with such an easy shot.  Also made crafty scores at the rim for 22 points.  His brother Will Hamilton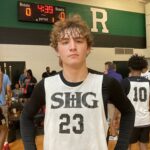 Will Hamilton 6'3" | SF Sacred Heart Griffin | 2023 State IL came up big as well with several spot up threes and using his length on the defensive end.  The other star of this team is Zack Hawkinson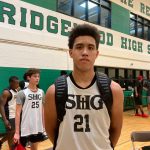 Zack Hawkinson 6'4" | PF Sacred Heart Griffin | 2023 State IL who willed them to a title back in March.  Strong bodied combo forward that uses his power around the hoop to score and board.  What we were most impressed with was his passing inside of 15 feet.
In their second game against Homewood Flossmoor it was Mr. Big Shot Keshon Singleton who hit another crazy game winner at the buzzer just like he did in Champaign for the state title.
Marian Catholic Cruises to Win Over West Aurora
It was a big weekend for Marian Catholic shooting guard Quentin Jones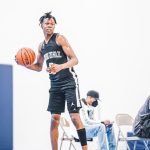 Quentin Jones 6'5" | SG Marian Catholic | 2023 State IL who saw his stock rise significantly and that continued in their 49-32 victory over West Aurora.  Jones maintained his aggressive play attacking with force and athleticism downhill while mixing in pull up threes.  He is a 2023 that a lot of coaches came away buzzing about.  Really like what James Bullock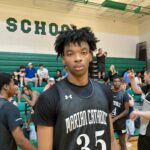 James Bullock 6'6" | PF Marian Catholic | 2024 State IL brings as a rangy forward that rim runs and defends.
We saw flashes from the West Aurora 1-2 duo of Josh Pickett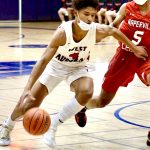 Josh Pickett 6'5" | SG West Aurora | 2024 State IL and Terrence Smith.  Pickett is a 2024 combo guard that had a great day on Saturday.  In this one he did most of his damage in the paint on runners and drives along with solid passing around the hoop.  Smith screams standout 2025 prospect.  Rangy wing that can shoot, defend, rebound, and brings big time athleticism.
Kenwood Bounces Back With Monster Performance from Star 2025 Against Homewood Flossmoor
A couple games after losing to SHG Kenwood put on a dunk party on court 3 in a 61-45 win against HF.  Elite 2025 shooting guard Bryce Heard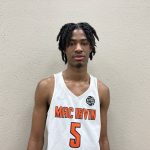 Bryce Heard 6'5" | SG Montverde | 2025 FL had it rolling in a massive performance draining three triples to begin the game and then won off the bounce at will against some solid defenders.  Another 2025 that is starting to get more recognition is Aleks Alston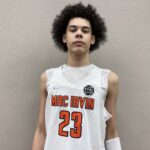 Aleks Alston 6'8" | PF Kenwood | 2025 IL .  Skilled multi positional forward that can play with the ball in his hands or in the front court.  Chris Riddle and Calvin Robins threw down some nasty dunks and got it going in the open floor.
Lee Marks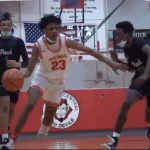 Lee Marks 6'5" | SF Homewood Flossmoor | 2024 State IL had the play of the day with a posterizing dunk for HF.  The 2023 wing showed flashes in the loss as an intriguing upside wing.  Jurrell Baldwin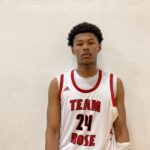 Jurrell Baldwin 6'5" | PF Homewood Flossmoor | 2024 State IL is a 2024 power forward who caught our attention during the season and looks the part with his strength and comfortability shooting it.  Vincent Davis is a 2023 rangy 6'5" wing that flashed for HF as well.
Senior Wings Tangle as Lyons Defeats De La Salle
It was a big time day for 2023 wing Nik Polonowski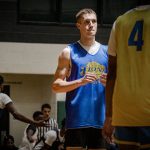 Nik Polonowski 6'6" | SF Lyons | 2023 State IL who lit up the nets all day for Lyons including in their 55-44 W against De La Salle.  Strong wing that has positional size and flat out is a big time shot maker off the catch.  Also mixed in some value in other areas but it is his shooting that coaches loved.  Jackson Niego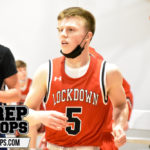 Jackson Niego 6'0" | PG Lyons | 2023 State IL ran the show at the point and hit shots when they were open.
Evan Jackson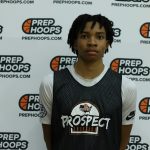 Evan Jackson 6'6" | SF De La Salle Institute | 2023 State IL was the show for De La Salle.  Long and rangy small forward has his feathery mid-range game on point rising up quickly getting great elevation over his opponents.  Was a straight bucket!
Leo 2023 Guard Drops 30 in Narrow Win Against Stevenson
Tyler Smith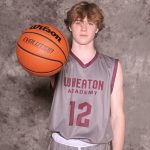 Tyler Smith 6'0" | PG Wheaton Academy | 2025 IL had a statement performance dropping 30 points in a close win against a good Stevenson squad.  He completely put his team on his back and carried them.  Scored well from all three levels.  His jumper was as good as we have seen it draining them from mid-range and three.  Slashed as well which is usually his strength where he was about to utilize his athleticism for acrobatic finishes.
On the Stevenson side 2024 forward duo Jack Dabbs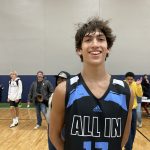 Jack Dabbs 6'5" | SF Stevenson | 2024 IL and Christian Uremovich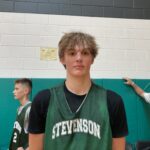 Christian Uremovich 6'5" | PF Stevenson | 2024 State IL each flashed skill with Dabbs coming from the perimeter and Uremovich doing damage on deep post moves.
Simeon Ends Event with an Exclamation Point
In the last game of the event Simeon left no doubt in a 61-16 win against De La Salle.  They got everyone in and they all shined.  Best we have seen Michael Ratliff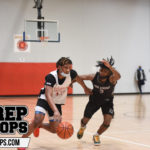 Michael Ratliff 6'2" | SG Simeon | 2023 State IL play as the 2023 role player for the Wolverines confidently knocked in a pair of jumpers, got out in transition, and was a force defensively.  Jalen Griffith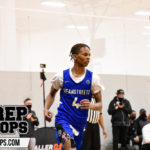 Jalen Griffith 5'10" | PG Simeon | 2023 State IL did a nice job getting everyone the ball in their spots pushing, throwing lobs, hitting shooters all while getting his points in the paint on layups and floaters.  Transfer wing duo Sam Lewis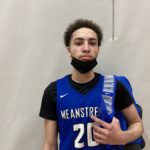 Sam Lewis 6'5" | SF Simeon | 2023 State #219 Nation IL and Kaiden Space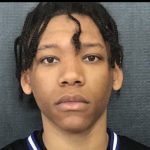 Kaiden Space 6'2" | SG St. Rita | 2023 State IL also had their moments.  Lewis showed burst getting to the rim and Space was a monster defensively shutting down the perimeter scoring of DLS.  Two under the radar 2024 prospects that casual fans don't know about are Richard Lindsey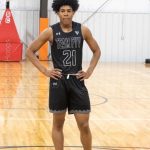 Richard Lindsey 6'5" | SG Simeon | 2024 State IL and Ameer Morrow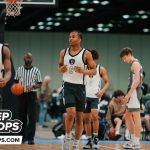 Ameer Morrow 6'5" | PF Simeon | 2024 State IL .  Lindsey is a skilled wing that can score from multiple levels.  Morrow is a bouncy four that lives on the offensive glass and plays off his athleticism.  Each are going to be key reserves as the season goes along.