The Ridgewood Live Event continued on Saturday with a full day of games from 8 AM until 10 PM.  We look at the best from the day in Ridgewood Live Event: Scotty B's Saturday Notebook!
Evanston Impresses with Youth and Transfers
Really liked what we saw out of Evanston in a dominant early morning performance.  A pair of transfers are going to ignite this squad.  Hunter Duncan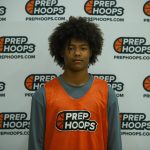 Hunter Duncan 6'0" | PG Evanston | 2023 State IL coming over from St. Viator as a pass first lead guard that drained pull up threes and dropped dimes.  Joshua Thomas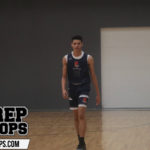 Joshua Thomas 6'5" | SF Evanston | 2023 State IL from Stevenson presents size and shot making.  Their top prospect is 2023 power forward Prince Adams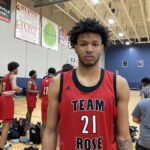 Prince Adams 6'5" | PF Evanston | 2023 State IL .  Strong body with good mobility.  Rim runner and lob threat.  Yaris Irby Yaris Irby 5'9" | PG Evanston | 2025 IL brings the youth as a 2025 point guard that pushes the tempo with his quickness.
Drew Scharnowski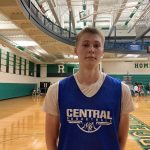 Drew Scharnowski 6'7" | PF Burlington Central | 2023 State IL Brings In Coaches
We caught back to back games from Burlington Central Catholic and their 2023 big man Drew Scharnowski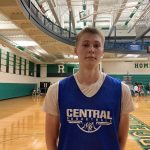 Drew Scharnowski 6'7" | PF Burlington Central | 2023 State IL .  Face up four that has good length and a thin frame.  Showed flashes of upside with pull up jumpers, athletic finishes above the rim, and running the floor.  He had a ton of college coaches checking him out after a week of reeling in offers.
Brother Rice Senior Wing Leads Way in Win Over Kenwood
Catholic League power Brother Rice topped Public League power Kenwood 52-48 who was without Ames this weekend.  Rising senior Khalil Ross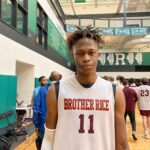 Khalil Ross 6'6" | SF Lincoln Way East | 2023 State IL played some of the best basketball we have seen in his career.  The long and lanky small forward used his quickness, straight line drives, and transition scoring for a big outing.  Ahmad Henderson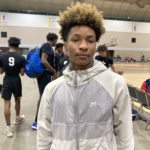 Ahmad Henderson 5'10" | PG Brother Rice | 2023 State #310 Nation IL had his moments shaking defenders off the bounce and Tre Dowdell Tre Dowdell 6'1" | PG Brother Rice | 2024 IL made shots from the perimeter.
Class of 2025 shooting guard Bryce Heard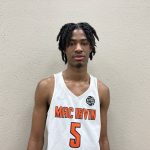 Bryce Heard 6'5" | SG Montverde | 2025 IL played quite a bit on the ball.  Looked smooth with his effortless shooting stroke from mid-range and hit a three as well.  Solid defender and mixed in some passing.  Kenwood incoming transfer Chris Riddle has all the looks of a top 10 prospect in his return to the state.  Physical around the hoop where the 2024 small forward finished with athleticism on slashes.  Underrated skill level including his passing.
Simeon Primed for Run At Title Behind Six Seniors
The Wolverines look the part of a state title team.  They did last year coming up just short and have reloaded again!  This team starts with the twin towers of Miles Rubin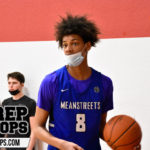 Miles Rubin 6'7" | PF Simeon | 2023 State #276 Nation IL and Wesley Rubin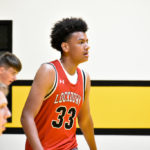 Wesley Rubin 6'7" | PF Simeon | 2023 State IL .  Miles is an explosive finisher that had it rolling with hook shots, rim runs, and dunks.  Wes can really pass it at an elite level.  Jalen Griffith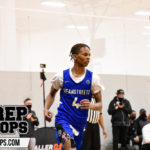 Jalen Griffith 5'10" | PG Simeon | 2023 State IL is a lead guard that makes everything go with his passing and float game.  Their x-factor as a returner is Michael Ratliff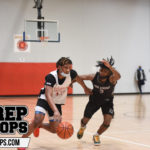 Michael Ratliff 6'2" | SG Simeon | 2023 State IL who defends and does all the little things.
The two transfer wings that they needed came in the form of top 25 rising senior duo Sam Lewis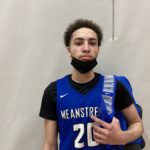 Sam Lewis 6'5" | SF Simeon | 2023 State #219 Nation IL and Kaiden Space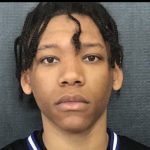 Kaiden Space 6'2" | SG St. Rita | 2023 State IL .  Lewis and Space bring shot making, strength, transition scoring, and a ton of experience.
Shooting and Size for Rolling Meadows
Without Christie we were able to focus on his supporting cast for Rolling Meadows which is stacked with college prospects.  Class of 2025 guard Jack Duffer once again drained a ton of threes.  Point-center Mark Nikolich-Wilson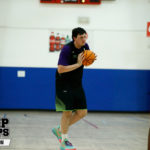 Mark Nikolich-Wilson 6'5" | C Rolling Meadows | 2023 State IL is such a high level distributor and skilled five.  Foster Ogbonna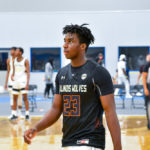 Foster Ogbonna 6'5" | PF Rolling Meadows | 2023 State IL is a strong bodied four that shoots it well.  Potential top 10 2025 Ian Miletic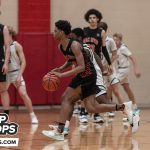 Ian Miletic 6'5" | SF Rolling Meadows | 2025 IL knocked down shots from distance.
Rich is the Star But East St. Louis Has Depth
East St. Louis 2023 small forward Macaleab Rich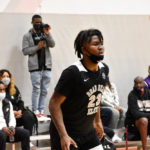 Macaleab Rich 6'4" | SF East St. Louis | 2023 State IL is such an explosive wing.  He played bully ball on straight takes powering over opponents like defensive backs.  Also showed off his athleticism swatting shots and rebounding.  Did hit a three.  The Flyers are more than just Rich.  Starts with Damarion Brown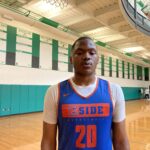 Damarion Brown 6'7" | C East St. Louis | 2023 State IL inside who is a throwback five that is a good finisher and area rebounder.  They have a ton of wing depth including Robert McCline Robert McCline 6'0" | SG East St. Louis | 2024 State IL , Terrell Scott, and Antwan Robinson to name just a couple.
Pickett Has Dominant Showing for West Aurora
Every time I looked over to the court next to me West Aurora 2024 combo guard Josh Pickett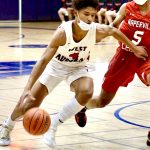 Josh Pickett 6'5" | SG West Aurora | 2024 State IL was scoring.  Broad shouldered guard that attacks downhill with force along with athleticism to finish in a variety of ways.  Sound shooter and brings value playing both on and off the ball.
Moline Tops Whitney Young in Game of the Summer
No doubt about it this was the top game of the day as Moline defeated Whitney Young in a 70-62 thriller which saw four of the state's top nine 2023 prospects.  Five man Owen Freeman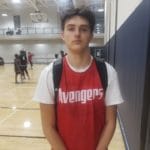 Owen Freeman 6'10" | C Moline | 2023 State #172 Nation IL is a commitment to Iowa that was totally dominant on the interior.  Seals for dunks, power moves on the block, plus passer, and rebounded at a super high level.  He had 20 points in the win.  Brock Harding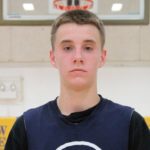 Brock Harding 6'0" | PG Moline | 2023 State IL got an Iowa offer and didn't take any time to wait before committing earlier in the week.  Harding had the ball on a string getting to the rim at will where he made creative layups on the regular looking like Kyrie changing gears and getting the ball up on the rim.  He had 17 points.  Grant Welch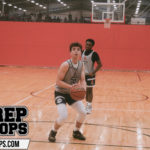 Grant Welch 6'1" | PG Moline | 2023 State IL brought perimeter shooting nailing three triples in the win.
Dalen Davis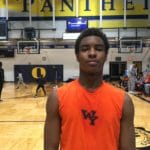 Dalen Davis 6'0" | PG Whitney Young | 2023 State #235 Nation IL also had his A game on Saturday.  He dropped 22 points including six triples with many of them coming of the pull up variety.  The Dolphins lead guard and top 5 prospect in the rising senior class was feeling it for sure!  Daniel Johnson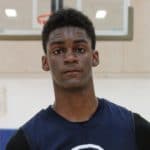 Daniel Johnson 6'6" | SF Whitney Young | 2023 State #212 Nation IL stepped up in the second half finishing with 14 points as the wing hit a few nice mid-range shots.  Marcus Pigram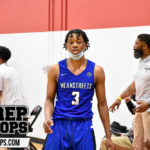 Marcus Pigram 6'3" | PG Whitney Young | 2023 State IL is a strong guard that finished consistently in the paint for 11 points.
Benet Routs Moline in Turnaround Game
The very next game Moline had a tough back to back as after they put everything into an emotional win.  Then they had to face an outstanding Benet squad.  Benet ran over them as they just didn't have the intensity as they did in the first game.  Credit Benet though as they were excellent.  Their leader Nikola Abusara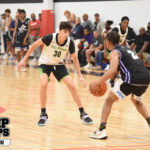 Nikola Abusara 6'5" | SF Benet | 2023 State IL defended all over the floor and played above the rim.  One of the more under recruited wings in the senior class.  Brady Kunka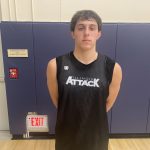 Brady Kunka 6'3" | SG Benet | 2023 State IL is a strong bodied guard that boards and made shots.  Liked what Brayden Fagbemi brought to the table as the senior point guard seemed to make key plays one after another.
Lake Forest Tops Hillcrest as 2023 Stars Clash
Fun low scoring game here as Lake Forest knocked off a loaded Hillcrest squad 41-38.  Everyone knows Asa Thomas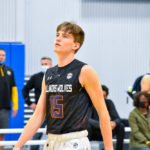 Asa Thomas 6'6" | SF Lake Forest | 2023 State #98 Nation IL is the star for Lake Forest.  Excellent size and had to fight for everything he got against the pressure defense and length of Hillcrest.  Got to the rim several times along with trips to the line.  He hit a couple of threes as well in the win.  Tommy Aberle was excellent as the crafty lead guard who finished around the hoop and dished to his teammates including Thomas.
Darrion Baker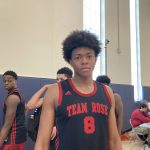 Darrion Baker 6'8" | PF Hillcrest | 2023 State IL got pushed up to #14 in our most recent ranking and it might not have been high enough.  The 2023 power forward defended all over the floor and snatched rebounds in traffic at a super high rate.  Explosive finisher that had several big dunks.  Matthew Moore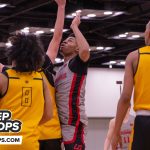 Matthew Moore 6'7" | PF Joliet West | 2023 State IL is the other high flyer on their front line.  Bouncy offensive rebounder and shows flashes as a three point shooter.  Bryce Tillery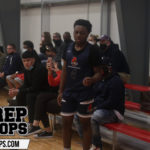 Bryce Tillery 5'10" | PG Hillcrest | 2023 State IL had his moments as well as a spark plug guard that pushes in the open floor, nails floaters, and hits some key shots.
St. Rita Holds On Despite Romeoville Comeback
Fun late night game here as St. Rita scored a 57-53 win over Romeoville.  Illini commit Morez Johnson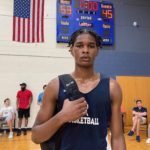 Morez Johnson 6'9" | PF St. Rita | 2024 State IL crashed the offensive glass for an array of put backs and was an absolute monster around the hoop garnering deep post position on the regular.  Right handed hook shots and mid-range jumpers.  After a slow start his fellow 2024 super star Nojus Indrusaitis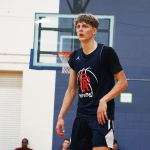 Nojus Indrusaitis 6'4" | SG St. Rita | 2024 State IL got hot fast!  Hit several threes and got out in transition for scores.  Showed some of his explosive burst off the bounce in an 18 point outing.
Romeoville gave it everything they had in a comeback attempt that was sparked by their 2023 star Troy Cicero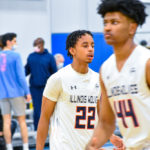 Troy Cicero 6'2" | PG Romeoville | 2023 State IL .  It started with his defense getting turnovers and taking them the other way for buckets.  His backcourt mate Meyoh Swansey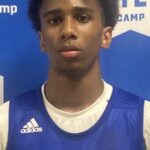 Meyoh Swansey 6'2" | SG Romeoville | 2024 State IL is a 2024 combo guard was on point with his pull up shooting from mid-range and three.  Aaron Brown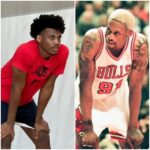 Aaron Brown 6'5" | PF Romeoville | 2023 State IL is a transfer forward that is the perfect x-factor guy for this squad who runs the floor and scored well from 15 feet and in.
Mosby Stands Out in Night Cap
Pays to stay until the end!  We were the last ones out of the gym and that was to see Perspectives against Carmel.  Perspectives transfer 6'7" 2024 power forward Kenric Mosby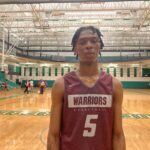 Kenric Mosby 6'7" | C Perspectives | 2024 State IL caught our attention.  He has a long and lanky frame while looking super comfortable shooting it from mid-range, throwing down monster dunks, and swatting shots.  Even made several nice passes in their win.  Expect a big year out of Mosby!
Quick Hitters
Riverside Brookfield 2023 Arius Alijosius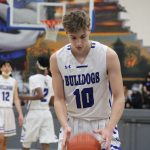 Arius Alijosius 6'4" | SG Riverside Brookfield | 2023 State IL lit up the nets for a second consecutive day!  The lefty flame thrower drained an array of threes mixing in several slick takes.
Loyola 2023 guard Alex Engro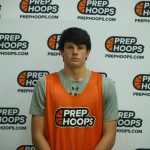 Alex Engro 6'2" | SG Loyola Academy | 2023 State IL is a strong guard that was in attack mode getting downhill.  Should be a nice find at the small college level.
Champaign Central 2025 Chris Bush caught our eye with his upside.  The 6'5" four man has a clean jumper and bounce.
Marian Catholic 2023 shooting guard Quentin Jones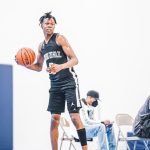 Quentin Jones 6'5" | SG Marian Catholic | 2023 State IL landed a pair of offers after a day where he had a big time showing.  Strong and athletic rising senior wing that sliced and diced his way to the rim for buckets.
Sacred Heart Griffin 2023 Jake Hamilton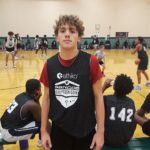 Jake Hamilton 6'3" | SG Sacred Heart Griffin | 2023 State IL saw his stock rise as a junior leading his team to a state championship.  On Saturday he was at it again with his crafty scoring game off the bounce and bombing in threes.
DePaul Prep 2024 Jaylan McElroy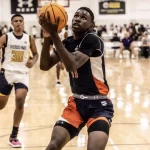 Jaylan McElroy 6'7" | PF DePaul Prep | 2024 State IL made an impression again with his athleticism up front.  The rising junior four man rebounds in traffic, swats shots, rim runs, and has potential as a jump shooter from 15-18 feet.
St. Ignatius 2023 wing Richard Barron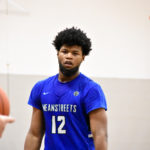 Richard Barron 6'5" | SF St. Ignatius | 2023 State IL took over late to get his team into overtime.  Strong bodied rising senior had it rolling late going right at a defense that physically had no answer for him.  Then he also hit two clutch threes and secured the rebound in traffic that sent the game to OT.