The Ridgewood Live Event began on Friday with a great day of games.  We dive into the events of the day with what caught our attention in Ridgewood Live Event: Scotty B's Friday Notebook!
Loyola Looks Impressive in W Over Bolingbrook
In the first game we saw Loyola score a 49-39 victory over a really talented Bolingbrook squad.  Like always Loyola is well coached, plays good defense, and shoots it.  A lot of drive and kick opportunities.  Miles Boland is a 2024 prospect that put his name on our radar as the 6'3" two guard shot it very well from deep along with using his athleticism at the rim and crisp pull ups.  Alex Angro is a 2023 combo guard that was in attack mode as he got downhill for a nice scoring outing using his strength inside.  Andrew Hollerich also chipped in with some quality perimeter shooting.
Bolingbrook's new transfer Aries Hull made his return to Illinois and debut with The Brook.  Like what the 6'8" post brings to the table as a fluid athlete running the floor with a projectable frame.  Flashed some offensive potential including a drop step for and-1 along with a jump hook.  Rebounded very well defensively.  DJ Starr was a new name in the 2024 class that caught our attention with his three point shooting and passing at 5'9".
Riverside Brookfield 1-2 Wing Combo Shine
RB has a fun squad to watch!  Their 2023 shooting guard Arius Alijosius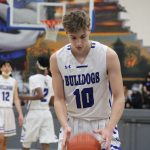 Arius Alijosius 6'4" | SG Riverside Brookfield | 2023 State IL was lights out from the perimeter with his sniper lefty stroke.  Good size on the perimeter that gets a ton of elevation off the floor.  Picked up his first D2 offer on Friday and we expect more to jump in.  Will Gonzalez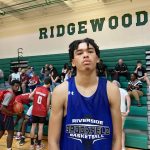 Will Gonzalez 6'4" | SF Riverside Brookfield | 2024 State IL is a new age point-forward that can really pass it at his size along with being able to create off the dribble.  Also hit a three showing solid mechanics.  Defends across the board.
Marist Has Next with 2026 Duo
I got my first look at the Marist incoming freshman class.  Marist 6'8" post Stephen Brown passed the eye test with his height, frame, and athleticism.  He looked comfortable on the big stage knocking in shots, hitting the glass, and playing hard.  His running mate at the point Adoni Vassilakis is a lefty that can really shoot it off the catch.
2025 Posts Emerge in Matchup between Bradley Bourbonnais and Conant
Wanted to check out a 2025 big man that I had heard about from Bradley Bourbonnais and came away with yet another name in that class as well.  Conant defeated Bradley Bourbonnais 45-41.  For Conant 2025 power forward Bradley Biedke emerged at 6'6" with a face up game where he puts it on the deck and boards well.  The other Conant prospect that played well was Yusuf Cisse who brought it on both ends as an athletic slashing guard.
We came away super impressed in our first look at Bradley Bourbonnais 6'9" center Nick Allen.  He displayed excellent footwork on the block with fluid combination moves.  Swatted shots and played above the rim offensively.  Super bright future here!
DePaul Comes Back in Low Scoring Game Over Springfield Lanphier
These two squads were without their marquee players.  Lanphier's Tevonta Jackson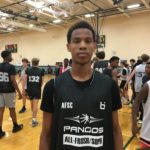 Tevonta Jackson 6'1" | PG Springfield Lanphier | 2023 IA is apparently on the move out of state.  DePaul Prep's Payton Kamin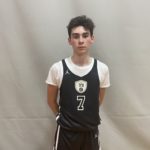 Payton Kamin 6'6" | SG DePaul Prep | 2024 State IL was sidelined for the game.  It was a low scoring contest and DePaul Prep really struggled to score until a late run got them into OT where the would eventually win.  Class of 2024 power forward Jaylan McElroy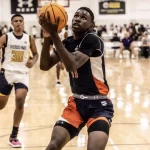 Jaylan McElroy 6'7" | PF DePaul Prep | 2024 State IL is a big man that is going to make a move up the board in our next 2024 update.  Angular four that rim runs, can handle in the open floor, and plays both ends.  Incoming transfer Robert Walls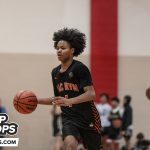 Robert Walls 5'11" | PG Kenwood | 2025 IL made some key plays late in their contest and is a 2025 to keep an eye on.
Shaunasseey Hatchett is a 2025 that emerged with his length defending all over the floor and displaying offensive potential for Lanphier.  A Robinson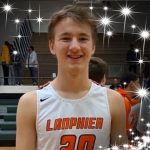 A Robinson 6'6" | PF Springfield Lanphier | 2023 IL is going to be a nice find for a small college in the 2023 class looking for a tough rebounding post that does the dirty work in the paint.
St. Rita Big 3 Lead the Way over Yorkville Christian
The new Big 3 of Chicago basketball went 2-0 on the day.  We saw St. Rita's blowout win over Yorkville Christian.  Top 2024 James Brown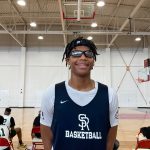 James Brown 6'9" | C St. Rita | 2024 State IL was dominant as the 6'9" five man had the host of high-major coaches in awe with his skill.  Euro steps in transition, put backs, spin moves, and his overall skill is just incredible.  Illini commit Morez Johnson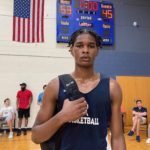 Morez Johnson 6'9" | PF St. Rita | 2024 State IL was a force on the glass all day with his rebounding on both ends snatching them in traffic.  Also was mobile on the defensive end and threw down dunks.  Nojus Indrusaitis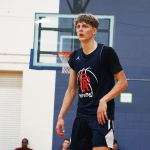 Nojus Indrusaitis 6'4" | SG St. Rita | 2024 State IL is still finding his way as his three ball wasn't falling but the state's #3 2024 prospectwas outstanding with his passing all day long.  He has star written all over him!  Nashawn Holmes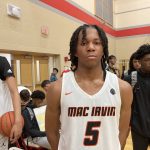 Nashawn Holmes 6'2" | SG St. Rita | 2023 State IL is a perfect addition to this squad.  The 2023 transfer from Homewood Flossmoor brings toughness and shot making along with a senior leader that will defend.
Yorkville Christian isn't quite what they were last year.  Class of 2023 shooting guard David Douglas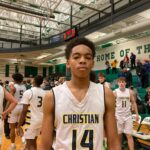 David Douglas 6'5" | SG Yorkville Christian | 2023 State IL continues to impress however.  Lengthy wing that can really shoot it rising up with such ease.  Should be on the D2 radar.
New Trier Vet and Young Gun Combine for Win
We saw the second half of New Trier's win.  They were up a significant amount at the half, but we got to see a few noteworthy things.  Sharp shooter 2023 Jake Fiegen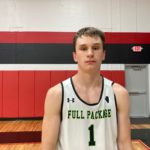 Jake Fiegen 6'3" | SG New Trier | 2023 State IL made a pair of outstanding plays saving the ball from out of bounds then hustling to follow up his teammates miss.  The next play he got another steal and threw it on the money all the way down the floor for an assist.  More than just a shooter!  Colby Smith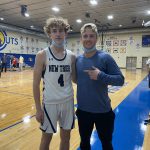 Colby Smith 6'2" | PG New Trier | 2025 IL is a point guard in 2025 class that has nice size and excellent feel for passing in the half court.  He will be their next star.
Gill Breaks Out in St. Ignatius Win over Rich Township in Clash of Young Guards
There was a lot of talent on the floor in this game, but two young guards stole the show!  St. Ignatius took home the win in overtime behind 16 points from Phoenix Gill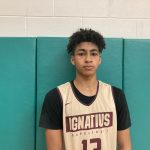 Phoenix Gill 6'1" | PG St. Ignatius | 2025 IL the son of Kendall Gill.  He has the look of a top 10 2025 prospect.  Long and lanky build with a smooth handle getting wherever he needed on the floor.  Hit a three, recorded a put back, and got out in transition.  Projects as a plus defender as well.  Their star 2023 Richard Barron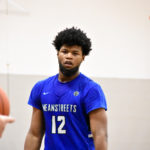 Richard Barron 6'5" | SF St. Ignatius | 2023 State IL started off hot banging in a pair of threes before being quiet for a stretch until making some key plays late.  Owen Kyhl Owen Kyhl 6'2" | SG Saint Ignatius | 2023 IL emerged with his shot making at 6'1" including hitting a huge shot at the end of the game.
Rich Township 2026 point guard Jamson Coulter is a 6'2" prospect that can flat out score it.  Hit several threes and the lefty was also fearless attacking straight off the bounce.  Ray Austin was a rising senior who helped himself in the eyes of small colleges with a strong shooting performance.
Whitney Young Vets Shine as Top 5 Sophomores Battle
There were several storylines in this game as Whitney Young defeated Joliet West in a competitive contest.  Let's start with the 2023 stars for Whitney Young.  Dalen Davis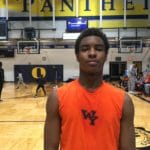 Dalen Davis 6'0" | PG Whitney Young | 2023 State #235 Nation IL drained an array of pull up threes, got to the line, and was a crisp passer in the half court.  Lived up to his top 5 status.  Three and D top 10 2023 wing Daniel Johnson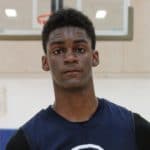 Daniel Johnson 6'6" | SF Whitney Young | 2023 State #212 Nation IL hit three from distance along with mixing in drives and transition finishes for 18 points.  Antonio Munoz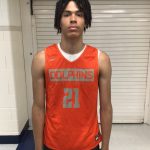 Antonio Munoz 6'6" | SF Whitney Young | 2025 IL is the Dolphins next big time prospect in the 2025 class.  Excellent size and athleticism which was shown on several big dunks.
He is battling for positioning in the 2025 rankings with Joliet West point guard Jeremiah Fears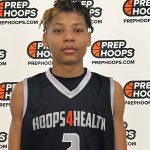 Jeremiah Fears 5'11" | PG Joliet West | 2025 IL .  Such an electric point guard that has it on a string.  Shook his defenders and made several nice dishes.  Class of 2024 combo guard Justus McNair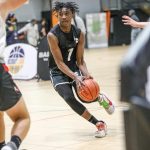 Justus McNair 6'1" | SG Joliet West | 2024 State IL is a major sleeper.  Plus shooter that has some creativity.
Curie Inside-Outside Tandem Bring Toughness
Curie closed out the night showing they are ready for another run in the CPS.  Class of 2023 power forward Chikasi Ofoma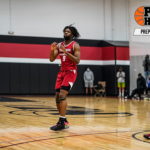 Chikasi Ofoma 6'6" | PF Curie | 2023 State IL brings strength, motor, and bounce at the rim.  Finished with force, rebounded, and even hit a three.  On the perimeter Carlos Harris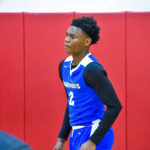 Carlos Harris 6'1" | PG Curie | 2024 State IL is a downhill attacking 2024 combo guard that gets to the rim with consistency.
Quick Ritters
First thing is first.  It is now Jakob Blakeky.  The Larkin 2024 guard has also gone by Andre during his career, but he wants to go by Jakob officially now.  The scoring guard is a straight bucket.  He struggled in the second game, but in their first game he got in the lane at will and scored from all three levels.
Rolling Meadows 2025 point guard Jack Duffer put his name on our radar by hitting a ton of catch and shoot threes.
Glenbrook North 2023 shooting guard Ryan Cohen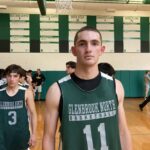 Ryan Cohen 6'3" | SG Glenbrook North | 2023 State IL led his squad to a 51-27 win over Larkin.  Strong bodied wing that can really shoot it from deep.  Was a plus catch and shoot threat that relocated well to get open.