The Ridgewood Live Event was stacked with most of the top rising seniors in the state of Illinois.  Here we examine the best of the best in Ridgewood Live Event: Scotty B's 2023 Top Performers Pt 2!
Jake Hamilton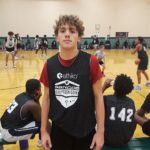 Jake Hamilton 6'3" | SG Sacred Heart Griffin | 2023 State IL (Sacred Heart Griffin)
Hamilton helped lead his team to a 3A state title back in March.  He had it rolling against Kenwood over the weekend.  The lefty shooting guard has good length and is such a high level shot maker off the catch with an effortless spot up shot.  Also was an efficient finisher with crafty layups around the hoop and cuts very well off the ball to get open both for jumpers and toward the hoop for layups.
Owen Freeman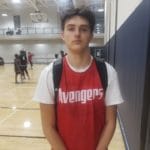 Owen Freeman 6'10" | C Moline | 2023 State #179 Nation IL (Moline)
The Iowa Hawkeyes commit is the top big man in the senior class and he certainly played like it over the weekend.  The 6'10" five man was a force for Moline in their game against Whitney Young going for 20 points in the win.  He is more of a traditional big with a nice mix of new age skills as well.  Seals, dunks, power moves on the block, and draws fouls on post ups.  Plus passer out of the post, can hit a spot up three, and is able to handle it a little coming off the defensive glass.  Was one of the best rebounders we saw all weekend.
Brock Harding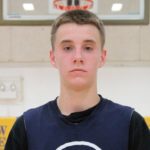 Brock Harding 6'0" | PG Moline | 2023 State #222 Nation IL (Moline)
Harding is Freeman's new teammate both for this year and going forward as he also committed to Iowa.  Love how much pace he plays with changing gears on a dime better than any guard we have seen in recent years.  He is a magician finishing with how well he gets the ball up on the rim for layups before defenders can get to it.  Didn't shoot it particularly well, but didn't really need to as he was effective with his dribble drive game and dishing.
Darrion Baker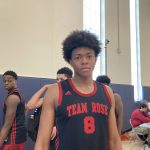 Darrion Baker 6'8" | PF Hillcrest | 2023 State #227 Nation IL (Hillcrest)
Baker was really good and caught the eye of quite a few college coaches with how he impacted the game on both ends of the floor.  Offensively he has slimmed down some which has improved his athletic pop finishing and being able to play some facing up.  Explosive finisher on spin moves and put backs.  Snatched rebounds really well in traffic like they were his and his alone.  Defensively we saw him guard all over the floor including shots at our next top performer in Asa Thomas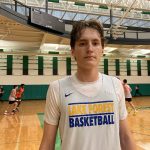 Asa Thomas 6'6" | SF Lake Forest | 2023 State #91 Nation IL where he held his own.
Asa Thomas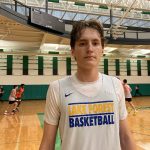 Asa Thomas 6'6" | SF Lake Forest | 2023 State #91 Nation IL (Lake Forest)
This Lake Forest wing has excellent size on the perimeter.  That is what first stands out about the #2 prospect in the state.  He has a clean looking shot that was a bit streaky at times, but when he was on they were raining down.  Mixed in some drives and was able to get to the foul line to create some easy points for his team.  Helped lead his squad to a big win over Hillcrest.
Mekhi Lowery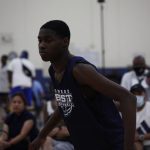 Mekhi Lowery 6'5" | SF Oswego East | 2023 State IL (Oswego East)
Lowery is a long and rangy small forward that covers so much ground with his length and lateral quickness on the defensive end.  Came away really impressed with how well he rebounded on both ends.  Whether it was taking it off the defensive glass and pushing or using his explosive second jump for put backs.  Very good defender, rebounder, and skilled passer.  Slashing to the rim is what he is best at as a scorer at this stage.
Evan Jackson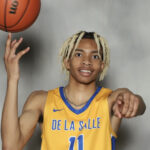 Evan Jackson 6'7" | SF De La Salle Institute | 2023 State IL (De La Salle)
Jackson is another projectable small forward that had his mid-range game going against Lyons.  He got to his spots with regularity rising up over defenders with great elevation knocking in shots.  Plus athlete that is one to track especially if he consistently shoots that well.
Nik Polonowski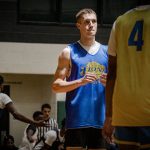 Nik Polonowski 6'6" | SF Lyons | 2023 State IL (Lyons)
Someone who shot it really well was Polonowski.  The small forward from Lyons was lights out from the arc against Simeon.  Plus catch and shoot threat who has quality size on the perimeter.  Strong frame that can do some gritty things around the hoop and contribute on the glass.
Tyler Smith
Tyler Smith 6'1" | PG Wheaton Academy | 2025 IL (Leo)
Smith put on a show in one of the last games of the event for Leo.  The shooting guard scored effectively from all three levels at a super-efficient rate.  Known as more of a slashing combo he got to the rim with acrobatic finishes, but it was really his ability to knock down pull up twos and threes at an insane percentage that was noticeable in a 30 point performance.