Who are the top 10 college prospects in the state of Wisconsin? Prep Hoops updates our current rankings…
1. Kai Rogers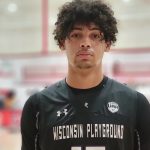 Kai Rogers 6'10" | C Wauwatosa West | 2025 State WI – 2025 – Center –  Wauwatosa West
Offers: N/A
They don't make them quite like Rogers. The rising sophomore is a 6-foot-10 center with a wide frame and nimble feet. He can dominate a game around the rim on both ends of the floor. His size is certainly a big reason why Rogers tops this list, but not the entire reason. He's got some decent skill with his back to the basket, can get up and down the floor, and is trying to improve his outside shot as well.
Davion Hannah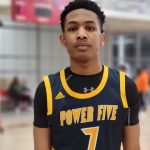 Davion Hannah 6'5" | SF Milwaukee Academy of Science | 2025 State WI – 2025 – Small Forward – Milwaukee Academy of Science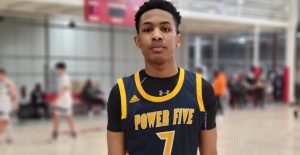 Offers: N/A
Wouldn't be surprised if Hannah is the first prospect in Wisconsin's loaded 2025 class to earn a scholarship offer. The 6-foot-5 wing has a lot of tools and impacts the game in a variety of ways. Hannah, whose older brother plays at Bradley,  not only has a well-rounded game, but a huge upside as a long, athletic wing that can shoot the basketball.
3. Kon Knueppel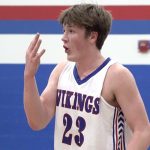 Kon Knueppel 6'5" | SG Wisconsin Lutheran | 2024 State WI – 2024 – Wing – Wisconsin Lutheran
Offers: Notre Dame, Miami (FL), Marquette, Iowa, Minnesota, USC, Wisconsin, Illinois, Texas A&M
No player in the state does more on the basketball floor than Knueppel. He has the ability to lead his team in scoring, rebounds, assist, blocks, and steals any time he steps on the floor. A sweet-shooting wing with unlimited range and three-level scoring ability, defenders just can't possibly take everything away from Knueppel.  Certainly not flashy,  but very fundamentally sounds, Knueppel has a deep bag of tools to work with and will undoubtedly have success at the next level because of it.
4. Milan Momcilovic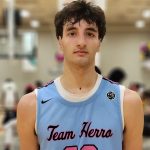 Milan Momcilovic 6'8" | SF Pewaukee | 2023 State #64 Nation WI – 2023 – Forward – Pewaukee
Offers:  Michigan State, Louisville, Texas, Iowa State, Virginia, UCLA, Xavier, Marquette, Minnesota, etc.
Whoever lands Momcilovic will   get one of the top shooting bigs in the country. The 6-foot-8 forward is a huge matchup problem offensively. Momcilovic has a Dirk Nowitzki type fall away game in the high post and can also run off screens and hunt triples. Also able to handle the ball in transition and get coast-to-coast, Momcilovic  can deliver in a variety of ways. 
[5. player_tooltip player_id="1089682″ first="Nick" last="Janowski"] – 2024 – Combo Guard – Pewaukee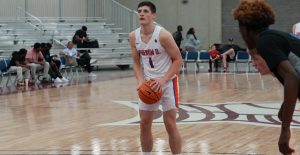 Offers: Wisconsin, Marquette, USC, Virginia Tech, Georgia Tech, USC, Iowa State
Whether he's a point or a two-guard at the next level, Janowski should be a dynamic player. An assassin-like scorer with a killer instinct, Janowski has the type of confidence where he truly believes there's not a shot on the floor he can't make and there's nothing the defender in front of him can do.  While his instincts are more wired towards scoring, the 6-foot-4 guard does have a good feel for the game and a noticeable unselfishness to create for others.
6. Tayshawn Bridges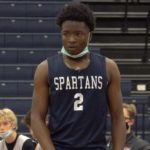 Tayshawn Bridges 6'2" | CG Milwaukee Academy of Science | 2024 GA – 2024 – Combo Guard – Milwaukee Academy of Science
Offers:  Auburn, Florida State, Maryland, Iowa
A big time athlete, Bridges is an explosive guard who can do some freaky things above the rim. The 6-foot-2 sophomore is a downhill attacker who is all gas and no brakes. When he's able to mix in his outside shot, Bridges becomes a nightmare to defend. 
7. Amari McCottry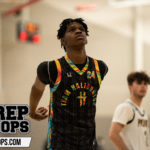 Amari McCottry 6'5" | SF St. Thomas More | 2024 State WI – 2024 – Forward – St. Thomas More
Offers:  N/A
McCottry is an intimidating combo forward who just comes at you with everything he's got. The 6-foot-6 forward can play  and defend a variety of positions.  He plays a ton on the ball and creates well as an isolation scorer.  McCottry can certainly shoot it, but he's not willing to settle a lot and wants to get at the rim where he'll generate buckets close to the rim and draw a lot of fouls with his physical, aggressive mindset.
8. Xzavion Mitchell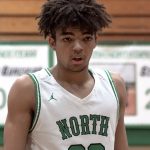 Xzavion Mitchell 6'6" | SF Oshkosh North | 2025 State WI – 2025 – Forward –  Oshkosh North
Offers: N/A
Too  early to know quite what Mitchell is, but he's productive as a combo forward.  Mitchell has a lot of junkyard dog in him and can live off putbacks alone. Love his ability in the high post to face up and slash or find teammates in the high-low game. At 6-foot-7, Mitchell can also handle the ball in the open floor. He's  very rim-oriented right now, but is obviously working to add a reliable jumper to his game, which would skyrocket him up this list.
9. Will Hornseth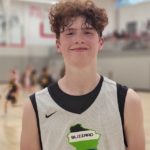 Will Hornseth 6'8" | PF De Pere | 2024 State WI – 2024 – Power Forward – De Pere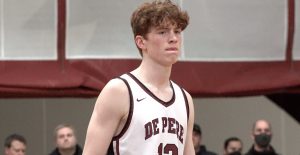 Offers:  Toledo, UW-Green Bay, St. Thomas
There's a lot to like about Hornseth as a post prospect. Guys his size, you're usually talking about projects who need time in college to develop. That's not the case here.  Hornseth already has a lot of the little things you look for in terms of fundamentals or things like soft hands, awareness against double teams,  post footwork, etc. — stuff that young bigs tend to struggle with early. Hornseth is an athletic, strong, 6-foot-8 forward who understands post position and how to pin his defender in no-man's land. He's got a reliable jump hook, can score over either shoulder, and space the floor from 3-point range. He's also showing flashes of being able to take his man off the dribble and explode to the rim off the bounce. Because of all those things, this list might not do him justice. 
10. Clevon Easton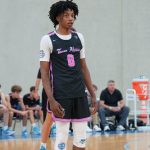 Clevon Easton 6'0" | CG Madison East | 2025 State WI – 2025 – Shooting Guard –  Madison East
Offers:   N/A
A plus-length, explosive guard, Easton  has some serious bounce. Outside shot needs some work, but Easton can break his man down off the bounce and just coast to the rim with minimal effort.   In an up and down game, Easton is going to do a lot of damage. He's  got some terrific size (6-4), handles, and leaping ability for such a young prospect.