These players showed us their skills at the Hofstra team camp.
Anthony Follet.         6"3.      2023       Portledge
Anthony showed off his ability to shoot the ball. He has a smooth lefty stroke. Strong bodied player uses a tight handle to get inside and score. Really good in the open floor in transition.
Brandon Torres Brandon Torres 6'4" | CG Portledge | 2025 State NY .  6"4.   2024 Portledge
Brandon has a smooth jump shot. Very good at setting screens then either popping out or rolling to the rim. Uses his body to rebound in traffic. Keeps possessions alive.
Aidan Kolb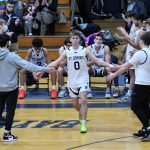 Aidan Kolb 6'1" | SG St Dominic | 2023 State NY .      6"1.    2023     St Dominicks
Aidan can flat out shoot it. Very good on the corner three. Equally good off the catch and shoot or coming off a screen.
Adrian Morel.      6"3.      2023.        St Anthony's 
Extremely athletic. Gets to the rim. Rebounds well using his athleticism. Outstanding in transition finishing on the break.
Ethan Miesel      6"5.     2023.      Commack
Plays efficiently on both ends of the floor. He uses his length to rebound and be a presence inside, can step out and shoot the three.
Emmet Radzuil.   6"0.    2023.      Northport
Handles the ball really well. He is an excellent facilitator of the ball. Tremendous on the ball defender. Usually guards the opponents best player.
Damien Bennet     5"10.   2024.     Portledge
An explosive dynamic guard. A outstanding defender who can guard like a big. Excellent on both ends of the floor. Uses his explosiveness and athleticism to score at the rim.