At the Recruits Up Next 32 event, I was able to get a closer eye on high caliber players and the work they have put in since last fall. For this article, I am reviewing the players that made a difference in the painted area and could be on the verge of fantastic seasons.
Treyson Anderson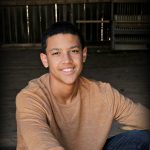 Treyson Anderson 6'9" | PF Pius X | 2024 State NE | Lincoln Pius X | F/C | 6'9″ 215lbs | Class of 2024
https://twitter.com/TreysonAnderso1?s=20&t=xJQGcUoS3Roec6QEvchaGA
Already starting to garner some attention with a recent offer from SDSU, Anderson showed off his size and touch around the rim at the showcase. He knows how to create space in tight areas to get rebounds and has the strength to play through contact. One of the more impressive aspects of his game he showed was his work on the perimeter. Anderson hit multiple threes during the day and even became a shooting threat enough to pump fake and drive it to the rim for an easy bucket. Anderson is the real deal, the combination of his size and skill will make him a hot commodity for schools very soon!
https://www.maxpreps.com/athlete/treyson-anderson/bOvBrvY-cESAmnRpdPfyNw/videos.htm
Awit Mamer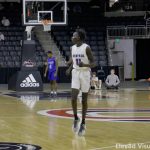 Awit Mamer 6'1" | SF Omaha Central | 2023 State NE | Omaha Central | F | 6'3″ 180lbs | Class of 2023
https://twitter.com/AwitMamer?s=20&t=xJQGcUoS3Roec6QEvchaGA
Mamer showed off his full tool bag at the event. He made tremendous cuts to the basket, drove to the rim creating shots, grabbed rebounds and even knocking down some threes. His length makes him hard to defend and a great defender at the same time. He can use his length to create a high point with his shot and get reach in steals or challenge defender's shot attempts. With Central losing its two biggest stars to graduation, Mamer will be a top option for the Eagles and really make a name for himself around the metro.
Mat Tut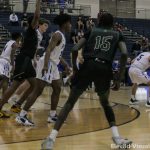 Mat Tut 6'5" | C Omaha Bryan | 2023 State NE | Omaha Bryan | F | 6'6″ 185lbs | Class of 2023
https://twitter.com/matwitdashifts?s=20&t=yAcloq2WNzZXKPJu2d9Y3g
Another player with some serious length, Tut may have been the Stretch Armstrong of the bunch. His ability to get to the basket was top notch and his length, and body use, makes it very hard to have an opportunity to challenge his shot. Tut has a solid mid-range shot and can shoot from beyond the arc with efficiency. Coach Gullie has the Bears on the rise and Tut will be an integral part of their success with his play and leadership.
Ethan Painter | Omaha Burke | F/C | 6'5″ 185lbs | Class of 2023
https://twitter.com/Ethanpa62935707?s=20&t=xJQGcUoS3Roec6QEvchaGA
Painter was the most pleasant surprise of the group. He showed a knack for getting open in the painted area off crisp cuts and played very well out of the pick and roll. He showed catchable hands and the ability to finish near the rim with body-controlled layups and dunks. Painter also showed the ability to make plays around the perimeter with ball fakes and drives, even nailing a couple threes. Omaha Burke has a solid point guard in Dakarai Davis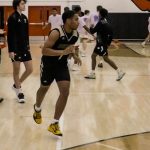 Dakarai Davis 5'10" | CG Omaha Burke | 2023 State NE , look for Painter to be a solid compliment for the Bulldogs.
Deandre Harper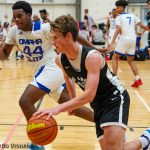 Deandre Harper 6'5" | C Omaha South | 2024 State NE | Omaha North | F | 6'5″ 210lbs | Class of 2024
https://twitter.com/DeHarper8?s=20&t=xJQGcUoS3Roec6QEvchaGA
A big body with a soft touch, Harper did an awesome job muscling rebounds and getting easy putbacks. His strength was anticipating the ball off the rim, creating space and coming down with the ball. Harper's soft touch was impressive, and he can finish in multiple ways around the rim. The backcourt at Omaha North will be strong and being tough down low and creating second chance opportunities could make Harper and important piece to the success of the Vikings this year. Don't be surprised to see Harper up near the top in rebound leaders around the metro this coming season.
Vince Garrett Jr. | Lincoln High | SF | 6'2″ 180lbs | Class of 2023
https://twitter.com/VinceGarrettJr?s=20&t=42t9_aMRqQzwmbkqb05WuQ
Garrett has a motor that will not stop. His hustle, energy and leaping ability energizes the team, pushing his teammates to do more. Garrett runs the floor extremely well and if he gets a free lane in the open court, get your cameras ready. During the showcase, Garrett always seemed to make the right play with great interior passes, his cuts or rebounding position. He is very dangerous around the rim; however, he was able to show off his shooting skills knocking down a few open perimeter shots. Do not be surprised if Garrett's name climbs on the rankings during the 2022-23 season.