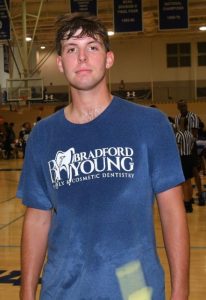 Over this past weekend Philly HS Live II packed the gymnasiums at Jefferson University and St. Joe's Prep with hundreds of college prospects. A number of those prospects caught our attention for the first time and now it is our duty to spread the word on those players
Below is a review of seven "New Names" in the 2023 and 2024 graduate years from southeastern Pennsylvania who impressed us at Philly HS Live II.
Matt Christian – 6'3" / Senior / Methacton / Eastern PA Elite / Combo Guard: Christian is one of the few prospects we saw who looks taller than his listed height. He also owns a large wingspan and is sneaky athletic. Christian scored the rock at all 3-levels in his 33-point outburst against ACIT and again during his 27-point game vs. Notre Dame Green Pond. Christian's positioning skills, tenacity and nose for the ball make him a tremendous rebounder.
Emeer Coombs – 5'8" / Junior / Neshaminy / Mt. Pleasant Bulldogs / Point Guard: Coombs is a fast and crafty floor general style of lead guard. He can push the ball in transition for a lay-in or for a kick-out to the 3-point line. In the half-court, he can keep a team organized and direct the offensive sets. When Neshaminy's half-court offense bogs down, Coombs can use the dribble drive to create for himself or his teammates.
Dom DeMito – 5'11" / Junior / Pope John Paul II / Eastern PA Elite / Combo Guard: The graduation of stars JP Baron (Lynn Univ.) and Jaden Workman, created sizeable scoring holes for PJP. With his 26-point performance against Downingtown East, Demito showed that he is ready to be part of the solution. This combo-guard scored off the dribble and popped jumpers from all over the floor. His ability to navigate through traffic for a coast-to-coast drive is noteworthy as well.
Micah Hill – 6'4" / Junior / Downingtown East / East Coast Power-Richards / Wing: College coaches should immediately turn their attention to this extremely athletic and long transition phenom who plays above the rim. Hill's end to end speed is outstanding which allows him to frequently glide in solo for buckets. In the half court, Hill can score the ball at multiple levels. He was a force on the defensive glass and blocked a few shots as well.
Rocco Morabito Rocco Morabito 6'1" | CG Shipley School | 2024 State PA – 6'2" / Junior / Archbishop Ryan / Philly Revolution / Combo Guard: The former Shipley School (PA) backcourt prospect possesses a well-rounded skill set and brings a little bit of everything to the floor. Morabito is an excellent 3rd / 4th scoring option for Ryan who can get buckets in a variety of ways. He is always moving to open space and never hoists up an ill-advised shot. Morabito owns excellent court vision and instincts, so his passes are accurate and on time. Plus, he is a solid rebounder for a guard.
Zach Rodgers – 6'0" / Senior / ND Green Pond / Lehigh Valley Force / Combo Guard: Rodgers is an elite 3-point shooter (56% in 2021-22), but his greatest assets may be the intangibles college coaches love. He possesses an off-the-charts basketball IQ and a non-stop motor. Additionally, he is a willing defender and excellent distributor. In short, Rodgers impacts a game in numerous ways. Rodgers had a monster scoring weekend at Philly HS Live II, as he posted 29 points vs. Bensalem and 21 vs. Methacton in a triple OT game.
Alyjah Warren – 6'0" / Senior / Collegium Charter / Gibbs Elite / Combo Guard: Warren is a knock-down shooter who can splash jumpers from anywhere on the court. Additionally, he showed flashes of being able to create his own shot. As that part of his skill set continues develop, Warren will become extremely difficult to stop. He is an absolute menace on the defensive end who enjoys the challenge of guarding the other team's primary scoring option. Lastly, Warren is on-court leader who is in constant communication with his teammates. College coaches will love those aspects of his game.