#PHATownShowdown had talent displayed on every court, and you could find the talent at every position. Here is a look at some of the talented frontcourt players…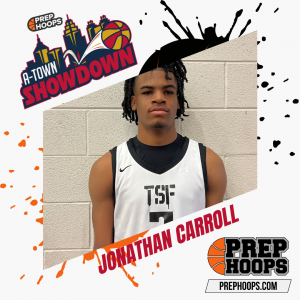 Jonathan Carroll (6'7/SF/2023)
Team: TSF Elite '23
Instagram: Jon.carroll2
Twitter: @_joncarroll
Jonathan brought a lot of energy and effort to the floor throughout the weekend. He stood out the most on the glass and on the defensive side of the court. He has good upper body strength ad plays physical in the paint. He defends multiple positions as he showed his ability to step out and guard on the perimeter. He defends in the paint without fouling as he was very good when walling up against an offensive player looking to score.
He was a monster on the glass and offensively manufactured points throughout the weekend, mainly by crashing the offensive glass and getting easy put-backs.
Offers: Queens College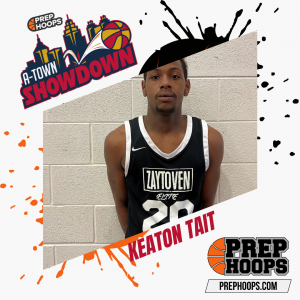 Keaton Tait (6'4/SF/2023)
Team: Zaytoven Elite '23
Instagram: B4f.kt
Twitter: @B4f.kt
If anyone played with an edge throughout the weekend, it was KT. I loved his passion and energy as he got after it from the jump in every game I watched him play. He is a fiery competitor who plays hard and gives his all while in between the lines. He has a lot of weapons around him, but he is the one that sets the tone for the direction that Zaytoven plays. He anchors the defense and defends with intensity, while offensively, he is an excellent pick and roll screener that knows how to play off the roll or the pop.
As much praise as I give him for his outstanding play on defense, he showed his athletic ability and hammered down a slam which raised eyebrows, showing he can be a factor offensively.
You may not see a lot when it comes to the scoring column, but there is a lot to like about KT's game.  
Offers: He currently holds no offers.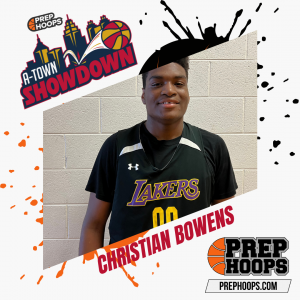 Christian Bowens (6'4/C/2023)
Team: RDC Lakers '23
Instagram: its_bigchris05
Twitter: @chrisbowens_05
I saw Christian several times, and I must admit that he showed very little during the first game I saw him. However, the second time around had me locked in as he was a totally different player. His defensive game is ahead of his offense, and he was a factor as a post defender. During that second game, he was a beast on the boards, was running the floor, and was bringing energy to his squad.
When he was in the game, he made it hard for the offense to get any production in the paint.
If he can get into the lab and develop some go-to moves on the offensive end of the floor, he can develop into a player that can make even more significant contributions with his high school squad in the upcoming season.
Offers: He currently holds no offers.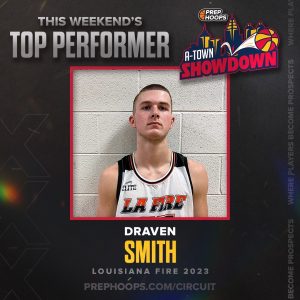 Draven R. Smith (6'5/SF/2023)
Team: Louisiana Fire '23
Instagram: Draven.smith35
Twitter: @Dravensmith35
Draven had a terrific showing at #PHATownShowdown as he was a lot to contend with game in and game out. He shot the ball exceptionally well, and as a key finisher, his offensive production makes his team a highly functioning offense. He is listed as a SF but can play numerous positions, and outside of producing from beyond the arc, he is efficient in his isolation game.
Good things happen when the ball is in Draven's hands, and it's not that he can't generate good looks for his teammates; it's just that creating for himself comes more naturally.
Offers: Draven did not answer in the questionnaire whether or not he had any offers.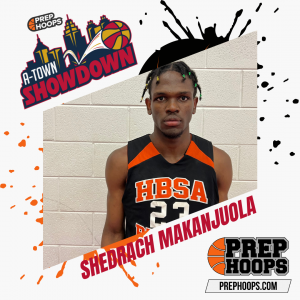 Shedrach Makanjuola (6'7/SF/2023) 
Team: HBSA '23
Instagram: aji_shed
Twitter: @Smakanjuola59
Shedrach has size and length and has the potential to be a dominant defensive factor. He is a difference-maker as he can suppress opponents' percentages around the basket as he often challenges, alters, and blocks shots. Offensively he is still developing and does just enough in the paint and around the rim where he does not have to put pressure on his jumper. His versatility on D causes match-up problems as his length smothered many ball-handlers throughout the weekend.
His ability to get out and run lanes is where he was most effective on the offensive end of the court.
He showed a lot of toughness, but his coach said he has so much more to bring to the table.
Offers: Shedrach did not answer in the questionnaire whether or not he had any offers.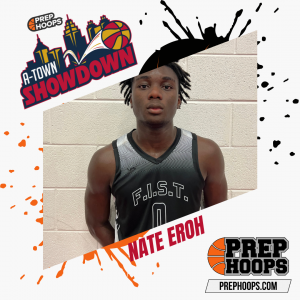 Nate Eroh (6'6/SF/2023)
Team: F.I.S.T. Basketball '23
Instagram: nateeroh
Twitter: @nateeroh1
Nate is a freakishly athletic frontcourt player that has crazy hops. He is quick off the floor and explosive at the rim. Much of his production can be attributed to blunt, straight-line creation and strong finishes at the rim. He has a tremendous physical profile and plays a physical brand of basketball on both ends of the floor. At times he was physically imposing to opponents and was getting what he wanted on the offensive end of the court.
He is a relentless competitor and plays with a lot of passion.
There is real finesse to Nate's game, but it's supercharged.
Offers: Nate did not answer in the questionnaire whether or not he had any offers.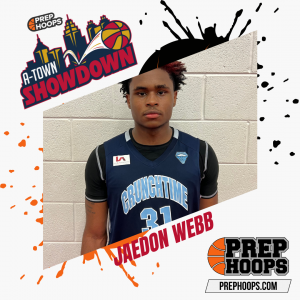 Jaedon Webb (6'3/SF/2023) 
Team: Crunch Time '23
Instagram: ja33d00
Twitter: @ja33d00
Jaedon is a physical player that puts you in mind of a bruiser on the court. One thing that stuck out about Jaedon is his commitment to try and outwork his opponents on every possession. He has great touch when he is looking to score in the paint. He finds ways to get into the thick of things on both ends of the court, and offensively, he has a nose for the action that leads to makeshift scoring opportunities.
Jaedon brings a lot of production to his team and fills the stat sheet in just about all categories.
As a stout forward that can score, defend and hit the glass, Jaedon had an impressive showing throughout the weekend. In a 70-49 win over Pistons, Elite Jaedon chipped in 14pts.
Offers: He currently holds no offers.