We are two days into June! I hate to say this, but summer flies by very quickly. We want to look back at the impressive players that I watched in May before everyone gets caught up in summer activities. This article looks at players from Illinois, Iowa, Minnesota, North Dakota, and South Dakota.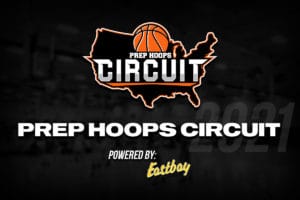 Impressive 2023 Players from May
Kyle Olebaygi |6'6 F| Illinois Twolves/Lincoln Way-East
He is one of the strongest and most powerful athletes that I watched, an explosive dunker!
Very physical in the post, effective on the block and off the bounce, blocked many shots
Gavin Pierce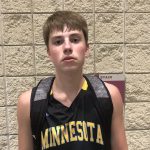 Gavin Pierce 6'4" | SF Prior Lake | 2023 State MN |6'4 SG| Northstar Titans Terhaar/Hopkins
He completely went off from 3 at the Midwest Showdown, amazing shooting performance
Big guard with a smooth stroke, deep range, in-rhythm shooter that does not need much room
Jackson Ressler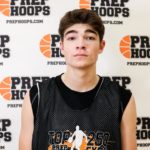 Jackson Ressler 6'4" | PG Lakeville South | 2023 State MN |6'4 G| Northstar Titans Stone/Lakeville South
Plays fearless & confident, turns TO's into quick points, creates for others, unselfish scorer
Super consistent production, best defender on team, makes everyone around him more competitive
Trey Smith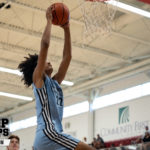 Trey Smith 6'6" | SF Osseo | 2023 State MN |6'7 SF| Northstar Titans Stone/Osseo
Explosive & athletic, playmaker from the wing and in the paint, hits triples, slashes, scores above rim
Very productive with 17 ppg & 6 rpg, proved that he is a special player, spring stock riser!
Wyatt Hawks |6'8 PF| Northstar Titans Stone/White Bear Lake
He is a bear on the boards, good size with soft touch, finishes with power & finesse
Averaged a double-double and this BIG has made a name for himself, strong with good feet
Khalif Bettis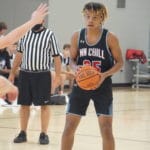 Khalif Bettis 6'4" | SF Burnsville | 2023 State MN |6'5 SF| MN Chill Elite/Burnsville
Scores points fast & furious, great jumper from 8-feet, 15-feet, and out to college range
Has crafty old school scoring ability, makes splashy plays at the rim & dynamic in the open court
Anish Ramlall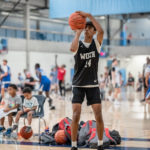 Anish Ramlall 6'3" | PG Rosemount | 2023 State MN |6'3 PG| WOTN/Rosemount
Picked up a D2 offer this spring and he has been one of the top PG's in the Hard Work Region
Elite handles & passing, creates his own shots, exceptional at creating for others, productive 3-shooter
Spencer Hall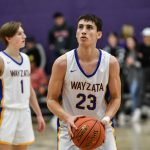 Spencer Hall 6'4" | SF Wayzata | 2023 State MN |6'3 G| MN Fury Antl/Wayzata
Plays with a good head on his shoulders, hard worker that can defend many positions, versatile scorer
Effective slasher & smart cutter, makes big plays when team needs it, he is a jack of all trades
Max Shikenjanski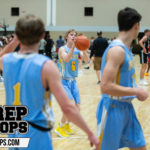 Max Shikenjanski 6'2" | PG Stillwater | 2023 State #282 Nation MN |6'3 G| MN Fury Antl/Stillwater
A tireless worker, GAMER, never too big of a moment, will do what it takes to get the win for his team
High-yielding scorer that also see the floor and drops dimes, easily a top player in the Hard Work Region
  Vuciri Hakim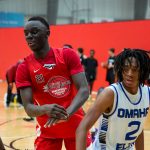 Vuciri Hakim 6'4" | SF Shanley | 2023 State ND |6-4 SF| Next Level Basketball Academy/Fargo Shanley
Long wingspan, blocks & alters shots at impressive rate, sneaky at creating TO's, aggressive on boards
Elevates well, scores on O-boards, slashing, posting, cutting, 15' J's, very active on both ends of the floor
Connor Epp Connor Epp 6'0" | CG Freeman Academy-Marion | 2023 State SD |6'0 G| Scared Hoops Bertram/Freeman Academy/Marion
Impressive athlete, great speed & quickness, good ball skills, changes speed to keep D off balance
Knows how to make winning plays, creative attacking from the perimeter, uses athleticism to score at cup
Jackson Edman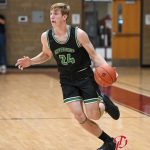 Jackson Edman 6'7" | SF Pierre | 2023 State SD |6'7 PF| Sacred Hoops Bertram/Pierre
Has been scoring at all three-levels, tough off the bounce, controls the lane & protects the rim
Showed off his explosive athleticism with wild DUNKS at Battle At The Lakes, STOCK RISER!
Blake Volmer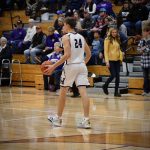 Blake Volmer 6'3" | SG Winner | 2023 State SD |6'3 SG| SD Attack/Winner
Was very effective slashing & scoring at Battle At The Lakes, tough, wiry, and athletic
Does not dance with the ball, attacks close-outs, efficient, mid-range jumper looked smooth
Isaac Bruns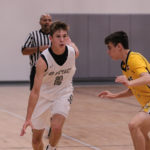 Isaac Bruns 6'5" | SG Dakota Valley | 2023 State SD |6'5 SG| SD Attack/Dakota Valley
D1 offer from USD, has looked like a D1 player all spring, impressive performance (Battle At The Lakes)
A top shooter in the Midwest, excellent at manipulating the D, perfect footwork, great feel, WINNER
Ethan Russell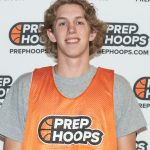 Ethan Russell 6'6" | SF Aberdeen Christian | 2023 State SD |6'6 SF| SD Attack/Aberdeen Christian
He looks like a 3 & D player, he surprised me a bit with nice footwork and finishing around the rim
Advanced skills, long wing with a sweet pull-up game, cuts for buckets, equal-opportunity scorer
Carter Kuehl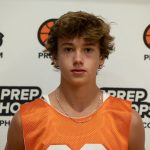 Carter Kuehl 5'9" | PG Bishop Heelan | 2023 State IA |5'10 G| Arena Basketball Club/Heelan
Big point producer at Buckets In The Big Red, dropped 30 in a W, high assist guy as well
I like his handles and pull-up game, pressure does not bother him, plays with swagger
Keavian Hayes Keavian Hayes 6'2" | SG Sioux City West | 2023 State IA |6'2 SG| Arena Basketball Club/Sioux City West
An extra special athlete, built like a next-level player, powerful, strong, & exciting player
Constantly gets two feet in the paint, motor never stops, posts up inferior guards, physical finisher
Ayden Klein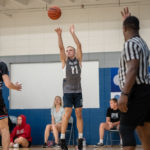 Ayden Klein 5'11" | SG MOC-Floyd Valley | 2023 State IA |6-0 G| Pentagon Schoolers Walker/MOC-Floyd Valley 
He had a big weekend at Battle At The Lakes, Ayden took over the game a few times
Plays very aggressive, finishes against BIGs at the rim, hits catch-n-shoot treys, plays super hard
Gavin Muirhead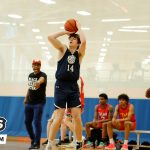 Gavin Muirhead 6'7" | PF O'Gorman | 2023 State SD |6-7 F| Pentagon Schoolers Walker/O'Gorman
Biggest spring stock riser in the Dakotas, has put on a show this spring with dunks & alley-oop SLAMS
Proved to be a legitimate shot-blocker, good-eyed passer, hit triples, can finish from every angle at rim
AJ Akot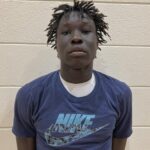 AJ Akot 6'4" | SF Sioux Falls O'Gorman | 2023 State SD |6-4 F| Pentagon Schoolers Walker/O'Gorman
Has shown that he fits in with the top athletes on the circuit, long, lanky, bouncy, and versatile
two-way player and unselfish, has stood out with offensive rebounds, Swiss Army Knife type of player
Zander Benz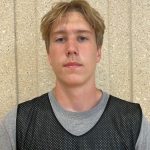 Zander Benz 6'7" | PF O'Gorman | 2023 State SD |6'7 PF| Pentagon Schoolers Walker/O'Gorman
Another big stock riser, work ethic is unmatched, love his turnaround baby-hook, active on both ends
Stretches the floor with treys, goes hard at the glass, unselfish passer, long wingspan, team player
Matt Eng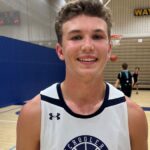 Matt Eng 6'2" | PG Sioux Falls O'Gorman | 2023 State SD |6'2 PG| Pentagon Schoolers Walker/O'Gorman
Has been one of the best 3-point shooters that I have seen this spring, game-changing scorer
Hits shot off dribble and catch, nice work running the point, throws beautiful alley-oop passes, clever D