The University of Oregon had its team camp this past weekend and we had the opportunity to take in games all day Friday, Saturday, and Sunday on campus at Matthew Knight Arena. Here's a look at some of the top performers from Sunday afternoon.
Walker Bonar (2024 Thurston)
The 6'0″ guard gives a great one two punch for the Colts along with Nate Stiffler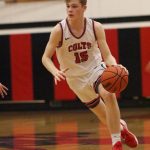 Nate Stiffler 6'4" | SF Thurston | 2025 OR . Bonar was the primary ball handler for Thurston and showed some intensity on defense as well. The most impressive move for Bonar was a nice Stockton finish with his right hand on the left side of the hoop. 
Jack Jennigis (2023 Seton Catholic)
Jennigis is under the radar right now and could be set for a breakout year at Seton Catholic in Vancouver, WA. He is in the right place at the right time and this reflects his high basketball IQ. He will benefit from playing against bigger, physical big men this summer. Look for Jennigis to contribute to a strong run for Seton Catholic this season.
Liam Spencer (Sprague 2023)
Spencer was on a hot streak for the Olympians as he hit three triples in the first half. Sprague will need his offensive output this year if they are to compete in the Mountain Valley Conference. He also demonstrated a strong dribble drive game and was able to finish through contact in the paint.
Nate Stiffler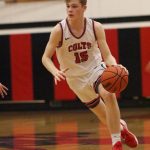 Nate Stiffler 6'4" | SF Thurston | 2025 OR (Thurston 2025)
Stiffler was a standout all day and his showing continued into the afternoon session. He used his size to get into passing lanes and had a great steal on the main court at Matthew Knight Arena. He is fluid and plays under control. His highlight reel move for the afternoon was a spin move in traffic for a great finish. Keep an eye on Stiffler as he will be one of the top Sophomores in the southern Willamette valley.
Matt Weiner Matt Weiner 5'11" | CG Sprague | 2023 State OR (2023 Sprague)
The Olympians will need a steadying force this season and Weiner looked to fill that role on Sunday afternoon. He had a few dynamic finishes and showed off a solid one dribble pull up. The most impressive skill he demonstrated was a sharp and heavy pass. As Weiner looks at playing at the next level, this passing skill is a big deal for college coaches on the recruiting trail.