Several of the state's top posts were on hand at Oregon team camp this past weekend. Here's a look at some of the top big men we saw on Saturday.
Jack Jennigis (2023 Seton Catholic)
Jennigis is a solid small school big out of Vancouver, WA. He showed some real potential and might be a sleeper in the 2023 class. Jennigis is the son of a coach and plays with high basketball IQ. There is a little big of fight in the 6'8″ stretch power forward. He had a couple instances on the glass where shorter, bulkier players tried bully him around and he responded with some fire. Offensively, Jennigis moves really well laterally and has shown a few nice finishes at the rim. He will benefit from playing against some competition from larger schools this summer. He could be one of the sleepers that you see develop into a really solid college player.
Solomon Nice Solomon Nice 6'5" | SF South Eugene | 2023 State OR (2023 South Eugene)
The South Eugene stretch four is really talented and showed on Saturday that he has a high upside. Nice is a fluid offensive presence for the Axe. He showed a few drives that ended with big finishes at the rim. The jumper was falling and if he is hitting from deep then South Eugene could be a real contender in the Southwest Conference. Defensively, Nice has demonstrated over and over that he can guard multiple positions. He has great lateral quickness and does a good job of turning his hips when he is on ball. Looking forward to the recruiting cycle, Nice would be a nice addition for a Cascade Conference (NAIA) or GSAC NAIA team.
Egan Shields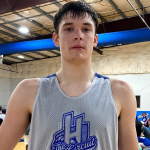 Egan Shields 6'10" | C Ashland | 2023 State OR (2023 Ashland)
Shields was good again on Saturday. He can step out and play away from the hoop. His jumper looks solid and he looked explosive despite having played multiple games in a twenty four hour period. Shields is one of the few true bigs in the state of Oregon and will benefit from the lack of depth once his recruitment really heats up. He will really benefit from playing a national schedule with West Coast Elite UA this July.