There weren't a ton of pure post players at Oregon team camp this past weekend but there were a few guys that did make an impression with their tough play inside. Here's a look at some of the top ones we saw Day One on Friday.
Uli Gutierrez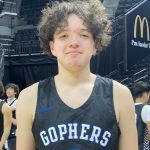 Uli Gutierrez 6'4" | PF Gresham | 2023 State OR (2023 Gresham)
Gresham may be guard heavy but Gutierrez showed that the Gophers will need to be respected inside as well. Using his toughness in the paint, the 6-foot-4 lefty muscled his way to scores inside but also showed that he was capable of stepping outside and hitting some open jumpers. He ran the floor well and was rewarded with a number of scores for doing just that.
Jaylin Ormond Jaylin Ormond 6'5" | SF Mountainside | 2023 State OR (2023 Mountainside)
Mountainside is another team that will be perimeter oriented but Ormond proved himself as a paint presence, especially offensively. He used his rock-solid 6-foot-4 size to post up strong for a few scores but on other possessions he was in the right place at the right time to receive passes for other buckets.
Luke Morgan Luke Morgan 6'3" | SF Grants Pass | 2024 OR (2024 Grants Pass)
Morgan is a bit undersized at 6-foot-3, but that didn't stop the well-built rising junior from mixing it up and getting physical down in the paint. That willingness to bang around led to a number of buckets inside and he more than held his own against bigger players on the boards and defensively.
Nate Gilkey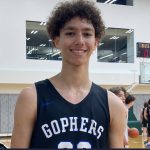 Nate Gilkey 6'7" | PF Gresham | 2024 OR (2024 Gresham)
One of the new names that caught our attention at camp, Gilkey arguably made the most defensive impact out of anyone on Friday. The 6-foot-7 post used his height and length to block numerous shots and had the mobility to come outside and contest shooters. He had a pretty decent touch in the paint convert easy putbacks.
Dante Scott (2024 Southridge)
We're not sure if we saw Scott score a point in their Friday night game against Sprague but he certainly made an impression on us with his motor and willingness to do the dirty work in the lane. The rising junior may be a bit undersized at 6-foot-4 but that didn't prevent him from battling on the boards and getting physical on defense.
Yanni Fassilis (2023 Union)
Fassilis was flat out unstoppable in the game we saw him play against South Medford. He could not be contained down low and often finished through contact for traditional and-one plays. He showed the ball skills to operate from the wing as well, whether it was hitting perimeter shots or creating off of the dribble. Fassilis is well familiar to the Portland basketball scene as he runs with the Dynasty AAU program.