The Georgia Basketball Coaches has put together an event that has brought top programs from across the southeast together for what is sure to be an impactful weekend. If day one is a precursor of what is to come for the rest of the week, then college coaches, spectators, and the coaches and their players are in for two more days of high-level competition. Several players stood out to me on day one at the #NHSBCA Southeast Regional Live event, so let's take a look at them…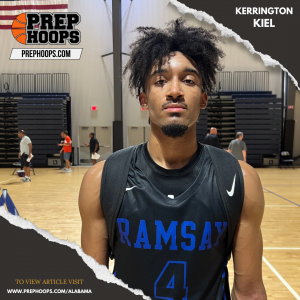 Kerrington Kiel Kerrington Kiel 6'6" | SG Ramsay | 2023 State AL  (6'5/Small Forward/2023)
School: Ramsay HS
Instagram:kerrington.kiel
Twitter: @kerringtonkiel
Kerrington is more than ready for his senior campaign. I have put ink on Kiel before, and he has shown improvement since the last time I saw him in the Alabama state finals. His skill set continues to improve, and he continues to show versatility on both ends of the floor. He showed his ability to handle the ball and make plays off the bounce. He is an athletic wing that finishes well at the rim.
He scored at all levels and continues to be an inside-out threat.
His vocal leadership on the court has improved, and he looks ready to lead the Rams back to the state finals. In the win against Cross Creek (GA), he finished with 10pts.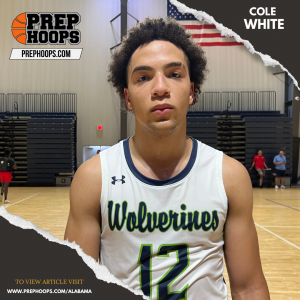 Cole White (6'7/W/2023) 
School: Windermere High School
Instagram: Cxle.12
Twitter: @Cwhite253
Cole was hands down the heart of the Windermere team. He is a physical wing player that did most of his damage in the paint. In the match-up against Greenforest and having to play against two 7-footers, he did not give any ground. He battled heart as he was strong on the glass, a good finisher around the rim, and defended well on the low block. He played extremely physical, which made both 7-footers a little uncomfortable.
Even though he is a physical force, he is nimble and moves well on both ends of the floor.
He is the alpha male who brings the energy and effort for Windermere and is the one player to watch if you want to know why this squad has a chance every night they take the floor. In the 55-38 win against Greenforest (GA), he finished with 9pts but impacted the game beyond what was seen on the stat sheet.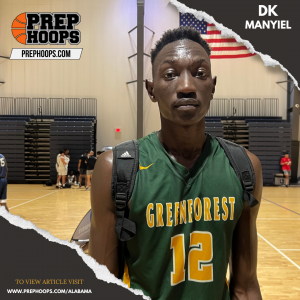 Dk Manyiel (7'0/C/2023)
School: Greenforest Christian Academy
Instagram: dkmanyiel00
Twitter: @dkmanyiel00
To say that DK has size and length is an understatement as you see; he stands 7'0 tall. As you would expect, his impact on the defensive end of the floor is ahead of what he produces on the offensive end. Let's go ahead and get out of the way that he is active on the glass and that his calling card is contesting, altering, and blocking shots. Offensively, he is a lefty with a nice soft jumper in the 13-17 foot area. He runs the floor, catches on the move, and finishes with either hand.
Defensively he stepped out and defended on the perimeter and, at times, showed the ability to be an on-ball defender in the open floor.
He still has a long way to go in this area as he hasn't developed the habit of living low in his stance and playing balanced. His defense in p&r situations has to improve as well, but he is a prospect that, as they say, has the height you cannot teach. In the 38-55 loss to Windermere (FL), he finished with 9pts.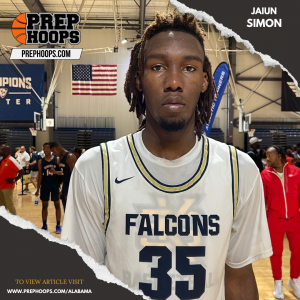 Jaiun Simon (6'7/G |F/2023) 
School: Pebblebrook High School
Instagram: Jay.feezy
Twitter: @Jaiun_3
Jaiun is listed as a G/F but was a dominant force in the paint. He has tremendous build, and it shows that he has already put in work in the weight room. He was highly active in the paint on both ends of the floor and was a monster on the boards. He plays with a high motor and is explosive off the bounce as he gets downhill with a purpose. Jauin has decent handles and can get his shot at will as he was effective and efficient in the mid-range. He showed his athleticism as he is a high-flying guy that is looking to finish above the rim. Jaiun likes to operate in the mid-post and the low-block but showed that he can initiate the offense from up top and even start the break off the defensive glass.
He scored the rock with ease, and defensively he protected the rim and defended multiple positions.
He finished the contest against Charles Henderson (AL) with 17pts, as he helped his squad to the 65-45 win.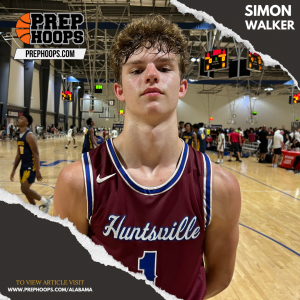 Simon Walker Simon Walker 6'5" | CG James Clemens | 2025 State AL  (6'5/Wing/2025)
School: Huntsville HS
Instagram: simonwwalker
Twitter: @simonwwalker25
Simon was hands down the best shooter that I saw on day one. I have put ink on Simon before, as he is among the highest-ranked prospects in the state of Alabama in the 2025 class. He really came into his own last year as he had an impressive showing in the state finals. In the match-up against McEachern, he showed exactly what his new team is getting: a sniper from beyond the arc.
Simon is a big guard/wing with all the tools, both physically and mentally, and has a very high upside.
One play that I saw that shows me how impactful his transfer will be under the tutelage of Coach Christian Schweers is his all-out sprint on the baseline into a c&s opportunity in which he nailed from beyond the arc. He showed effortless range, and if he plays to the level in which he has grown, his transfer has made Huntsville an immediate contender in Alabama. In the 49-47 sudden death win over McEachern, he finished with 14pts, with 12 coming from beyond the arc.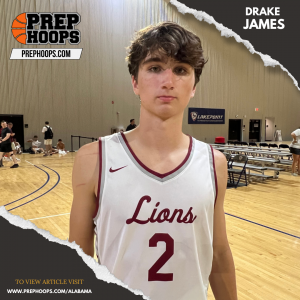 Drake James Drake James 6'0" | PG Haleyville | 2023 State AL  (6'3/PG/2023) 
School: Haleyville HS
Instagram: Drakejames03
Twitter: @Drakejames03
Hobbled with an ankle injury he suffered earlier in the month, Drake still put on an impressive showing on day one at the NHSBCA Southeast Regional Live event. He is a highly skilled guard with excellent shooting mechanics and touch from all levels. Defenders quickly learned you cannot go under screens on him as he has shot-making ability from inside and outside the arc.
He balances his game between facilitating and scoring as he does both exceptionally well.
Even though he was hobbled, his ability to knock down the trey kept defenders honest, which caused them to fall for head fakes, which Drake used to attack and finish off the bounce. Defensively it was tough for him having only one good wheel, and with the game I saw being his second of the day, his body called it quits as he started cramping and had to sit the remainder of the game. However, before leaving the contest in which his team fell to Lakeside-Dekalb 63-70, he finished with 27pts, 9 coming from deep.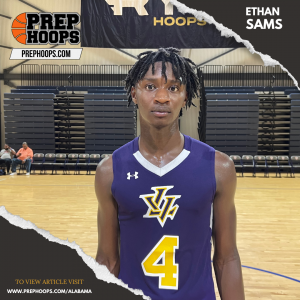 Ethan Maurice Sams (6'5/SF/2023) 
School: Lakeside-Dekalb HS
Instagram: e.sams04
Twitter: @LHSVikingsHoops
Ethan has one mindset, and that is to score, and he showed that he can do that exceptionally well. He is a tough iso scorer that put pressure on every defender that took the challenge of defending him. He is a 10-eye player, meaning he demands the attention of all five players when the ball is in his hands. He is a swingman that can attack inside and out and finishes strong at the cup. His offensive prowess was clearly on display as he finished with 21ps and put up those numbers in a variety of ways. He was at his best when he was out in transition and in one-on-one situations. He showed his athleticism and his explosiveness which is a formidable combination to defend, not to mention he has one of the quickest first steps seen on day one.
Ethan has a gear that most guards I saw do not have, and he can easily get to his spots on the floor.
Whatever success that Lakeside-Dekalb has this season will be the direct result of the production provided by Ethan.
Stay locked in for more coverage from this fantastic event!