My top 5 2025 PG's I saw this weekend at the NHR State Tournament!
Dwuan Reliford (6'2 PG MN Nice) One of the most exciting players I got the chance to see this weekend. A freakishly good athlete who dropped an astonishing 31 points Saturday. He can get it done from anywhere. Off the glass, wing or outside the arc he has one of the cleanest step-backs and it's impossible to defend. On defense he's a hustler and won't give up on the play. Comes over to help a teammate and just has great court vision. I can see him having a huge impact for Mankato East in the coming years. 
Zach Driscoll (6'0 PG MN Lightning) Zach was doing a little bit of everything for his team on Saturday. He's so versatile, and can take on a handful of roles to help his team win games. He did a great job of beating his initial defender off the dribble and forcing a help defender to step up, allowing Driscoll to dump it off to one of his bigs down low as he racked up plenty of assists throughout the weekend. He's also a gifted scorer in transition as he's so fast in the open floor yet remains under control so he can change directions at any given moment. Defensively he can lock up on the ball due to his quickness and effort, and jump passes whenever he can. 
Kris Baker (5'9 PG MN Heat GNC) Minnesota Heat GNC impressed me last night going up against one of the top teams on the circuit, and Kris Baker was helping lead the way for the high energy team. While one of the smaller players on the court, he can still be a huge part of the game player being very versatile on both ends. He's strong enough to defend in the paint against taller players, but also does a nice job of moving his feet on the perimeter. On offense he was a major threat from three as he finds ways to get into space and has a smooth shooting stroke while also being able to find a smooth step-back jumper inside the arc. He was one of the key reasons the Heat were in this game leading all scorers with 16. 
Allan Lankfard Jr. (6'0 PG BDBL Elite) Right from the start Allan came out scoring at a high level. The 2025 guard has such a long frame and is a bouncy athlete who gets off the floor quickly to finish at the rim.  Showed a smooth looking shot and got some nice elevation to pull-up from mid-range and knock down shots over a contesting defender even knocked down a few from beyond the arc. Defensively he moves his feet so well on the perimeter, and is aways on the hunt for the ball. If he's on your team, no doubt he gives 100% every time.
James Martin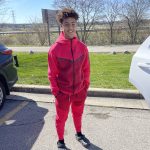 James Martin 5'8" | PG East Ridge | 2025 MN (5'8 PG MN Magic) James definitely stepped up yesterday in their game against BDBL. A force on the defensive trap, James is a great defender who can play with the guys in the paint. His athleticism is crazy, sometimes out rebounding the posts. He also is a threat on offense. He alone went on a 7-0 run with 2 layups in transition and a stop-and-pop 3. I loved the energy that he brought to the court as he kept the magic in this game.