Prep Hoops Missouri continues its team evals on the players from last weekend's Missouri Prep Showcase with a look at Missouri Team No. 2.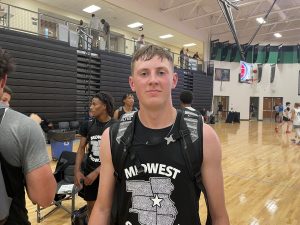 Kyle Pock Kyle Pock 6'7" | SF Bolivar | 2023 State #287 Nation MO (Bolivar): The 6'7″ 2023 forward was one of the most impressive players in the camp. He displayed his skill in all facets of the game and his shooting range that extended well past the 3-point line. He also has the size to go into the post and score over smaller defenders when he wants to. He is a comfortable ball handler and playmaker who can facilitate offense and make his teammates better. He picked up new Division I offers from Indiana State and South Dakota State after the camp.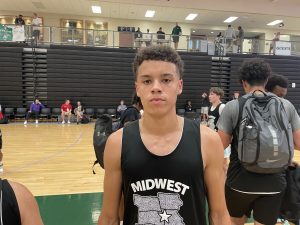 Marqueas Bell Marqueas Bell 6'2" | SG Park Hill | 2023 State MO (Park Hill): The 6'3″ 2023 guard showcased his athleticism and bucket-getting ability throughout the weekend. The slender lefty is a three-level scorer who attacks the rim hard, but can also pull up to hit the mid-range jumper. He's very shifty as he can maneuver his way through traffic in the lane. He also drove through the middle and threw down an impressive one-handed dunk over a taller defender that had folks buzzing. The young man can score.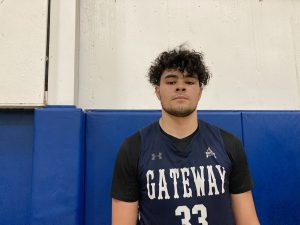 Cameron Williams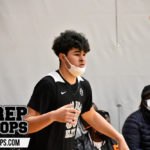 Cameron Williams 6'8" | PF Cape Girardeau Central | 2023 State MO (Cape Girardeau Central): The 6'7″ 2023 forward displayed his unique blend of power and finesse on the offensive end. He used his big body to overpower defenders in the post and get easy buckets and offensive rebounds for putbacks. He also stepped out and knocked down 3-pointers off the pick-and-pop while also being able to make a move off the dribble. He also passed the ball well out of the double team.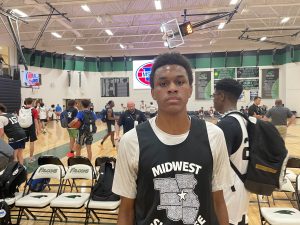 Winston Allen Winston Allen 6'5" | SG Oak Park | 2023 State MO (Oak Park): The 6'5″ 2023 small forward is a long, slender athlete who was impressive all weekend with his high energy and motor. He played with plenty of bounce around the basket as a rebounder and he was a very effective slasher on offense. He was also giving that extra effort on the defensive end as he darted into the passing lanes for steals and made a few chase down blocks.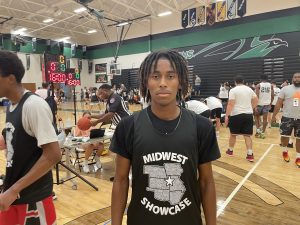 Devin Conley Devin Conley 6'1" | SG Pembroke Hill | 2023 State MO (Pembroke Hill): The athletic 6'2″ 2023 point guard was excellent in multiple facets of the game throughout the camp. He is an excellent 3-point shooter who also displayed his playmaking skills with a number of nifty passes in transition and in the half court offense. He works well in the pick and roll as he can get downhill or hit the perimeter jumper. He was also an active defender with good instincts to be disruptive.

Luke Walsh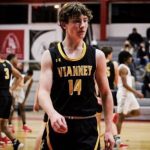 Luke Walsh 6'1" | SG Vianney | 2025 State MO (Vianney): The 5'11″ 2025 shooting guard brought his chopper to KC as he was able to showcase his nice stroke from beyond the 3-point line. He could shoot it off the catch and he also had a few impressive pull up jumpers from long distance with confidence. He was constantly moving and looking for the open spots and reading the defense. He also got into the lane and scored on a nice floater.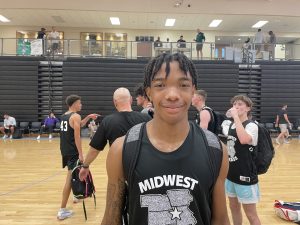 Joseph Clark Joseph Clark 6'5" | SG Mid Buchanan | 2023 State MO (Mid Buchanan): The athletic 6'5″ 2023 wing was very productive during the camp because he knows how to make things happen, even when he doesn't have the ball in his hands. "Jo Jo" is a very effective rebounder and defender who is always in the middle of the action. He is an excellent slasher who can also finish well at the rim on offense.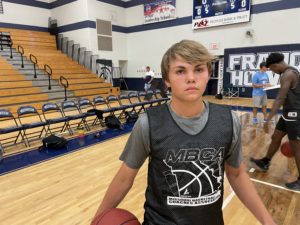 Grant Redd (St Pius X): The 5'8″ 2024 point guard was solid throughout the weekend with his speed and high basketball IQ. He did a good job of pushing the tempo and constantly finding open teammates with his passing. When he found his openings, he looked to attack