This past weekend a few teams were in attendance at the Marquee Hoops event in Las Vegas. Her are a few players that played well with some that you might know and a few new ones that might not ring a bell. A lot of players have been playing up this Spring and early Summer to play against better competition. Might be a new trend moving forward as a lot of Utah teams seem to be going 4-0 in various weekends. 
6'5 Richard Dot || Utah Supreme || 2024 ||
Last high school season he looked like a young player getting his feet wet against some tough varsity competition. This Spring he is showing a lot of growth especially his his high motor and ability to move around without the ball in his hands. Defensively he is active on closeouts and jumping in the lane to help and get back. Richard is getting quicker off the jump in dump down situations as he is finishing above the rim. He is used well as a passer as he is improving on his decision making when it comes to making passes to open players and reading the defense. A lot of room to grow as he showed this past weekend his raw skill and athleticism is developing. 
6'0 G Braxton Wilkerson Braxton Wilkerson 6'0" | CG Orem | 2026 UT || Utah Drive || 2026 ||
The youngster was playing up with the 15U kids and he was showing some toughness and promise as he was tracking down rebounds and pushing the ball. He is the player that gets boards pushes the ball gets ride of it to get the break going faster. Defensively he moves hi s feet and keeps his man in-front of him. Three-point specialist as he was killing against the zone. Catch and shoot ability is nice. 
6'7 F Kai Wesley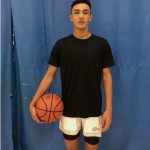 Kai Wesley 6'7" | CG Orem | 2026 State UT || Utah Drive || 2026 ||
Kai was dominating with his length and versatile play. When teams showed a zone he was active and his activity and movement created easy scoring opportunities for him to score. He was holding his post position very firm and strong and he was making quick moves off the catch. His vision improved with his catches in the mid-post as he is looking for cutters. Most of his damage was in the post or near the rim finishing through contact on various And 1's. Defensively he is showing improvement on the glass and tracking down loose balls. When he fills out that frame he is going to be a problem. 
6'4 G Ike Palmer Ike Palmer 6'4" | CG Herriman | 2024 State UT || Utah Supreme || 2024 ||
High Iq player that gets boards or even off of makes he pushes the ball up by passing the ball ahead that creates a trail 3 opportunity for him as he can walk into those with ease. demonstrated some super tough range on his shot. Defensively he gets back and does not shy away from contact. Could increase his production down on the blocks as he is tough down in the paint but he didn't get enough touches in the paint. Overall Ike is putting together a great offseason.