The June Live Period showcased some of the area's best talent. Here is a rundown of some stock risers who emerged from the 2023 class. 
Austin Ball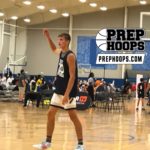 Austin Ball 6'7" | SF Miller School | 2023 State #138 Nation VA was one of the biggest winners of DMV Live 2. In his weekend debut against DeMatha, he dropped 28 points and hit 5 of 11 threes per legit stats. Ball's 22.5 points-per-game average ranks him in the top five of the DMV Live Leaderboard. He's already received several scholarship offers since the weekend. It will be interesting to see how Ball's recruitment evolves from here on out. 
It feels like every year Gonzaga has that program guy to anchor a solid group. Batties is next in line for that role. He looked stronger than ever in June while playing some of his best basketball to date. 
Justin Cheung | guard | Goretti (MD)
Cheung has quickly established himself as one of the premier knockdown shooters in the area. He drained 21 of 38 attempts for Goretti during the June Live Period. 
Coleman impressed everyone who saw him during the month of June. He averaged 23 points per game for Flint Hill, which was tied for 3rd among all DMV Live participants.
Antwan Gross | forward | McKinley Tech (DC)
Gross is the unsung hero for the Trainers. He brings size, versatility, and a relentless motor to the frontcourt. 
This time last year, Mack was just returning from a serious injury. Fast-forward to June 2022, and he is playing better than ever. Mack's explosiveness is fully returning. He is making shots consistently and reading the game at a high level. 
Perhaps no one has had a bigger blowup this summer than Perkins. The newly minted Capitol Hoops Summer League MVP was the top scorer from DMV Live.
Valentine's steady play at the lead guard spot was a huge reason for his team's 7-1 record at DMV Live. He averaged over 13 points while shooting 40% from 3 and 85% from the free-throw line. Valentine also averaged 4 assists to just 1 turnover and collected 5 rebounds per game.