The local 2024 class has been fluid to say the least, especially at the top spot. When the class first entered the high school ranks, it was Derik Queen who controlled the top spot. When Queen announced he would transfer to Montverde Academy (FL), Bryson Tucker took over as top dog. Tucker helped lead Mount St. Joseph to a BCL and MIAA A Conference title only to announce shortly after that he would be transferring to IMG Academy (FL). As the updated rankings released just a couple of weeks back, there were plenty of questions as to who would be No. 1. That was until the news broke that Trentyn Flowers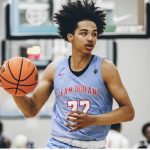 Trentyn Flowers 6'8" | CG Rosedale Christian | 2024 State MD would be transferring into the state and attending Rosedale Christian Academy in Baltimore.
Flowers was born in Baltimore and looks forward to returning in his hometown after stops at Huntington Prep (WV) and Sierra Canyon (CA). During that timeframe, he has established himself as a top-10 caliber player in the 2024 class nationally and brings that reputation to Rosedale as they revamp their program and look to make an impact not only in the DMV area, but the region as a whole.
"It just felt right to be with Coach Charles [Hebron]," Flowers told Prep Hoops. "You know, just the type of man and person he is, it's just a family environment coming over here. It was a great move for me and my family. The basketball part will handle itself, but the man that Coach Charles is is really what made the decision for me."
Flowers was in a position to attend plenty of powerhouse prep programs as many top-ranked prospects elect to do. Instead, he chose Rosedale Christian where the system will be centered around his skill-set.
"The biggest pitch from Coach Charles and his staff was just the overall opportunity to show my abilities. One thing he said was his favorite player was Magic Johnson and he said the way that I can see the floor and play on the perimeter, play the point guard sometimes and display my ability in that sense was what sold me. He's going to put the ball in my hands and let me rock. At a lot of schools you can just become another player falling in line and I've experienced that before. I just wanted to go somewhere that I can build a name and help build a program from the ground up."
At 6-foot-8, Flowers doesn't fit the prototypical make-up of a point guard. While it still isn't his primary position, he'll be featured as such for stints this high school season and spoke on where his ball skills developed in the past.
"When I was younger I was always playing up a grade. I wasn't always tall, athletic or fast. Then in one summer I went from 5-foot-11 to 6-foot-5 going into my freshman year. That's when all the ability started coming together. So I played guard when I was smaller and then once I grew, those skills stayed with me. Once I grew to 6-foot-8, everyone else just seemed to claim me as a forward or however you want to categorize it."
Rosedale will compete in the MPSA (Metro Private School Conference) while being featured in several reputable in-season tournaments. As their roster continues to assemble, it's safe to say that the foundation will start with Flowers. He's a player who can create offense for himself and others on a routine basis. His blend of size, skill and athleticism will create matchup issues for the majority of teams they face in the MPSA.
On the recruiting front, Flowers holds over two dozen offers from programs including Kansas, Auburn, Alabama, Michigan, LSU, Memphis and Maryland. That list could continue to grow as he prepares to take the floor with Team Durant 17U for the July Live Period on the EYBL Circuit. We'll keep a close eye on his production and development, as those behind him look to close in on his top spot.