Lots of good action took place at Indian River State College in Fort Pierce as teams from all over South Florida came to compete in a summer showcase event where each team played 5 games. There was a ton of talent in the building along with college coaches to take in the action. Below I will discuss a few players that caught my attention during the event.
2023 Nate King Nate King 6'1" | PG Melbourne | 2023 State FL – Melbourne High School – Nate was one of the most polished players I saw over the weekend. He displayed a high level of confidence and  was consistent from the perimeter. This 6'3 guard has good size and is coming off a solid junior season for his squad. Nate showed a good motor with high basketball IQ. He moves well without the ball and was going hard on both ends of the floor. Solid college ready frame I will be following his senior year closely.
2023 Zachary Brown – Centennial High School – 6'5 wing was one of the most physical players in the event. Zach is always in attack mode and seems to have endless stamina. He is a player who will grind out every possession on the defensive end and always seems to be in the right place at the right time. I have always enjoyed watching him play and the upside is limitless for this student athlete. Zach is a strong player with a solid frame and will only get better as time goes on. Another intriguing prospect from the 2023 class to keep an eye on.
2023 Ty Owens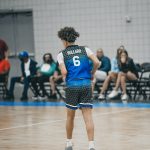 Ty Owens 6'0" | CG Cenntennial | 2023 State FL – Centennial High School – Ty and Zach as mentioned above make a great 1-2 punch. Ty is coming off a breakout season where he won player of the year and led his team to a district title. Ty has been active with travel ball during the summer so there was no rust to be found as he had a solid overall weekend displaying all the tools in his game. I expect the recruiting to pick up for Ty as he is a player that should be on college coaches radars. 
2023 Jacoby Parson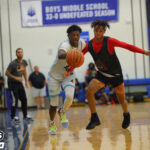 Jacoby Parson 6'2" | PG Treasure Coast | 2023 FL – Treasure Coast High School – This 6'2 combo guard is one of the most athletic guards I have seen. Coby is a high flier who can jump out the gym and if you are not careful will dunk on you in a second. Coby has also been working on his outside game which is coming along nicely. Coby can get to the rim with ease and is a very strong finisher around the rim. 
2026 Ari Smith – Martin County High School – Ari is an incoming freshman looking to make an immediate impact for the reigning state champions. Ari is a quick guard who does everything while on the floor. I believe Ari will be one of the best players in the area in the 2026 class as he is fundamentally sound and has a tireless work ethic that will put him over the top. Definitely one to keep an eye on as his high school career kicks off this fall. 
2026 Brandon Brazell – Martin County High School – Brandon who looks at least 6'4 is going to be a handful on the treasure coast for the opposing teams for the next 4 years. This young man is starting to come into his own displaying a nice outside shot while showing solid fundamentals inside the paint as well. Martin County has added some key pieces in the offseason and looks ready to make another state title run. Brandon will be a very intriguing prospect in the 2026 class. 
2025 Christian Maxon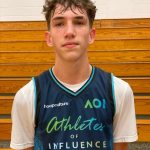 Christian Maxon 6'0" | CG Fort Pierce Central | 2025 State FL – Fort Pierce Central – Christian put on a shooting clinic  as he usually does and I feel will be in heavy contention for player of the year this upcoming season. A lightning quick guard with great court vision will be the engine that makes this team go this year. Christian was simply dominant in many of the games I saw and will continue to get better as his work ethic is off the charts.