The Hustle Region Memorial Classic had a lot of Portland area talent including some really good teams in Pool B.  Here is the Hustle Memorial Classic Pool B storyboard for the weekend. 
Fly Select Goes 3-1
Fly Select earned three blowout wins with the 3C Elite victory being the most impressive in my eyes.  This is a talented team and we talked in detail about 6'5 2023 junior Jared Sucher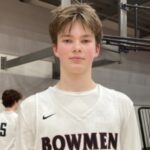 Jared Sucher 6'4" | SG Sherwood | 2023 State OR yesterday in the Top Five Performers article that detailed the top prospects from the weekend event.   https://www.prephoops.com/2022/05/hustle-region-memorial-classic-top-five-prospect-performers/
One of the more versatile guard prospects I saw in Portland was Malik Brown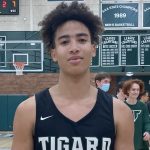 Malik Brown 6'0" | PG Tigard | 2023 State OR , the 6'1 guard that scored, created, rebounded, pushed, and always seemed to be a part of the play. The biggest part of his game that grabbed my attention was Malik consistently putting teammates in spots to comfortably catch and hit shots.  Shooters caught and hit on the wing with east and the forwards and bigs had a number of easy looks because Brown did the work moving the defense and then delivering. 
Josiah Lake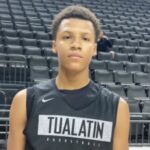 Josiah Lake 6'1" | PG Tualatin | 2023 State OR II was one of the more physically explosive players I was able to see over the weekend.  He used the Euro Step to finish on balance and at other teams he used his strength and bounce to score with the high percentage finish or to attack and lift into a deeper lane jumper.  Loved his second jump on putbacks and his lift off the attack finished with touch caught the attention.  Like his potential at the next level.
3C Elite Earns Three
Impressive weekend from 3C Elite and they had four players that made a lasting impression.  They were…
Kwaje Laila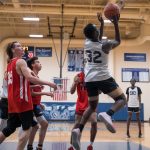 Kwaje Laila 5'11" | SG Franklin | 2024 State OR , 6'3 2024 strong forward.  Kwaje played the PJ Tucker role of a strong body that can shoot the jumper some, he can put the ball on the deck, and of course he can use his strength and make plays around the cup. 
Kapalisok Laila, 6'6 2022 stretch forward.  Kapa is the long shooter that stretches the defense and is very difficult to closeout to because of his size.  Hit four threes in each game I saw including a 21 point, 10 rebound double-double.  Think of a high school Cameron Johnson (not saying he will be a Phoenix Sun, think of the role Johnson plays for his team, that's the Kapa role for 3C). 
Dom Papworth, 6'2 2022 point guard.   Let's keep these comparisons going!  Dom was a Ricky Rubio type doing everything he could to make scoring comfortable for his teammates putting the ball in the perfect spot for high percentage attempts. 
Nico Rafalovich, 6'5 2023 wing.  Loved watching Nico competed.  He rebounded at a really high level consistently giving his team a second chance or a quick push.  Good handles, nice looking jumper on the move, has some back to the bucket game, and played tough in both games we saw.  He was 3C Elite's best player in the games I saw. 
Progress Elite With Big Win
Progress Elite knocked off Fly Select and the Vallejo Generals but lost to No Fear Elite and 3C Elite.  The big moment was the 82-77 win over Fly Select in a local confrontation.  This game will forever be remembered as Kayin Turner
Kayin Turner 6'5" | SF Sunset | 2024 State OR dominance as he scored 32 points with 17 rebounds dominating the game with his 11 of 17 shooting.  He got some big contributions from those around him as well to get the win.  Sidney Jones would have had a triple-double in a high school timed game with more time as he scored 8 points with 9 rebounds and 8 assists.  Axton Wongsomadi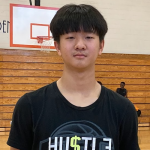 Axton Wongsomadi 6'1" | CG Century | 2023 State OR 's three point shooting was another big piece as he hit four triples and scored 16 points in that game. 
Pool B All Event Team (one player per win)
Malik Brown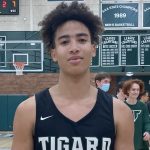 Malik Brown 6'0" | PG Tigard | 2023 State OR of Fly Select
Andruw Galindo of No Fear Elite
Sidney Jones of Progress Elite
Josiah Lake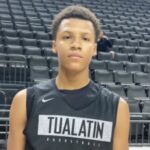 Josiah Lake 6'1" | PG Tualatin | 2023 State OR II of Fly Select
Kapalisok Laila of 3C Elite
Dom Papworth of 3C Elite
Nico Rafalovich of 3C Elite
Jared Sucher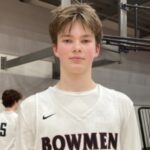 Jared Sucher 6'4" | SG Sherwood | 2023 State OR of Fly Select
Kayin Turner
Kayin Turner 6'5" | SF Sunset | 2024 State OR of Progress Elite
Tai-run Williams of No Fear Elite