The Grizzlies summer tournament is currently taking place at Spring Valley High School in Las Vegas. The event features boys varsity and junior varsity teams from Las Vegas. The Varsity competition got underway yesterday with 8 games taking place. An event like this provided me with the perfect opportunity to lay eyes on a ton of players. Here's a look at some of the top players from Pool Play. 
Jahmon Haylock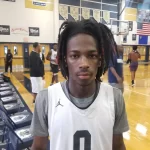 Jahmon Haylock 5'8" | PG Foothill | 2023 State NV 5'10 PG Foothill 2023 (#20PHN 2023) (featured image) – Haylock will be one of the top floor generals in the state when the season starts. He's a throwback guy that is looking to get to the rim and create. He did a good job of playing off of two feet, and defended the ball well. 
Zak Abdalla Zak Abdalla 5'11" | SG Foothill | 2025 State NV 6'0 SG Foothill 2025 – Abdella was Haylock's runningmate and he did a good job of playing off the ball. The SG was constant motion moving without the ball and slashing to the bucket. Abdalla also used his mid range jumper effectively when he was unable to get all the way to the cup. 
Armondo Lewis Armondo Lewis 6'2" | SG Canyon Springs | 2024 NV 6'3 SG Canyon Springs 2024 – Lewis was a nice discovery. He has a terrific frame, and was one of the most bruising bully drivers I saw. Lewis did a good job of playing through and giving contact on the way to the basket. He was more than just a driver, as he hit several threes showing that he can score from multiple levels. 
Christopher Baudreau Christopher Baudreau 6'8" | PF Bishop Gorman | 2025 State NV 6'9 C Bishop Gorman 2025 – Baudreau caught my eye with his improved offensive game. He was able to stretch the floor knocking down threes in both catch and shoot and pick and pop action. He also provided rim protection and rebounding, combined with his improved offensive game, made Baudreau into one of the more intriguing prospects of the event. 
Javares Reid Javares Reid 6'7" | C Liberty | 2024 State NV 6'8 PF Liberty 2024 – Reid is a player with potential. He has a terrific frame, including long arms and a strong upper body. What I liked this week was his ability to score around the rim. Reid showed good patience and looked good turning over his left shoulder, even when they didn't fall, he still showed a soft touch. 
Amanee Ned Amanee Ned 5'7" | PG Spring Valley | 2024 NV 5'8 PG Spring Valley 2024 – The host Grizzlies are one of the favorites in 4A and may have found some additional depth in Ned. He's a terrific all-around player, who was able to knock down open threes and create for himself with the ball in his hand. He came up huge for SV in their Semifinal wing over Foothill. 
Brian Townsend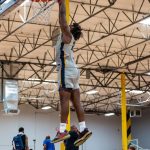 Brian Townsend 6'4" | SF Arbor View | 2025 State NV 6'4 SF Arbor View 2025 – It's been two good weeks for the Chef. Townsend is just a tough cover because of his size, skill, and agility. He's a terror when he's attacking opponents downhill, but he's also improved his outside shooting and he showed that by knocking down corner threes.