The Grizzlies summer tournament is currently taking place at Spring Valley High School in Las Vegas. The event features boys varsity and junior varsity teams from Las Vegas. The Varsity competition got underway yesterday with 8 games taking place. An event like this provided me with the perfect opportunity to lay eyes on a ton of players. Here are my notes from day 1 of the event. 
Amare Oba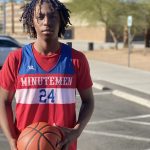 Amare Oba 6'5" | SF Liberty | 2026 NV 6'3 SG Liberty 2026 – Oba is one of the best mid-range shooters that I've seen regardless of class. He has a knack for getting right to his spot and knocking down his shot. I watched him do this repeatedly during the JV tournament, now he's proving that he's just as accurate on the Varsity level. 
Cyril Franklin Cyril Franklin 6'3" | SG Liberty | 2024 NV 6'3 SG Liberty 2024 – Franklin is a smooth guard who I have liked a little bit more every time I see him. He does a little of everything and can score in transition and off drives. He does some additional ballhandling and has length to be effective in both man and zone defenses. 
Gerald Patterson Gerald Patterson 6'1" | PF Cimarron | 2025 State NV 6'1 PF Cimarron 2025 – Patterson is one of the most unique players in the state. I've seen him score the ball around the basket on the JV level, during the grassroots season, and now against varsity competition. The undersized lefty post has tremendous feet, good patience and a nice touch around the rim. 
Zuri Wilson Zuri Wilson 6'2" | CG Bishop Gorman | 2023 NV 6'2 CG Bishop Gorman 2023 – Wilson is just another example of the depth of the Gaels. The little-used reserve was phenomenal on Thursday. He was accurate spraying threes from all over the court and showed a good burst getting out and finishing in transition. 
Hayden Dunn Hayden Dunn 6'7" | PF Bishop Gorman | 2023 NV 6'7 PF Bishop Gorman 2023 – Legendary Gorman coach Grant Rice told me before the game that the senior forward shoots 75% from around the basket. He might have undersold it. Dunn made everything, scoring both off direct post-ups as well as putbacks, making that 75% look more like 80 or 90. 
Graydon Lemke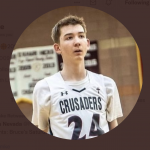 Graydon Lemke 6'9" | SF Faith Lutheran | 2024 State NV 6'8 PF Faith Lutheran 2024 – Lemke may have ended the discussion over who is the best stretch big in the state. The rangy forward came out firing, hitting his first threes of the game. He has a beautiful stroke and was nearly automatic in both pick and pop and catch and shoot situations. 
Marcus Gomez Marcus Gomez 6'0" | SG Las Vegas | 2023 State NV 6'0 SG Las Vegas 2023 (#62PHN 2023) – I liked the improvement I saw in Gomez. He was active on the defensive end and was aggressive going for rebounds. Overall he was able to score the ball by slashing and attacking the rim. 
Jordan Massey Jordan Massey 5'9" | CG Las Vegas | 2023 State NV 5'9 PG Las Vegas 2023 (#70PHN 2023) – Like Gomez, Massey showed improvement. I was impressed with his shooting on the offensive end. He shot the ball with a lot of confidence and was accurate from both corners. He has some good quickness and looks like the kind of player with the ability to get out and score in transition. 
Devin Mabry 6'6 PF Spring Valley 2023 (featured image) – Marby is a clear stockriser, and he showed why he is one of the top small college prospects on the West Coast. Marby gets off the floor well with both his first and second jumps. He did a good job of catching and finishing, completing several plays with thunderous dunks. 
Jordon Cosby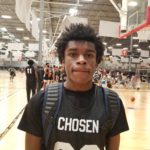 Jordon Cosby 5'9" | PG Spring Valley | 2024 State NV 5'10 PG Spring Valley 2024 – Cosby has always been known as a knock-down shooter, however, I was impressed with his playmaking. He did a good job making the extra pass and had some nice dimes hitting teammates with accurate passes off the dribble.