GBCA Live: 2024 Standouts
2024 6-4 SG Cameron James Cameron James 6'4" | SG Chattahoochee | 2024 State GA – Chattahoochee
Great size on the perimeter. Lean wing has the frame to add more muscle. Athletic. Can finish lobs over the top. Scored with his mid-range jumper. Slashes well. Tallied 8 points, 7 rebounds, 4 assists and 1 steal.
2024 6-0 PG Vonte Newell Vonte Newell 5'9" | PG Monroe Area | 2024 State GA – Monroe Area
Shifty playmaker when great vision off the bounce. Scores downhill but is a pass-first point guard. Quickness disrupts opposing offenses. Good ball handler. Outside shot is still in progress. Posted 7 points, 2 rebounds, 4 assists, 1 steal and 1 block in a 51-45 loss.
2024 6-10 F Cole Kirouac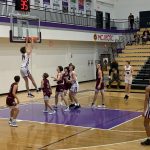 Cole Kirouac 6'10" | PF North Forsyth | 2024 State GA – North Forsyth
Long big man had 10 points, 11 rebounds and 1 block vs. South Paulding. Catches alley oops and can score through contact with his back to the basket. Grabs rebounds at their highest point. Adding weight will help him when fighting for post position. Steady developer.
2024 6-3 PG Anthony Alston Anthony Alston 6'2" | PG Grayson | 2024 State GA – Grayson
Came up big against Westside-Augusta with 14 points and 8 rebounds. Hit a pair of threes and finished around the rim. Very good size on the perimeter. Will benefit playing next to talent. Will draw college attention soon.
2024 6-4 W Jason Isaac Jason Isaac 6'4" | SF Jonesboro | 2024 State GA – Jonesboro
Came off the bench and provided a spark. Looks the part. Move-in from ELCA. Has the size to score around the rim and is a solid shooter from the mid-range. Can be helpful on defense and on the glass.
2024 6-0 G Tahai Morgan Tahai Morgan 6'0" | CG Lanier | 2024 State GA – Lanier
Boogie thrived off the ball as a shooter. He hit three three-pointers and finished with 11 points. Has springy legs when competing for rebounds and attacking the hoop.
2024 6-0 PG CJ Hyland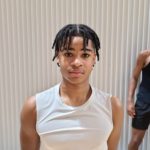 CJ Hyland 6'0" | PG Lanier | 2024 State GA – Lanier
Lead guard set the tone for his teammates. Provides aggressive on-ball defense and can get into passing lanes.  Does a nice job of getting two feet into the paint. Scores well in traffic and sees the floor downhill, able to kick out to shooters. Tallied 12 points, 3 rebounds, 2 assists and 3 steals in a 47-42 win.
2024 5-9 PG Taison Mathis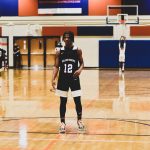 Taison Mathis 5'10" | PG Miller Grove | 2024 State GA – Miller Grove
Sneaky good guard put up 12 points. Has a balanced offensive game. Really good at creating space off the dribble. Three-level scorer. Hits tough mid-range jumpers and can spin off his man into step-backs. Tear drop floater in the lane.
2024 6-3 PG Kyle Greene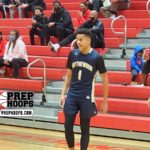 Kyle Greene 6'2" | PG Pace Academy | 2024 State GA – Pace Academy
High Major offers have rolled in this offseason. Smooth guard with size. Effective off the dribble. Creates separation. Three-level scorer. Got to the rim and hit two threes en route to 10 points, 2 rebounds, 2 assists and 1 steal.