Check out my analysis on some of the top 2023 point guards in attendance at the Austin/ Round Rock GASO this last weekend! These guys not only control their team's tempo, but also showed an ability to get their own buckets when necessary. Do not be surprised when these guys start making waves among college coaches!
Matthew Gonzalez Matthew Gonzalez 5'11" | PG San Antonio Marshall | 2023 TX   2023 6'0 Marshall High School (DC Kings SA 17U)
Matthew is one of the best scorers in Texas with his ability to flat out dominate from all levels of the floor, yet what sets him apart from other scorers is his natural point guard instincts and incredibly tight handle. You can tell he has spent countless hours working on tightening up his handle, using it to routinely get around his opponents and force a second defender to come up and react. I was very impressed with his ability to make good decisions while still going top speed hurling into the paint. When he gets downhill, defense do not know what to do with him as he scores so easily from the mid-range and as he attacks the rim. However his best plays for his teammates are often made with him getting to the rack, and finding an open teammate on the back side of the play. His scoring prowess is going to make him a household name in the San Antonio area with how easily he gets it done beyond the arc. He is a complete four level scorer with the ability to threaten the defense from beyond the three point line. His aggressiveness lets him hunt for his shot, yet his consistency is such a difference maker. Gonzalez is a name you cannot soon forget, and if you are in the San Antonio area, be sure to get out to a game of his next season, you will not be disappointed! 
Ziyan Ali 2023 6'2 Spire Academy, OH (ADV4NCED Hoops)
Ziyan is a high level point guard who not only facilitates for his teammates, but does all of the little things necessary to help propel his team to success. He is a willing rebounder who loves to push the pace after defensive rebounds. He always has his head up to make the right decision on the fast break, and showed an ability to make some high level passes. His basketball IQ was on full display as he forced the attention of a second defender and routinely made the right reads. He whipped high level passes across his body to the back side of the court that found his teammates right in their shooting pocket. I was very impressed with his passing ability out of all aspects of the game, especially the pick and roll and on the fast break. On the offensive end of the court, he is a complete three level scorer with his ability to catch and shoot, put the ball and the floor and get into the paint or score in the mid=range. I was very impressed with his confidence and how well he attacked the defense time and time again. He always took whatever the defense gave him which allowed him to shoot the ball at a very high clip. He is a good teammate who always looks to keep his teammates heads up, and leads by example with his non stop energy on the court.  I was selfishly disappointed to hear he is leaving Texas high school ball, as I will miss opportunities to see him, but is sure to be facing top competition at Spire Academy and I am excited to keep tabs on his development!
JaCovey Campbell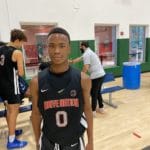 JaCovey Campbell 5'8" | PG Mckinney | 2023 State TX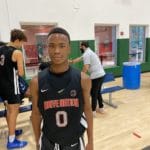 2023 5'9 McKinney High School (Team Grrr)
JaCovey is an intelligent point guard who thrives in the half court, he creates a plethora of shot opportunities for his teammates. He is great at getting into the teeth of the defense and kicking it out to his shooters on the wing. His ability to create opportunities for his teammates in the half court allows everyone to touch the ball and affect the game. He seems to be reading the game just one step ahead of the defense every time down the court. I was very impressed with how well he uses his eyes to manipulate the defense, literally moving his opponents out of his way with a simple head fake. He routinely set up his bigs in the half court, and calmly operated the pick and roll. He made good decisions every time he had the ball in his hands. Campbell is the kind of old school point guard that is almost becoming a lost art this day in age. He is not just a passer, he got into the teeth of the defense and finished at the rim even dispute the size disadvantage. 
Henry Sanchez 2023 6'0 Copperas Cove High School (ProSkills ATX Brown)
Henry is a true point guard who thrives off his ability to get into the paint and create looks for his teammates off the attention he draws. I was very impressed with how well he used spin moves and euro steps to beat the last defender. He is not just a slashing guard however, he displayed an ability to create any type of look for his teammates on the fast break or within the half court. On the break there was a play where he caught the ball and made a very aware touch pass to his teammate underneath the basket, setting him up for an effortless look. His awareness with a live dribble is very impressive and is a good indicator of how well he sees the floor and controls the tempo. I would like to see him work on creating more with his shot from the perimeter.
Joel Elfret 2023 5'11 Katy High School (Principles First Select)
Joel is a crafty point guard who has a nonstop motor that allows him to a be a real weapon on both ends of the court, diving after loose balls and long rebounds, and doing all of the little things necessary to help lead his team to victory. He loves creating opportunities for his teammates, and does so by getting into the teeth of the defense with his handle and then kicking the ball out to his shooters on the perimeter after the defense collapses on him. I was very impressed with the amount of high level basketball decisions he made, on both ends of the floor, cutting off driving angles and baiting his opponents into lazy passes and then taking the ball coast to coast. I also loved the real connection he had with his big man Cason Cole, who is also at Katy High School, constantly finding him at the right time on the perimeter when he popped out of the pick and roll or as he cut to the rim. The two of them dominated out of the pick and roll, seeming to read each other's mind and always made the right basketball play.