Sporting a 2018 national championship. Ferris St has consistently been one of the better Division 2 programs in the nation. Head coach Andy Bronkema held the Bulldogs first elite camp of the 2023 calendar season this past Sunday. 
While the camp tilted heavily towards the 2024 class. A group of 2025's and even a 2026 proved that they belonged. 
2025
Carson Vis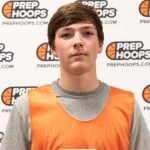 Carson Vis 6'3" | PG Grand Rapids South Christian | 2025 State MI 6-3 Grand Rapids South Christian (pictured) West Michigan player continued to show why he is one of the better long term prospects in the region. If not the entire state. Burst on to my radar at this same Ferris Elite camp last summer. Continued throughout his freshman season. Then was outstanding against the prestigious field at the Run N Slam. As a 2025 simply has very few weaknesses in his game. Has a good handle and can really shoot it. Is a fearless penetrator to either side. Along those lines is basically an ambidextrous finisher at the rim. Could get a little bigger but you could write that about most 2025 prospects. Must be doing something right. Picked an offer from host Ferris St at the conclusion of the camp. That's as early an offer as I can remember from the national championship program. Extremely bright future for this prospect. Won't be doing it alone. As he will team with fellow camp participant 2024 Jake Vermaas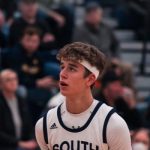 Jake Vermaas 6'2" | SG South Christian | 2024 State MI to form a potent duo at South. 
Torrion TJ Stevenson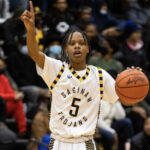 TJ Stevenson 6'0" | PG Saginaw | 2025 State MI 6-0 Saginaw Impressive day for this physically advanced backcourt prospect. I first caught him during the regular season at a Saturday showcase in Grand Blanc. I thought looked like more of a two guard in that viewing. Two factors change that prospectus. One he measured in a little shorter than I expected. Secondly his overall play. Played with his head up and showed good playmaking instincts. Was also probably a function of being one of the younger players in a deep field. So he showed the ability to adapt. Make no mistake. He can still score the basketball. Has nice elevation on a smooth left handed jump shot. The future of Saginaw basketball remains in a state flux. If Stevenson continues to develop and grow. He could lead a resurgence in whatever form the program takes. 
Camden Karel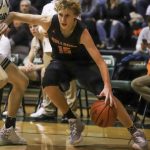 Camden Karel 6'8" | PF Byron Center | 2025 State MI 6-8 Byron Center Of the 2025 prospects easily won the measurement portion of the camp. Checked in at 6-8 with a 6-7 wingspan. These factors combine to give him a eye opening 10-11 vertical leap. This allows to finish above the rim with ease. Is also very mobile and has a soft touch around the basket. The touch extends out the perimeter as well. Will need to add strength and work on playing with a lower base in the post. But has tantalizing physical gifts already. 
Isiah Jones 5-11 Warren De La Salle My goodness what an embarrassment of riches at the defending Division 1 champion. Add an another tough as nails Detroit point guard to the assembly line the Pilots have been punching out. Jones competed hard on the defensive end. Turned a steal into a quick two and provided solid on ball defense all day. Extreme foot speed aided this effort.  Posted one of the fastest 3/4 court sprint time in the camp at 3.21 seconds. A key for Jones will be camps like this and the grassroots season. It might difficult earning run in DLS's very deep and talented backcourt. However it shakes out. He will come out battle tested and well coached. 
2026
Jacob Pleyer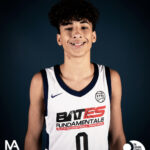 Jacob Pleyer 6'1" | PG Watervliet | 2026 MI 6-0 Watervliet I have my arbitrary standards about not writing about middle schoolers. I figure they have enough on their plate getting ready for high school. I don't actively seek them out. But when I come across a player whose play warrants it. I wouldn't be doing my job if I didn't mention it. Pleyer did not resemble a middle schooler in any regard. Already has excellent size for the point guard position. Even if he doesn't grow another inch (which I doubt) Was a good ball handler who played with his head up. Appeared to be explosive athletically. Also highly competitive and didn't back down from anyone. I didn't see enough of his perimeter shooting to pass a verdict. That doesn't mean it's not there. Stepping into a nice situation at a good small program in Watervliet. Won't need to shoulder much of a load initially with the presence of 2024 6-3 guard Kaiden Bierhalter (West Michigan Lakers) Cloud have a very bright future if he keeps improving.