Session II of DMV Live at DeMatha took place this past weekend. Take a look at Part II of the 2023 standouts.
DHS plays with a ton of energy with the ball in his hands and can fill it up in a hurry as both a rebounder, scorer and playmaker. He opened the weekend with 27 points along with six assists and six rebounds on 12-of-19 shooting. He doesn't try to force shots much, as evidenced by his shooting percentage of 54 percent when the weekend was over with. He does a tremendous job of forcing defenders into fouls as well. In one game, he shot 13-of-15 from the free-throw line. He's a high-major prospect in the making as he continues to close out his career with Paul VI.
It's my first viewing of Lamothe in 2022 and suffice it to say, his development has warranted his status as a current Maryland Terrapins commit. He does a number of things well on both sides of the floor, including his ability to operate as a scorer and rebounder. He was a consistent double-figure scorer while averaging 9.8 rpg as well. He showed off his ability to operate on all three levels and when needed, distributed the ball as well. He opened things up with 25 points, 12 rebounds, six steals and five assists on Day 1.
It was my first time checking out Carlton Carrington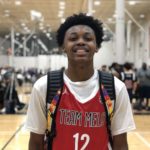 Carlton Carrington 6'4" | CG St. Frances | 2023 State #72 Nation MD and it's easy to see what the Pittsburgh coaching staff see in his game. He's a rangy wing prospect that showed he can fill it up in a hurry as quite the 1-2 punch alongside Lamothe in the St. Frances Academy backcourt. He showed he could shoot it at volume from behind the arc as he knocked down 10 3-pointers across his four appearances. His length and ability to pass the ball (4.5 apg) are two qualities that should carry him in the future as well. 
Musaka showed flashes of his ability to be a presence in the paint for NC Good Better Best Academy out of North Carolina at DMV Live at DeMatha. His production showed his upside as he finished the weekend with 7.3 ppg, 6.8 rpg and 2.3 bpg and added another Division I offer, this time from Mississippi State. As he begins to show consistency on offense, look for his stock to grow a ton in the 2023 class.
Powell is a name that's climbing onto college radars with NC GBBA as well. He's a wing prospect with some guard skills as a distributor and defender that can shoot at volume from behind the arc. He closed the weekend out with a 29-point performance on 5-of-9 shooting from behind the arc. As he shows off his ability to rebound and make plays, look for his stock to rise in NC's 2023 class. He put up 16.5 ppg, 5.3 rpg, 2.3 spg and 2.0 apg on the weekend. UMass Lowell and App State offered him after the weekend.
Winston is a point guard due for a ton of attention in the DMV area out of DeMatha High School given he plays with a ton of energy on defense. He's relentless at getting to the basketball as a defender and even more relentless when getting downhill and finishing around the rim. He was impressive as his squad went unbeaten on the weekend including a sudden death OT victory over Miller School on Day 1. He's a gamer at the floor general spot that should turn heads this season.
Arnold is a combo guard that's quite the creator off the bounce for DeMatha High's backcourt. He showed off his ability to finish in a variety of ways in traffic while still maintaining his ability to make plays for others, finishing with 4.3 apg to go along with 12.5 ppg to wrap things up at DMV Live at DeMatha. He's a prospect due to grow in the 2023 class as he shows off his skillset as a playmaker and defender.
My first live viewing of Hansberry in quite some time and it was well worth it. Hansberry showed off his ability to be a factor on both ends of the floor on the weekend. Two double-doubles and a near triple-double against McNamara showed just how much of an all-around forward he is. He put together 13 points, nine assists and eight rebounds against them in that one as MSJ was another squad that went 4-0 in the event. 
Perkins is a big guard prospect over at Landon School that should gain some attention from colleges in the area when it's all said and done. He showed he could rebound in bunches, finishing with 11.5 rpg along with 15.0 ppg. He wasn't shy about operating in the paint either as he blocked shots too and created chaos with his ability to cause turnovers. He's a game-changing guard to watch in the 2023 class.
Ball had a productive weekend and it's culminating in his latest offers from Richmond, George Mason, Akron, Towson and James Madison. He put a lot of people on notice with his ability to knock down shots on the perimeter, finish at the rim and defend with energy. He's increased his activity a ton on both ends of the floor and it showed as they pushed the envelope against DeMatha. He's added some muscle and it's shown down the stretch of games when his team needed buckets.