The June high school live periods continued this past weekend with tons of events all over the country, and one of the biggest ones was in the DMV area where DMV Live took place at the famous DeMatha High School in Maryland. The event featured some of the top private schools from Maryland, Virginia and North Carolina, and had hundreds of college coaches in attendance. We'll have tons of content from the weekend, starting with part one of the 2023 standouts from MD.
Tyler Perkins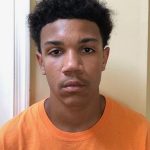 Tyler Perkins 6'4" | SG Landon | 2023 State MD | 6'4" WF | Landon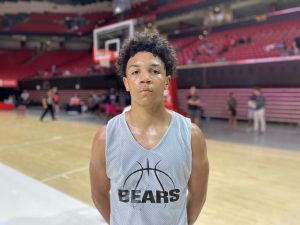 Perkins followed up a great session one by doubling down and bringing it session two, and he's been one of the top stock risers picking up offers from a number of schools due to his play. He's a high motor wing with good length who brings it on both ends of the floor, he can score it from all three levels and he's a good athlete who can finish at the rim and rebounds well for his position. He's really filled out from last year and honed his craft, and throw in the fact he's a high academic kid makes him very recruitable.
Ace Valentine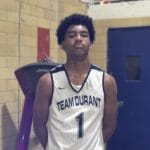 Ace Valentine 6'2" | PG Mount St. Joseph | 2023 State MD | 6'3" CG | Mount St. Joe's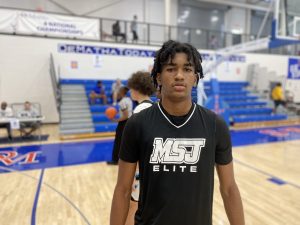 Valentine is another player who had a great session one and showed up again in session two to lead Mt. St. Joe's to some wins against very good teams. He's a relentless on ball defender who can guard the other team's best player, he's quick off the bounce and has good end-to-end speed and he can finish around the rim or make plays for others when he gets in the paint. He's improved in his ability to score it from multiple levels and when defenses have to respect him as a scorer it allows him to make plays for others.
Austin Abrams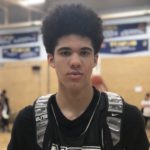 Austin Abrams 6'3" | SG Mount St. Joseph | 2023 State MD | 6'4" WG | Mount St. Joe's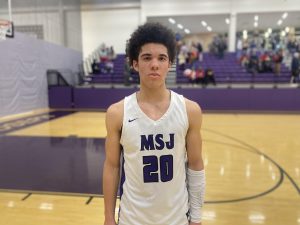 Abrams left you wanting more in session one after watching how he's developed, but session two he brought it and showed his ability as a shot maker and improved playmaker off the bounce. He's a knock down shooter from deep who can move off the ball and has a quick release, he has good size on the wing and is a good rebounder for his position and he's shown he can be a reliable secondary ball handler and playmaker. He made shots consistently this weekend and when he does that he opens up the game for himself and his teammates too.
Amani Hansberry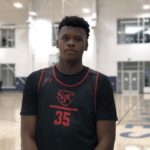 Amani Hansberry 6'7" | C Mount St. Joseph | 2023 State #68 Nation MD | 6'7" PF | Mount St. Joe's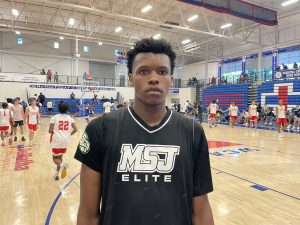 Hansberry continues to impress as one of the most versatile big men in the DMV area, and he showed all of that versatility in session two. He's a grab and go four man who can rebound and start the break where he's a good passer and decision maker, he can hit the trail three and works well in the midrange with his ability to create space and make tough shots and he finishes well around the rim and in traffic. He's a walking double-double and a walking mismatch that is very hard to matchup and game plan for.
Jaden Johnson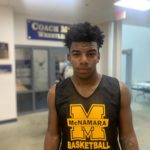 Jaden Johnson 6'0" | PG Bishop McNamara | 2023 State MD | 6'3" CG | Bishop McNamara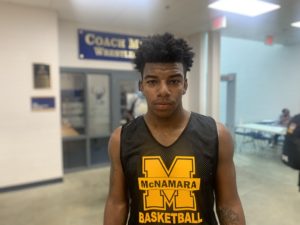 Johnson may have been forgotten by many after dealing with some injuries over the past few years, but he continues to show he's one of the best guards in the DMV. He's a very strong guard who gets downhill consistently and can finish through traffic and contact, he's shifty for his size and has good burst and he can make shots in the midrange as well. He uses his size on both ends too, keeping defenders in front and he's a good rebounder for his position too.
Jaden Winston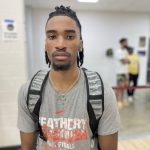 Jaden Winston 5'9" | PG DeMatha | 2023 State MD | 5'11" PG | DeMatha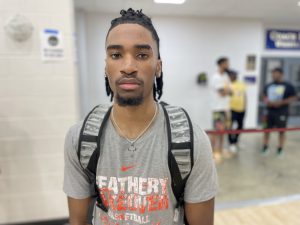 Winston was a big reason for the success of a rebuilding DeMatha team that went undefeated this past weekend, and he did a great job running the show and creating opportunities for himself and his teammates. He's great off the bounce as he can get in the lane at will and runs the pick-and-roll well, he can create space and knock down shots consistently and he comes at defenders time and time again. He was very consistent and was a tone setter on both ends of the floor for his team.