Article two on the open run event, sponsored by Soldier Sports, called Recruits Up Next 32 will focus on five more standouts. These five were equally as impressive as the others and should be on colleges radars, if not already.
T'Andre Perkins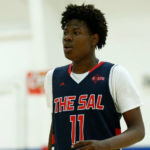 T'Andre Perkins 6'5" | SF Omaha North | 2023 State NE | Omaha North | SF | 6'5″ 190lbs | Class of 2023
https://twitter.com/tandreperkins_?s=20&t=xJQGcUoS3Roec6QEvchaGA
Perkins was electric at the showcase scoring at multiple levels and showing off crazy athleticism. He also averaged 12.2 points per 12-minute game, including a game where he knocked down 4 triples. Perkins was aggressive all day, attacking the basket with acrobatic layups and almost two poster dunks. Early on he showed his ability to live above the rim, however in later games he showed his ability to shoot from the perimeter and was almost indefensible the entire day. The Vikings are highly talented around the perimeter this year, Perkins should provide some spectacular highlight reel plays this year and explode on the scene.
https://www.maxpreps.com/athlete/tandre-perkins/CpL8kiraMEe3aQVc0nPZGg/default.htm
Jacob Martin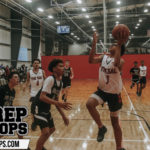 Jacob Martin 6'0" | PG Millard North | 2023 State NE | Millard North | PG/SG | 6'2″ 165lbs | Class of 2023
https://twitter.com/jacobmartin2005?s=20&t=xJQGcUoS3Roec6QEvchaGA
Along with Perkins, Martin was one of the most entertaining players at the showcase. His ability to handle the ball and hesi motions had defenders on skates, creating multiple highlight reel plays. Martin has a chance to be an elite level scorer with his skillset and excellent step back capabilities. The most impressive part of Martin's game was his ability to get others involved with some top notch passes on his dribble drives. Martin knows how to mix his game up to keep defenders on their toes. The Mustangs are returning a couple fantastic guards already, however Martin maybe the most skilled with the ball in his hands and prove to be an asset for this annual powerhouse.
https://www.maxpreps.com/athlete/jacob-martin/l0BdeF0HEeuAzqREozo6lw/default.htm
Mynor Strong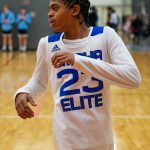 Mynor Strong CG Omaha North | 2024 State NE | Omaha North | PG/SG | 5'10″ 165lbs | Class of 2024
https://twitter.com/StrongMynor?s=20&t=xJQGcUoS3Roec6QEvchaGA
Strong was one of the top perimeter shooters during the showcase. He was able to be a knockdown shooter off the dribble and did a fantastic job spreading the floor to be ready for a catch and shoot. Strong was not afraid to be aggressive toward the basket, attacking it with floaters and even a breakaway dunk. Strong's minutes will grow this year, along with his confidence, and he demonstrated an ability to score at a high level. His name will be added to many schools watchlists this year.
Elijah McCullough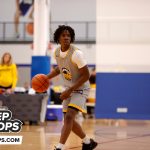 Elijah McCullough 6'0" | CG Omaha Bryan | 2023 State NE | Omaha Bryan | PG | 6'0″ 170lbs | Class of 2023
https://twitter.com/ElijahMcc_04?s=20&t=xJQGcUoS3Roec6QEvchaGA
A tough, gritty point guard with solid handles, Mccullough did a little bit of everything at the showcase. Mccullough would often times be the primary ball handler for his team while in the game, he was great at controlling the pace and looking for opportunities to pass or attack. His ball handling is above average, allowing him to get into the lane with strong finishing capabilities. Possibly from playing football, you can tell Mccullough does not mind the contact and often times thrives through it. He was able to knock down some jump shots and applied pressure on the opposing team's guards. The Bears have a talented bunch with Tut, Bynum along with transfer Amir Martin, Mccullough could really impress as the primary ballhandler.
https://www.maxpreps.com/athlete/elijah-mccullough/0jdEuc9zEeuAzqREozo6lw/default.htm
Pani Bol | Bellevue East | SG/SF | 6'4″ 175lbs | Class of 2022
https://twitter.com/Paniiib3?s=20&t=xJQGcUoS3Roec6QEvchaGA
I am throwing in a bonus player ready to contribute to a college now. Bol averaged 6.5 points and 3.5 rebounds per 12-minute games during the showcase. He brought energy and hustle to each game, constantly attacking the basket and fighting for rebounds. Bol was a point guard's best friend; he was quick to get on out on the breaks and made spectacular cuts to create open passing lanes. He was even able to step back and drain a couple from beyond the arc. Any school looking for energy and that extra spark, Bol could provide a huge return on investment.
https://www.maxpreps.com/athlete/pani-bol/z0Jx3GVhZ06ws3w-s4kAFw/default.htm