134 teams. Well over 1000 players. 100+ college programs spanning all levels. The annual IHSAA/IBCA Charlie Hughes Showcase is officially behind us and was a massive success. The Charlie Hughes Showcase has solidified itself as the premier event of the summer in the state of Indiana. College coaches raved about the event in nearly every conversation and fans clearly love it too as our Prep Hoops Indiana website traffic has essentially doubled over the last few days from the typical numbers.
Over the course of the weekend we've highlighted several top performers from the event and had constant coverage coming to you on Twitter via @BRamseyKSR. We will have a few more pieces of content to put out over the next couple of days as we continue to cover the event. Let's begin with emptying out my notebook from the weekend with some left over highlights, thoughts, evaluations, and more.
Ben Davis Made a Statement
Defending state champion Cathedral will have a case to be made to be the preseason #1 team in the state, but it is getting harder and harder to argue against the Ben Davis Giants. Over the course of the weekend at Westfield High School they went 4-0 with an average margin of victory of 29.5 points per game. To make it even more impressive, those wins came against solid programs in Homestead, Center Grove, Noblesville, and Zionsville. The Giants were out to make a statement and they did just that.
Coach Don Carlisle rolled with a starting line up of Sheridan Sharp Sheridan Sharp 6'2" | PG Ben Davis | 2023 State IN , Clay Butler Clay Butler 5'11" | PG Ben Davis | 2023 State IN , and K.J. Windham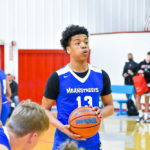 K.J. Windham 6'2" | PG Ben Davis | 2024 State IN in the backcourt with Shaun Arnold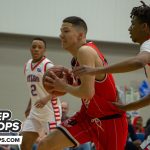 Shaun Arnold 6'5" | PF Ben Davis | 2023 State IN and Zane Doughty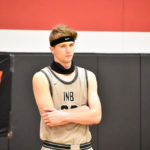 Zane Doughty 6'9" | C Ben Davis | 2023 State IN in the front court. They have a well-balanced lineup and a deep bench to go along with it. Ben Davis is the most complete team in the state of Indiana and they proved it at the Charlie Hughes Showcase.
Class 2A is Stacked
Class 2A was very deep during the 2021-2022 season. Now, with some new classification assignments, it has gotten even stronger. Brownstown Central, featuring rising junior Jack Benter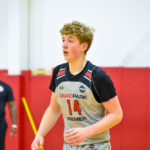 Jack Benter 6'4" | SG Brownstown Central | 2024 State IN , dropped down from Class 3A. Additionally, Gary 21st Century is now up from Class 1A and will have as much talent as anyone. Benter led Brownstown Central to a 3-1 weekend including dropping 31 points in a win over Hamilton Southeastern. Purdue was following him closely throughout the event. Gary 21st Century was also 3-1 with their only loss coming to defending Class 1A state champion North Daviess.
Elsewhere in the class, Linton-Stockton is playing like they are already in mid-season form. The Miners went 4-0 with wins over Culver Academy (3A), NorthWood (3A), and Arsenal Tech (4A). They are led by highly sought after recruit Joey Hart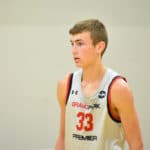 Joey Hart 6'5" | SG Linton-Stockton | 2023 State #218 Nation IN , but fellow senior Logan Webb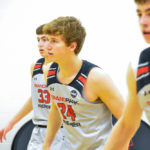 Logan Webb 6'3" | SF Linton-Stockton | 2023 State IN and junior Braden Walters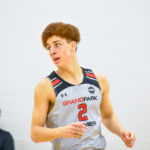 Braden Walters 6'5" | PF Linton-Stockton | 2024 State IN also were excellent over the weekend.
Wapahani will be another contender in 2A with their high-scoring backcourt featuring senior Aidan Franks Aidan Franks 6'2" | SG Wapahani | 2023 State IN and junior Isaac Andrews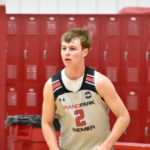 Isaac Andrews 6'1" | SG Wapahani | 2024 State IN . They went just 1-3, but losses came to Gary 21st Century, Harrison (West Lafayette), and Evansville Reitz. Andrews poured in 38 points in a win over North Daviess on Sunday morning.
We've mentioned four teams now and haven't gotten to defending state champion Providence. They were 1-3 on the weekend while playing stiff competition. The Pioneers did knock off Eastern Hancock, another 2A contender, in a rematch of last season's South Semi-State. Senior wing Casey Kaelin Casey Kaelin 6'3" | SG Providence | 2023 State IN was attracting quite a bit of small college attention.
Carroll (Flora) also deserves mention in Class 2A with returning senior duo Jake Skinner Jake Skinner 6'4" | SF Carroll (Flora) | 2023 State IN and Owen Duff Owen Duff 6'2" | SG Carroll (Flora) | 2023 State IN .
Freshmen Names to Know
This was the first opportunity for a lot of people around the state to get eyes on some of the freshmen who will be contributing at the varsity level come winter time. Here are some of the top class of 2026 prospects that made noise over the weekend at the Charlie Hughes Showcase.
DeZhon Hall (Tindley H.S. 2026): 6'2″ left-handed guard that is already a physical presence in the backcourt. He is an excellent driver and finished consistently at the rim. Averaged 13 points per game as Tindley went 3-1 on the weekend.
Luke Ertel (Mount Vernon Fortville H.S. 2026): Super quick and athletic 6'1″ guard with a smooth left-handed stroke. Ertel is ready to make a major impact at the varsity level right away.
Julien Smith (Mount Vernon Fortville H.S. 2026): Like his teammate Ertel, Smith is an explosive athlete in the backcourt and ready for varsity basketball right away. The 5'10″ guard is a good shooter and can score from anywhere on the floor.
Braylen Langley (F.J. Reitz H.S. 2026): Langley is 6'6″ with excellent length. He is still very thin, but has a solid skill level for his size and age. Definitely one to watch with a very high upside.
Ethan Roseman (Bishop Chatard 2026): Talented point guard that has stepped right into running the show in the backcourt at Chatard. Roseman averaged 10 points and 4 assists per game as the Trojans went 3-1.
Booker vs. Bidunga Lives Up to the Hype
Indiana's top Class of 2023 prospect faced off against the Class of 2024 top prospect on Saturday night when Xavier Booker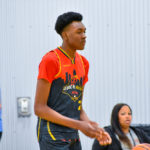 Xavier Booker 6'11" | PF Cathedral | 2023 State #111 Nation IN (Cathedral H.S. 2023) matched up with Flory Bidunga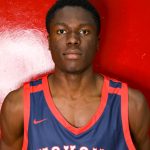 Flory Bidunga 6'10" | C Kokomo | 2024 State IN (Kokomo H.S. 2024). This was a highly anticipated matchup and it 100% lived up to the hype. Booker a 6'11″ 5-star forward, got off to a fast start and had it going from the perimeter. He connected on three three-pointers showing off his impressive skill level at his size. However, Bidunga was answering by dominating around the basket.
Cathedral had built an 11 point advantage, 57-46 heading into the fourth, before Bidunga and company mounted a comeback. The big man scored 10 points in the final period eventually tying the game late for Kokomo. In the end, Cathedral came out on top 72-66 but it was a great showing from the Wildkats down the stretch to make it so close.
Booker finished with 17 points and 9 rebounds while Bidunga went for 27 and 10 rebounds. This was one of the best big man battles we've seen in Indiana in a long, long time.