The IHSAA/IBCA Charlie Hughes Showcase has arguably turned into the biggest recruiting event of the spring and summer months in Indiana. College coaches prefer seeing prospects in a high school setting as opposed to AAU were there is decidedly less structure. With 134 teams, over 30% of all IHSAA schools, divided between Carmel and Westfield over the weekend it was a perfect opportunity for programs at all levels to evaluate many of the top prospects the state has to offer. There already have been multiple scholarship offers handed out since the event came to a close on Sunday afternoon. Now, let's take a look at six prospects who made a name for themselves at the Charlie Hughes Showcase.
Joseph Annan (Pike H.S. 2023): In terms of phyiscal tools, this 6'6″ forward has all you could want around the basket for a small college program. Annan is super bouncy with good verticality defensively, finishes above the rim, and can go get rebounds outside of his area. He even found some success over the weekend stretching the defense out to the perimeter. Really like Annan's game and has had a great spring/summer to get on some college radars.
Zavion Bellamy Zavion Bellamy 5'10" | PG Kokomo | 2023 IN (Kokomo H.S. 2023): The older Bellamy had a really strong performance against Cathedral in a close loss on Saturday night. He is a shifty guard with creative finishing ability. Bellamy knocked in tough floaters in the intermediate range and finished around size at the rim. Handles the ball well, is quick in a straight line, and is strong enough to play through contact. Should have a great senior season in the backcourt for Kokomo.
Dylan Beverly (Franklin H.S. 2023): Beverly first caught my eye at the Pacers Athletic Center Tuesday night league a few weeks ago and played well once again at the Charlie Hughes Showcasing helping to lead the Grizzlies to a 4-0 record. The 6'6″ forward is a versatile offensive threat with plenty of length and athleticism. Really high-upside prospect that is starting to have it all come together.
Sam Bishop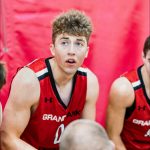 Sam Bishop 6'2" | SG Westfield | 2023 IN (Westfield H.S. 2023): Westfield is in need of guards to step up after losing Mr. Basketball and his Division I backcourt mate. Bishop has filled in nicely this spring and summer culminating in a 10 three-pointer performance against Columbus North. The 6'2″ guard has a quick, smooth release and will be one for small colleges to watch heading into July. He plays with Grand Park Premier Black.
Fola Fayemi Fola Fayemi 6'4" | PF Culver Academy | 2023 State IN (Culver Academy 2023): Fayemi is one of the best defenders you will find in the Class of 2023. At 6'4″ with length and athleticism he can guard just about every position on the floor well. His offensive game continues to come along as well with the ability to attack closeouts and finish up around the rim. He had a great weekend and got some college programs taking notice.
Dareon Thornton Dareon Thornton 6'4" | SF Mishawaka Marian | 2023 State IN (Mishawaka Marian H.S. 2023): Thornton is a super athletic 6'4″ forward that had an impressive weekend for Mishawka Marian. He scored it better than I've seen in the past, rebounded at a high level as usual, and showcased his versatility as a defender. Another forward for small college programs to keep an eye on.