There has been some very impressive talent on display so far this grassroots season on the Prep Hoops Circuit. In order to highlight the talent on the circuit, we'll look at some player highlights and some of the things that they do well on the basketball court.
Xavier Cox (2025, CG, IE Fire Elite, Linfield Christian, CA)
Xavier Cox highlights from #PHHustleMemorialClassic! @_xaviercox_ | @IEFireElite pic.twitter.com/RKZIkbbvSL

— Prep Hoops Circuit 🏀 (@PHCircuit) June 12, 2022
Cox is a dangerous shooter with range extending well beyond the 3 point line. He seems especially comfortable putting it up off a catch and shoot. Cox does a really good job finding not just an open spot along the perimeter, but the RIGHT open spot that puts him in position to get the ball and a look at the rim. 
Spencer Hall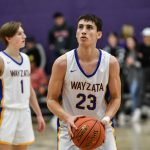 Spencer Hall 6'4" | SF Wayzata | 2023 State MN (2023, SF, Minnesota Fury, Wayzata, MN)
Spencer Halls' highlights from #PrepHoopsLIVE!

➡️ @mnfuryboys @SpencerHall_21 pic.twitter.com/vVeo8Jge9g

— Prep Hoops Circuit 🏀 (@PHCircuit) June 13, 2022
Hall has a nose for the ball and stays incredibly active around the rim. He's very crafty and creative by the bucket with both his finishes and when he dishes the ball off. I like how he looks to catch the ball off a pass in his shooting pocket, helping to make him balanced and controlled on a catch and shoot jumper. 
Philip Randolph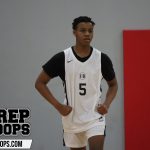 Philip Randolph 6'1" | PG Indianapolis International | 2024 IN (2024, PG, INB 2024 Platinum, Indianapolis International, IN)
Philip Randolph highlights from #PHGritRegionKickOff!

➡️ @IndyNetsbball | @APRandolph5 pic.twitter.com/v6CmlmldmU

— Prep Hoops Circuit 🏀 (@PHCircuit) June 12, 2022
Randolph has a lot to offer as a player and prospect. He has the look of a multilevel scorer. He can get to the bucket and finish on either side of the rim as has nice mid range touch. I really like his game when he attacks the paint off the bounce, where he makes solid decisions and is strong with the ball. 
Daleron Thomas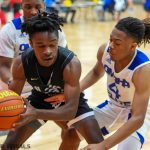 Daleron Thomas 6'0" | SG Omaha North | 2024 State NE (2024, SG, Omaha Elite, Omaha North, NE)
Daleron Thomas highlights from #PHBucketsInTheBigRed!

➡️ @ThomasDaleron @OmahaEliteAAU
🎥 @FreshCoastHoops pic.twitter.com/fTM7DyL1rc

— Prep Hoops Circuit 🏀 (@PHCircuit) June 12, 2022
Thomas is dynamic on the offensive end. He can change speeds at any time, often baffling defenders. Thomas can lull them to sleep, then blow by them and put them on his hip in no time. He's got excellent straight line speed which allows him to get down the floor in transition in a hurry. Thomas is a creative finisher, both on the break and in the half court.
Amari Washington Amari Washington 6'2" | SG Bettendorf | 2025 State IA (2025, SG, Iowa Barnstormers, Bettendorf, IA)
Amari Washington's highlights from #PrepHoopsLIVE!

➡️ @IA_Barnstormers | @AmariWash11 pic.twitter.com/rZbm9fxDrU

— Prep Hoops Circuit 🏀 (@PHCircuit) June 13, 2022
Washington has some of that 'it' factor. He has a nice combination of fluidness of hip movement that make him elusive on the dribble drive. Washington is really comfortable with a scoop finish and he can use effectively in traffic. He also has range on his jumper that extends beyond the arc.