Midwest Live is the only June live period event hosted in Ohio and it brought out some top talent to the Cedar Point Sports Center in Sandusky, Ohio. In this article I'll break down the top 2024 Ohio prospects from Friday night's action.
Jackson Washington Jackson Washington 6'4" | SG Chaminade Julienne | 2024 OH , 6'4 SG Chaminade Julienne 2024: Washington is one of the top shooters in Ohio and proved it once again on Friday by showing off his sweet stroke in Chaminade Julienne's two wins. Washington doesn't need much time or space and he shoots a very high percentage. Washington also threw down a couple transition dunks, as he's a slightly more explosive athlete than I originally thought. I expect Washington to attract a lot of low to mid major interest and it shouldn't be long till he adds his first offer.
Devin Rakestraw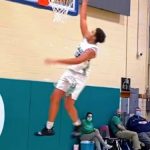 Devin Rakestraw 6'6" | PF Chaminade Julienne | 2024 OH , 6'5 PF Chaminade Julienne 2024: Despite playing without George Washington III George Washington III 6'3" | CG Chaminade Julienne | 2023 State #106 Nation OH , Chaminade Julienne was dominant today, and Rakestraw stepped up without the senior point guard. Rakestraw first came onto my radar playing for Dayton Elite 16 U at a Prep Hoops Circuit event and continued to impress me today. Rakestraw was efficient around the basket and used his bigger frame to grab rebounds at both ends.
Matt Biddell Matt Biddell 6'2" | SG Mentor | 2024 OH , 6'2 SG Mentor 2024: I only caught the second half of Mentor's tight victory, but Biddell showed enough to warrant a shoutout as a top performer. Not only did he come up clutch with a go-ahead 3-pointer with about 30 seconds left, but Biddell played with good poise when attacking the basket. Biddell is a lefty shooter who got some solid experience on varsity last season. With Biddell and some other solid core pieces returning, Mentor should once again be one of the top teams in northeast Ohio.
Raleigh Burgess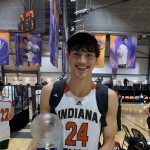 Raleigh Burgess 6'11" | C Sycamore | 2024 State OH , 6'11 C Sycamore 2024: Burgess had a host of high major coaches watching him as Cincinnati rivals Wes Miller (University of Cincinnati) and Sean Miller (Xavier University) watched Burgess right next to each other. Ohio State's coaching staff was also on hand to see what Burgess could do and I believe they all walked away impressed. Burgess was able to show off more of his inside game than he does with Indiana Elite, using his body to gain position and soft hands to catch the ball. While he had some impressive dunks, the most impressive play I saw from Burgess was a catch in traffic into a lefty finish around the rim. That's a play that will translate to the next level. Burgess is a highly pursued prospect by high major programs across the country and should be nationally ranked the next time national services update their rankings.
Baboucarr Njie Baboucarr Njie 6'5" | PF Centerville | 2024 State OH , 6'5 PF Centerville 2024: Njie is a bit shorter than his two older brothers, but still is finding his niche on a stacked Centerville squad. Njie is a high energy forward who hustles for second chance points and uses his long wingspan to block shots on the defensive end. Njie also knocked down a 3-pointer in the corner, showing off a skill I haven't previously seen from him. I think Njie winds up as a scholarship prospect with his physical tools and motor being his main selling points.
Jonathan Powell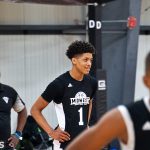 Jonathan Powell 6'5" | SG Centerville | 2024 State OH , 6'4 SG Centerville 2024: Powell is adjusting well to his new squad and had a big time scoring outburst against Brother Rice (MI). Powell has a bit of a funky shot, but it goes it every time I watch him suit up. Powell also had a few attacks off the triple threat where he got to the bucket and finished. With Centerville graduating Tom House and Rich Rolf, they needed to find scoring to replace them and Powell will do just that. Powell has gained offers from numerous high major programs and