The class of 2023 rankings are set to be updated later this month. Here's a look at the new top 10…
1.  Milan Momcilovic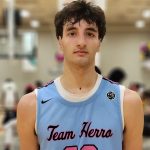 Milan Momcilovic 6'8" | SF Pewaukee | 2023 State #64 Nation WI –  Forward – Pewaukee
Momcilovic has been absolutely dominant and shot his way to a national top 50 ranking.   He's always been a great scorer, but Momcilovic just has this added confidence in his game that's been evident all spring. A mismatch nightmare, Momcilovic  is going to hurt teams by running off screens and hunting 3's, setting up shop on the block, scoring with his momentum going away from the rim, and handling the ball in the open floor — all at 6-foot-8.
2. John Kinziger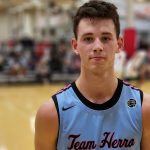 John Kinziger 6'0" | CG De Pere | 2023 State #191 Nation WI – Guard – De Pere
Kinziger has had one of the better springs  among players on this list. The De Pere sniper has shown he's much more than a shooter and can impact the game as a facilitator and a rebounder. The 5-foot-11 guard has been able to produce consistently against the athletes in the EYBL, which has been  — don't want to call it a surprise, but certainly should help Division 1 programs pull the trigger knowing that Kinziger  probably won't be overwhelmed at the next level.
3. Mac Wrecke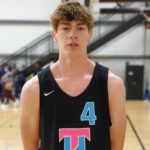 Mac Wrecke 6'5" | SG Arrowhead | 2023 State #192 Nation WI – Wing – Arrowhead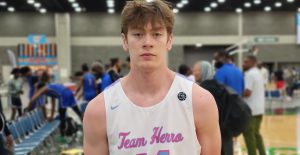 One thing I've learned as a scout — effort and toughness can take a prospect a long way. Wrecke isn't the most skilled basketball player on this list, but  you don't see many guys play harder than him. It doesn't hurt that he's arguably the best pound-for-pound all-around athlete in Wisconsin's 2023 class either. A slashing wing with above the rim bounce, Wrecke can also mix in his jumper from any level and still has some explosive scoring ability starting to bubble at the surface.
4. Cal Klesmit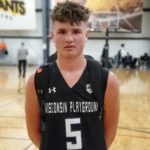 Cal Klesmit 6'2" | CG Neenah | 2023 State #216 Nation WI – Guard – Neenah
Despite the injury, haven't felt the need to move Klesmit out of this spot. Eager to see where he's at when he returns this summer. The Neenah product had a fantastic AAU season a year ago, rising into the top five and starting to generate Division 1 offers. An assassin-like scorer with a killer instinct, Klesmit has in-the-gym range as a shooter and a competitive mindset that allows him to take over games.
5. Jeremy Lorenz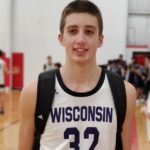 Jeremy Lorenz 6'8" | PF Brillion | 2023 State WI – Forward –  Brillion
Haven't written before that I think Lorenz is on the right track. Been slowly bumping him up this list. The upside has always been there, but wanted the consistency to  catch up. Have seen enough in the Nike EYBL to bump Lorenz into the top five having watched the 6-foot-8 forward compete against the best in the country. As a prospect, you could put him as high as second in this class. A plus-length combo forward with a versatile skillset, Lorenz is still just scratching the surface. He's likely going to get a lot bigger, stronger, and more explosive. Whatever program lands the Brillion star is getting a ball of clay that can still be molded.
6. Prentice Young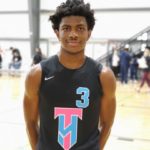 Prentice Young 6'4" | PG Wisconsin Lutheran | 2023 State #304 Nation WI – Guard/Wing – Wisconsin Lutheran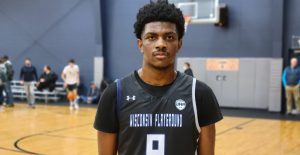 Arguably the best two-way player in the state, Young gets it done on both ends of the floor.  He can also play three positions on the perimeter and has really expanded his game as a shooter in the spring. Mostly, I just like the way he goes about his business. Young is a leader by example. I think others gravitate towards him, especially on the defensive end when they see the work he puts in on that end of the floor.
7. Levi Birkholz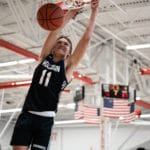 Levi Birkholz 6'2" | SG Lakeside Lutheran | 2023 State #308 Nation WI –  Shooting Guard –  Lakeside Lutheran
Haven't been able to see too much of Birkholz this spring, but have seen enough over the last two years to know he's not going anywhere in this top 10. A dog on the floor, Birkholz is a high motor wing and a high flyer who catches just about everyone by surprise. Arguably the best leaper in this class, Birkholz is a slashing guard that can beat defenders with power or finesse. He's gradually improved his jump shooting ability as well, which should make him a high priority for numerous Division 2 programs and should keep the D1's interested. 
8. Riley Brooks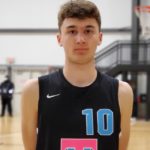 Riley Brooks 6'5" | SG Ripon | 2023 State #290 Nation WI – Shooting Guard –  Ripon
Brooks has a very intriguing build. He's 6-foot-5 with length and not even close to  rounding out physically. Combine that with his 3-point sniping ability, I think college coaches have something really good to work with. The EYBL can shrink the game of a lot of guys, but I think Brooks has not only had some moments and spurts, but can do more, especially as a mid-range creator, than he shows in that setting.
9. Robert Peters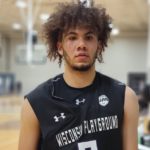 Robert Peters 6'8" | PF West Allis Hale | 2023 State WI – Power Forward – West Allis Hale
There's a lot of similar bigs in this class — guys with high ceilings who are tough to gauge at the next level. I'm giving Peters the nod over a couple other guys. Thought the 6-foot-8 forward had a really good high school season and was starting to come on last July. Physically, he's got an edge too. Peters isn't a project who needs to get bigger and stronger.  He's already an enforcer around the rim and if all else fails can bring that to the table.   He's shown flashes of promising footwork on the block and is starting to handle and shoot it from the perimeter as well.
10. Luther Smith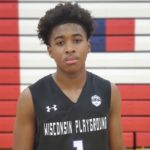 Luther Smith 6'1" | SG Sussex Hamilton | 2023 State WI – Guard – Sussex Hamilton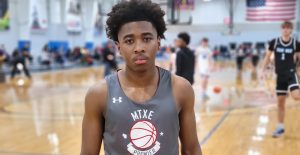 Not gonna write Smith off for a top six spot in this class when all is said and done. Offensively, he's top five. Perhaps the best shooter in this class, Smith can absolutely fill it up and is one of those guys just not bothered by a hand in his face. The 6-foot-1 guard has the green light whenever he touches the rock. He's a little bit of a tweener, but Smith isn't just a one-trick pony either. He plays very strong for his size and can take a bump at the rim.  He's going to do most of his damage as a jump shooter, but Smith has figured out how to work himself out of a funk at times by getting downhill  and getting something easy  to re-establish a rhythm. 
Knocking on the door: Tyran Cook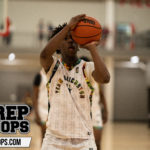 Tyran Cook 6'2" | CG Waukesha South | 2023 State WI (Waukesha South), William Whorton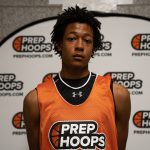 William Whorton 6'8" | PF Milwaukee King | 2023 State WI (Milwaukee King), Simeon Murchison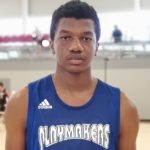 Simeon Murchison 6'8" | PF Milwaukee Hamilton | 2023 State WI (Milwaukee Hamilton)