The Class of 2023 has some players that will play at the next level and the major question is at what level will their game be better suited at. We have some players that are for sure D1's and a lot of player sin this class that will be boarder-line players that could go either way. 
6'0 G Yorgio Golesis Yorgio Golesis 6'0" | SG Skyline | 2023 State UT || Skyline High School || 2023 ||
If I was an NJCAA D1 I would really take a hard look at Yorgio as a potential player to add to my list because he is a talented player on the floor. He is string as his his frame has really taken shape over the past few years. His handle is great and he is always looking to attack when he ha sthe ball in his hands. He stays low to the ground and it allows him to explode off the dribble when he is ready or when he sees the defense relax. When it comes to reading the defense he does a great job of changing speeds to control the pace with his dribble as he combines his dribbles from moving forward or back that keeps defenders off balance. The penetration is often a product of his ability to really shoot the ball with rand and often times it is hard to really know when he is going to pull-up as he demonstrates so much creativity off the dribble. Off the ball he is getting better at finding angles and simply moving around creating space with his movement. he is not at all a finished product but he could be a very valuable piece that will provide scoring and play making ability. 
6'6 W Justus Jackson-Fobbs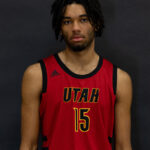 Justus Jackson-Fobbs 6'6" | SF Cyprus | 2023 State UT || Cyprus High School || 2023 ||
When it comes to wings there is one thing that many of them have in common and that is that they are not commonly found. This is where a player like Justus could really be a find for a LM Division 1 school looking to add a player that can play the 3 and hold he is own with other player son the floor. On the floor Justus runs the floor on both ends of the ball and he can be a lane filler as he gets to the rim or space out and create even more space with his ability to hit the three. On the defensive end of the ball Justus can stock a defender and allow himself space to recover on a drive but contest with his agility. When moving laterally he can really stay in-front and compete at a high level. He stays fundamental finding bodies to box-out. He is able to clean up the glass and start a break by pushing the ball up the floor which bodes well for teams looking to get out and run, which is almost everyone at the next level. His handle is not elite but he has improved over the years and has room to get better at it. Offensively he is a straight-line driver that is athletic, he crashes the o-boards and can hit those kick-out shooting opportunities. With room left to improve he is worth the time and development at the next level. 
6'5 G Chudi Anosike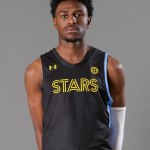 Chudi Anosike 6'5" | CG Murray | 2023 State UT || Murray High School || 2023 ||
Not only is Chudi one of those players we have been tracking since 8th grade but he is a player that has slowly added more and more to his game through the years heading into his senior year. Chudi went from a kid who would occasionally show a glimpse of what he could be to a more consistent player that has decided to play both ends of the floor. This growth is important because it has really bolstered his stock over the past few months. On the offensive end he is explosive at all three-levels. He gets to the rim when he wants and he finds different ways to finish. He does play above the rim but he does not rely on that aspect of his game to get him his buckets. He is killing it in the mid-range as his game takes a massive leap. When it comes to his outside shooting he has improved that as well. Total game has improved and giving him a handful of offers from LM to MM schools. He is talented and can score. Defensively he improves daily , playing those lanes and getting out in transition as quickly as possible. 
6'0 PG Quentin Meza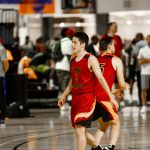 Quentin Meza 6'0" | PG Cyprus | 2023 State UT || Cyprus High School || 2023 ||
Quentin is another player that has impressed throughout his playing career. It almost seems like he is out there to prove it every time he touches the floor. Quentin is a prolific scorer and although he has chances to score on various possessions he is making the right reads and plays. His assist have steadily gone up as have his steals and rebounds. Quentin is a triple-double watch type of player every game. At the highest level he has proved he could score against taller players and on the other side of the ball he has proved he could defend and hold his own against bigger players as well. Quentin is a LM D1 prospect that can score and find others with his vision and creating ability. When he gets to the next level he has the drive to take it to another level.