Midwest Live brought out some top Ohio and Michigan talent to the Cedar Point sports center in Sandusky, Ohio. In this article I'll break down the top 2023 performers from Friday's action.
Marlon Barnes Marlon Barnes 6'5" | SF Brush | 2023 State #226 Nation OH , 6'5 SF Brush 2023: Barnes is one of the best tough shot makers in his class as he uses his length and shooting ability to hit some shots that amaze me. Barnes is a big-time shooter who was a key reason why Brush came back against Grand Blanc (MI) before a buzzer-beating 3-pointer. Barnes has good length defensively and ideally will be a 3 and D wing at Pittsburgh next season.
Markell Johnson Markell Johnson 6'0" | CG Pickerington Central | 2023 State OH , 6'0 SG Pickerington Central 2023: Johnson was a pest defensively for a Pickerington Central squad that struggled today against two of the best teams from Michigan. Johnson really gets after it and had multiple steals which led to easy transition buckets. Johnson plays at a fast tempo and just makes stuff happen at both ends. His development will be key if the Tigers want to repeat this season.
Bryce Darbyshire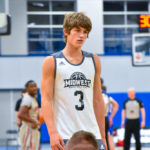 Bryce Darbyshire 6'3" | SF Sycamore | 2023 State OH , 6'3 SF Sycamore 2023: Darbyshire and Austin Southerland Austin Southerland 6'1" | SG Sycamore | 2023 State OH both impressed me, but I decided to spotlight Darbyshire as he impacted the game in a variety of ways for Sycamore on Friday. Darbyshire used his size to bully smaller defenders around the basket as his strength is a clear advantage against smaller guards. Darbyshire also knocked down some open shots and did a little creating for his teammates. Sycamore is expected to compete for a conference title and will look to get continued production from their senior core that returns a lot of experience.
Khoi Thurmon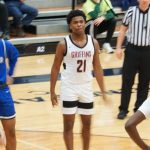 Khoi Thurmon 6'1" | PG Buchtel | 2023 State OH , 6'0 PG Akron Buchtel 2023: Thurmon was the leading scorer of any game I watched today as the lefty point guard was filling it up against Lansing Waverly (MI). Thurmon was getting to the rack in a variety of ways and attacking more often with his right hand than I'm used to seeing. If Thurmon can more consistently attack with his off hand, it will make him more difficult to stay in front of at the next level. Thurmon is also a good shooter from the outside as he made a few triples in the game as well.
Gabe Cupps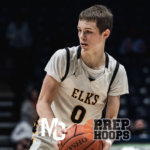 Gabe Cupps 6'1" | PG Centerville | 2023 State #110 Nation OH , 6'1 PG Centerville 2023: Cupps is one tough customer from the point guard spot and put forth a business-like performance in a tight loss to Brother Rice (MI). Cupps does a great job of using his dribble drive game to kick out, making his best passes after collapsing the defense. Cupps is also an efficient shooter from the outside and gets after it defensively. I expect Cupps to compete for early playing time at Indiana but not before he attempts to become a two time state champion this winter.