This weekend's WIBCA showcase was packed with names from our new 2023 rankings, as well as many others making strong cases to put their names on that list. This gave us a chance to see early growth from the spring period from guys we know, and guys who have been working off our radar. Here's a quick glance at some of the players who caught my eye, and the skills that made them stand out.
Devin Gilbert Devin Gilbert 6'5" | SF Cascade | 2023 State WA 6'5 | SF | Cascade
Athleticism, Finishing, Strength
This was the first time I got to see Gilbert in person, and it made all the difference. On film, he showed good touch around the rim, a willingness to work on the boards and live around the paint. In person though, Gilbert's explosiveness was undeniable. He's a big kid who looks like he's getting stronger and loves to run the floor. He was busting it to get involved in every fast break and finish with authority. He had a few alley-oop dunks that had him looking like a man amongst boys. Gilbert came on strong his junior year and has kept that momentum and growth churning. 
Daniel Crowley VI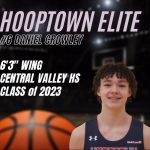 Daniel Crowley VI 6'3" | SG Central Valley | 2023 State WA 6'3 | SG | Central Valley
Quiet Killer, Strong Hands, 3 PT Shooting
Crowley flashed potential as a reliable stroker from long range last year who mixed in some good work on the boards. At the showcase, he reaffirmed those flashes and more. He is cool and calm from beyond the arc with a consistency that draws defenders out. The difference I saw this weekend was his intent on working inside more. He was a beast inside but he did it under control, with strength and patience. He pulled down offensive boards and held the ball strong under pressure, waiting to go back up with it when the time was right. He's got good feet with a nice baseline drive off pump fakes from the corner. He's taking that inside, outside scoring ability to the next level.
Wesley Bjornsgard 6'4 | SF | Capital
Post Defense, Sneaky Athlete, Compact with Ball
The first thing that stood out was his defensive effort against Maverick Sanders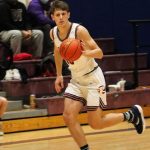 Maverick Sanders 6'5" | SF Mt Spokane | 2023 State WA . Sanders is a physical player that can score from all levels but Bjornsgard made it tough from the go for him. Wesley is a stout 6'4, who's got the quick feet to stay in front and the discipline to stay down on fakes. He made just about every shot Sanders took, a tough one. Later on in the day, Bjornsgard showed off some sneaky leaping ability, almost finding the end of an alley-oop. When he has the ball, he's compact from the jab to the shot. Bjornsgard is an all-around contributor that could sneak up the ranks this year.
Reese Snellman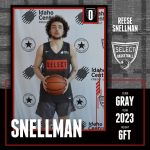 Reese Snellman 6'1" | PG Ferris | 2023 State WA 6'1 | PG | Ferris
Quick Wiggle, Inside Finisher, Leader
The stocky point guard is a wiggler who can absorb contact and get to the rim. This was my first peek at Snellman and I can't wait to see more. He's a calculated player with an above-average handle and quickness that had him dissecting defenses with drives. He sees his path and can burst towards the rim and scoop it up, or hop-step, gather and float one up from the middle. Even in an event playing with some guys for the first time, Snellman was communicating during plays and in-between action. He is definitively one to watch in the 2023 class.