The 2023 rankings update saw a lot of new names joining the rankings. In this article we'll be breaking down some of the top guards and wings that were just added to the rankings.
Will Scott Will Scott 6'0" | PG Archbishop Hoban | 2023 State OH , 6'0 PG Archbishop Hoban 2023: Scott had a solid junior season playing next to Jonas Nichols Jonas Nichols 6'3" | SG Hoban | 2024 State OH in the backcourt for the district champions. Scott plays with good pace and can be a threat on and off the ball with his capable spot-up shooting. Slashing to the paint is Scott's best trait and I'd expect Scott to get some looks from scholarship programs and be heavily pursued by Division III programs this summer.
Evan Dickey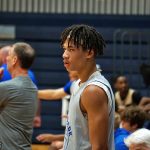 Evan Dickey 6'4" | SG Chaminade Julienne | 2023 State OH , 6'4 SG Chaminade Juliene 2023: Dickey had a breakout season as a junior for Chaminade Juliene as the lengthy guard is starting to figure some things out. Dickey had most of his driving success of two feet in the paint and prefers to jump from a two-foot base. Dickey can make open shots from the outside but is best in transition where he can use his size and long strides in transition. Dickey has some intriguing upside and could be a prospect who you look back in three-four years and he made a big impact at the next level.
Stanley Clyne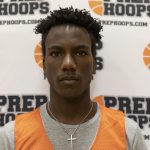 Stanley Clyne 6'4" | SG Tippecanoe | 2023 State OH , 6'4 SG Tippecanoe 2023: Clyne was one of the most productive players in the Dayton version of the MVL this past season, finishing near the top of the league in scoring, 3-point shooting and steals. That kinda describes the type of prospect that Clyne projects at the next level. Clyne is a good defender who isn't afraid to defend the opposing team's best player and will be able to make an impact offensively with or without the ball. Clyne will be highly pursued by small college programs this summer.
Rayvelle Duncan Rayvelle Duncan 6'3" | SG Cleveland Heights | 2023 State OH , 6'3 SG Cleveland Heights 2023: Duncan and PG Shemarion Hardy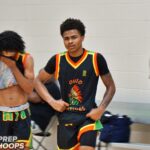 Shemarion Hardy 6'1" | PG Cleveland Heights | 2023 State OH were key pieces for a Cleveland Heights squad that relied on toughness to exceed expectations last season. With a majority of their rotation returning and some new pieces filling in, Heights could once again be one of the top teams in northeast Ohio. Duncan found success as an off guard attacking closeouts and knocking down open shots. I was also impressed with Duncan's high pressure on-ball defense with the Tigers. I expect to see Duncan and the Tigers a lot in June and during his senior season.
Izaiah Day Izaiah Day 6'2" | SG Middletown | 2023 State OH , 6'2 SG Middletown 2023: Day was super efficient for a Middletown squad that pulled off some impressive upsets last season. Day shot almost 60% from the floor despite being an inconsistent outside shooter at just 32% from 3-point range. I liked Day's driving ability and finishing around the basket. Day showed out for Midwest Basketball Club Black alongside Clyne, Austin Southerland Austin Southerland 6'1" | SG Sycamore | 2023 State OH and some other impressive guards. I expect Day to be one of the more impactful players in the highly competitive GMC next season.