Prep Hoops Wisconsin hands out our 2024 superlatives for the spring…
BEST PLAYER: Kon Knueppel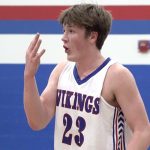 Kon Knueppel 6'6" | SG Wisconsin Lutheran | 2024 State #56 Nation WI
Can definitely see Knueppel being a blueblood prospect by this time next year. The 6-foot-5 wing is the total package and has had a phenomenal spring in the Nike EYBL. In fact, in three games, didn't see a player on the floor better than the Wisconsin Lutheran standout. The sweet-shooting sophomore owns offers from Miami (FL), Illinois, Marquette, Texas A&M, Notre Dame, Wisconsin, Iowa, USC, Minnesota, and others. Would expect his July to be very busy.
BIGGEST STOCK BOOSTER: Nolan Minessale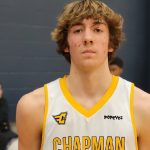 Nolan Minessale 6'5" | SF Marquette | 2024 State WI
Don't think anybody will rise quite like Minesalle in the next rankings update.  Having as big of a spring as just about anyone in this class, Minessale has put up huge numbers. A plus-length wing who can impact the game in a lot of ways, Minessale  has dominated a lot of upper level competition. A plus-length wing, Minesalle is a terrific leaper who  also has the athleticism to block/alter shots, play the passing lanes, and get on the offensive glass at a high rate.
BIGGEST SURPRISE: Keaton Frisch
Keaton Frisch 6'7" | SF Waunakee | 2024 State WI
Knew he had a chance to be good. Didn't think it would come this soon. The Waunakee prospect has taken off like a rocket this spring and is rapidly developing into a marquee prospect in this state. He's lanky and raw physically, but don't let that fool you. Frisch has a lot of dog in him. The 6-foot-6 combo forward is an explosive jumper who loves to mix it up and stick his face in the fan on the offensive glass. Think there's some budding versatility here as well. Frisch can score with his back to the basket, but also shows flashes of being able to handle the ball and take guys off the dribble.
2024 forward Keaton Frisch Keaton Frisch 6'7" | SF Waunakee | 2024 State WI (Waunakee) is becoming a problem!@keatonfri @PGC_Playground @gymratsbball pic.twitter.com/yqCoJDpVLI

— Prep Hoops Wisconsin (@PrepHoops_WI) May 3, 2022
MOST WELL-ROUNDED: Will Hornseth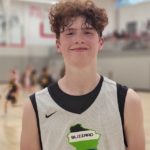 Will Hornseth 6'8" | PF De Pere | 2024 State #217 Nation WI
Knueppel is the obvious pick, but just to throw another name out there, Hornseth is another guy who can stuff the stat sheet. Hornseth is just the total package as a post prospect. He's got great hands, can pass out of the double team,  establish deep post position, own the glass on both ends, and score with either hand.  The De Pere standout is going to continue to expand that game as well as a 3-point shooter and ball handler. Would anticipate that Hornseth takes his game more of the perimeter as he gets older.
BEST SHOOTER: Nick Janowski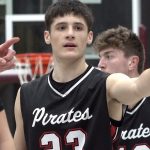 Nick Janowski 6'3" | CG Pewaukee | 2024 State #71 Nation WI
A lot of different ways to break down shooting, but think Janowski owns this top spot when you talk about all the different ways he can put the ball in the hole from every level. The Pewaukee star has a mean step-back game or can just simply rise up and drain shots with a hand in his face as if he's playing on air.  Probably better as an on-the-ball scorer, but Janowski can also hunt and snipe shots off the ball as well. 
BEST DEFENDER: Tamarrein Henderson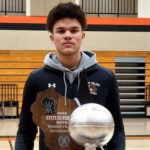 Tamarrein Henderson 6'4" | SF West Salem | 2024 State WI
Henderson is terrific at playing the passing lanes. Along with his lateral quickness, the West Salem product just doesn't give up many straight-line drives. He's an athletic kid too that can make some plays defensively at the rim. Always engaged on that end of the floor, Henderson relishes being a stopper and you don't see him take plays off.
BEST PASSER: Joey LaChapell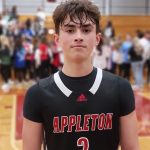 Joey LaChapell 5'10" | PG Appleton East | 2024 State WI
Lachappel can certainly score it, but he's got terrific vision and a unique feel for the game as a point guard.  The Appleton East product operates well in the pick n' roll and sees all four of his teammates on the floor. A lot of times defenses think they have him bottled up and Lachapell just finds  an outlet on the other side of the floor.
MOST VERSATILE: Theo Schofield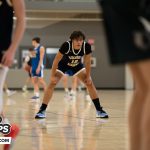 Theo Schofield 6'5" | PF Sun Prairie | 2024 State WI
Think Schofield has the best inside-out ability as a scorer and is the most positionless player in this class right now. The Sun Prairie wing/forward can beat defenders with finesse or strength. He's able to serve a point-wing role as well as be a go-to scorer on the block.  Terrific blend of size, strength, athleticism, and skill — a prospect that's just realizing his potential. 
BIGGEST UPSIDE: Sekou Konneh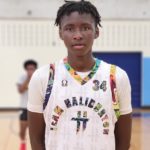 Sekou Konneh 6'6" | SF St. Thomas More | 2024 State #244 Nation WI
Konneh has matchup nightmare written all over him. A long, athletic, 6-foot-7 wing, Konneh  has the highest ceiling in this class. Konneh is  getting better and better seemingly with each tournament.  Right now, he's going to make most of his noise in the open floor, but has quietly developed a strong mid-range game. With his length and lateral quickness, Konneh can also defend four, maybe five positions. 
TOP SLEEPER: Jonathan O'neill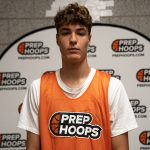 Jonathan O'neill 6'9" | PF Kaukauna | 2024 State WI
O'Neill is currently ranked in the early 40's, but he's got top 25 potential.  Wrote this just last week about the Kaukauna forward:
"Like that O'Neill understands where he's at and how he needs to be successful right now.  His Blizzard team already has plenty of offensive firepower. You talk about being a star in your role, that's what O'Neill  does. He just wins on the glass, owns the offensive glass, and generated a ton of  second chance opportunities.  O'Neill was able to score on post touches a bit when his number was called. A long, bouncy, and tenacious athlete, O'Neill is still scratching the surface of his potential, but certainly seems far from satisfied with the way he gets after it on the floor."
BEST ATHLETE: Tayshawn Bridges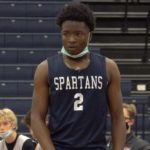 Tayshawn Bridges 6'2" | CG Milwaukee Academy of Science | 2024 #86 Nation GA
Sometimes it's just get the ball in Bridges' hands and get out of the way.  The top 100 guard is so dangerous when he gets a head of steam to the rim. He's so strong, quick, and able to adjust at top end speed that defenders just aren't going to knock him off the path. Bridges can put it on your head and is absolutely fearless when attacking the bucket. He'll occasionally fly in out of nowhere and finish off a putback dunk, even at just 6-foot-2. 
Filthy finish in transition by Tayshawn Bridges Tayshawn Bridges 6'2" | CG Milwaukee Academy of Science | 2024 #86 Nation GA .@TayshawnBridge1 pic.twitter.com/eSNHUSiqFF

— Evan Flood (@Evan_Flood) February 20, 2022