Roots Academy-2025, and Deny Basketball-2025, Finished Saturday undefeated at 2-0. Spokane Squatch-2025 2-1. Global Basketball Club-1 finished 1-1 as did Catch Spokane- Fresh-2025. Global Basketball Club 2025-2 finished 1-2, Prospect Kids-2025 1-2, and Rose City Basketball-2025 0-3. Here are some notable players from Saturday's games.
Roots Academy-2025
Kenyon Simmons-2025-Timberline
The 6'2 Simmons featured several impressive buckets, mainly coming from tough drives to the hole using a variety of spin moves, cross overs and overpowering the defense in the second game for Roots, earning player of the game honors, and looking like the best athlete on the floor for much of the game. He was much more aggressive in this one and came away with double figures scoring. Most if not all, coming in the paint. He's a big kid, and he uses his athleticism well when attacking the hoop. He also scored three the non-conventional way, using his strength to go through the defense and complete the three point play on at least one of those drives. He definitely was an eye catcher in this game and was aggressive, taking the ball to the hole with a purpose each time, and doing it under control.
Noah Schow-2025-Tenino
Showed big time promise in both games. Hes both athletic and can really move well and run the floor as evidenced by him grabbing a defensive rebound and taking it coast to coast to finish with a nice soft floater in the lane. He was consistently active on the boards and battled down low getting both offensive and defensive rebounds on a regular basis. He has a soft touch that he was able to use with floaters in the lane multiple times. Great athlete who showed hustle and great ability to run the floor with his 6'4 wiry frame. I could see this kid becoming a big time scorer in the years to come and a double double machine He's a hard worker and should develop into a multi level scorer. He should play a big role for his High School team next season as he seems ready to contribute both by scoring and rebounding. Hes also active and can cover all over the floor on the defensive end.
Carson Bognor-2025-Mark Morris
The smooth lefty did a little bit of everything for his team. He scored consistently in both games, rebounded, handled the ball well enough to be trusted to bring it up the floor if given that opportunity. He doesn't have any weaknesses to speak of and is the type of player that is really fundamentally sound.  His biggest asset maybe being the ability to play guard or if he grows, which he surely will in the next few years, he showed that he will also crash the boards and bang down low when opportunity arises. Good all around player with a lot of potential to become a very good one. If he lives in the gym, expect big things from him at Mark Morris. Under control and also has a nice shot. All those things, as I said, should improve a ton in the next few years. Solid frame also allows him to be effective on the defensive end, and showed that using his athleticism to bother opposing players on the perimeter.
Dalton Stevens-2025-Mark Morris
Also a player of the game winner, he plays much the same way as his school mate Bognor. He showed the ability to finish on the break with contact. He hustles and seems to be all over the floor. Plays smart and doesn't make too many bad basketball plays. He looks like he will also be that solid fundamentally sound player, and the potential for big gains in the nest 3 years is no doubt there. Could become a big time scorer, as he continues to develop the all around game that he showed. At 6'0, he already has decent size for a guard and could become a great slashing type player who does a little bit of everything for his team. Good all around player with great potential. 
Catch Spokane Squatch-2025
Nathan Mollet-2025-Lewis Clark
Did most of the ball handling for the Squatch team. He also hit multiple threes in the last game I watched. Played smart, and had the occasional drive to the hoop finishing with floaters in the lane. He seemed to be the kid to step up and be willing to take those open threes and he made most of them with his high arching shot from deep. Made some nice drive and kicks and showed potential on his runner from the baseline a couple times. Took good care of the ball and played within himself, also getting teammates involved on drive and kicks for open threes.
James Severn-2025-Grace Alliance Ch.
Big time rebounder with great size at 6'3, and athleticism down low. Finished a number of times on layups off of offensive rebounds and putbacks. Played aggressive and worked hard at getting those rebounds and was always more than willing to play physical using his size to his advantage and it was effective. Scored on some easy layups on nice passes from a multitude of guards who played well together. He will be a big-time rebounder and should keep growing which will make him a force in the paint. This team was well balanced and mostly guard heavy but with a big like Severn they were able to get two big wins Saturday despite him being the only player on the roster over 6'0.
Global Basketball Club 1
Quincy Brown-2025-Hazen
Among the leading scorers for his team on the day. He was also very active around the hoop and rebounded very well. Good size and a good athlete who goes after rebounds. Was impressive in one of the games I watched, scoring on put backs and little turn around jump hooks. Great athlete who should be a big-time player as he gets older. Took over for his team at times and most of that was just pure effort plays. He got after it and he did so often.
Cole Gangwith-2025-Woodinville
Showed me lots of potential and even though it was in a losing effort, I still gave him player of the game. Scored on nice moves around the hoop. Was effective putting it on the floor a couple dribbles and getting there on more than one occasion. Showed nice touch and lots of potential with his great footwork inside. Was probably the leading scorer in the game vs Squatch. If he gets after it on the boards and continues to work on his inside game, he will turn into a good one. Plays with a smoothness that screams potential and he will no doubt grow taller than the 6'4 he already is, making him a potentially lethal weapon on the block.
Lars Pijpker-2025-Bellevue
I was impressed with this kid's floor game. handles the bell well, looks like a true point guard who will develop into a great slasher who already possesses a nice looking shot from deep, hitting a few threes himself. Smart player, who seems to have a really good understanding of the game.
Matthew Cleary-2025
This kid had some really nice looking drives to the hoop, more often than not, going to his left and finishing with crafty left-handed layups. And he did this often. Always under control. Some of his moves were pretty impressive and he'll no doubt be effective at getting into the paint whenever he gets a chance, which was usually whenever he wanted to. He can also knock down shots if you leave him open. Skilled player.
Deny Basketball 2025
Caden Hoppes-2025
This kid really gets after it on defense. He was one of the main catalyst of the full court pressure defense that his team created havoc with. A strong kid who really gets into you defensively. He didn't take plays off on the defensive end and forced multiple turnovers. He also showed a nice ability to drive the ball to the hoop using that strength. He earned player of the game mostly for his willingness to play defense and to play it well.
Justin Han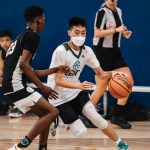 Justin Han 6'1" | SG Valley Catholic | 2025 OR –2025
I am mentioning him because he had some really nice drives and finishes to the hoop. He was crafty, and that stood out on several occasions with him getting himself to the hoop and scoring.
This team was pretty well balanced and could probably name any number of kids here but those two stood out for the specific reasons I listed. All good ball handlers on the perimeter and bigs who can score. With the pressure defense they will be tough to beat.
Global Basketball 2025-2
Kai Brooks-2025-Auburn Academy
Player of the game for his hustle. He was all over the court and on the floor after loose balls, you name it he showed great hustle. He also had some nice driving floaters in the lane and knocked down open threes. Once he grows a little more, he will be a tough kid at the guard position and ran the point most of the time for his team. Good at getting into the lane. A bit undersized but makes up for it with hustle and heart.
Garrett Bold-2025-Bellevue Christian
Big kid and active. He got a ton of rebounds for his team and was always right in the mix down low. Showed ability to make shots at the rim when they came to him but was definitely most impressive with his rebounding, which is why I gave him player of the game vs Rose City in a close one to the wire. He got rebounds when they needed them. Tough Kid.
Catch Spokane Fresh-2025
Treshon Green-2025-Rogers
Athletic big who rebounds very well and plays tough inside. Knows his role and does a good job at it. Got a lot of offensive Rebounds and put backs. Sometimes more than one per trip. Good motor that works hard and is also tough on the block.
Brady Krebs-2025-Rogers
Showed a good all around floor game and can knock down open looks. Smart player who didn't make many mistakes with the ball in his hands. 
Rose City Basketball
Nikhil Chaudhari-2025-Jesuit
Played hard and showed some good skills both handling the ball and the ability to get his shot off even though he was one of the smallest players on the court. 
Rashaad Ahsan-2025-Sunset
Played active and was good on the glass for his team. Played hard and showed a good motor going after 50-50 balls and helped keep his team right in the game up until the final few seconds in the final game for Rose City.
Prospects Kids-2025-No Roster Available