Now that we've had a day to comb through some statistics, talk to some other scouts that were covering the event, and review notes, it is time to start doling out some top performer lists. These prospects had the best weekend overall from the action that I was able to cover. Let's begin with the Class of 2024.
Isaac Andrews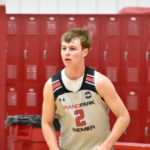 Isaac Andrews 6'1" | SG Wapahani | 2024 State IN (Wapahani H.S. 2024/Grand Park Premier UAA 2024): Andrews had a great weekend scoring the basketball and shooting it well from beyond the arc as he typically does. Had 20 points in Grand Park's loss to Indiana Elite.
Flory Bidunga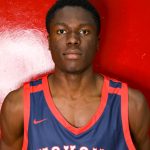 Flory Bidunga 6'10" | C Kokomo | 2024 State #3 Nation IN (Kokomo H.S. 2024/Indiana Elite 2024 3SSB): The Kokomo big man continued his breakout spring with a strong performance leading Indiana Elite to the championship game of the 16u division. Bidunga was dominate around the basket on both ends and rebounded at a high level as usual. Arguably the best prospect in Fort Wayne for Run N Slam.
Kanon Catchings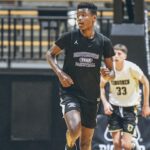 Kanon Catchings 6'6" | SF Brownsburg | 2024 State #134 Nation IN (Brownsburg H.S. 2024/Indy Heat 2024 EYBL): This high-upside wing is still just scratching the surface of his potential. Catchings got going in a big way in the second half against Indiana Elite pouring in four three-pointers on his way to a team-high 18 points. HIs team came up a bit short, but it showed the 6'5″ guards ability to catch fire.
Jack Cherry Jack Cherry 6'1" | PG Guerin Catholic | 2024 State IN (Guerin Catholic 2024/Kyle Guy Elite White 2024): Cherry is a skilled guard that had a big weekend while leading Kyle Guy Elite White to another strong tournament performance. He had 21 points, 8 rebounds, and 4 assists in a win on Saturday that was super impressive. 
Cannen Houser
Cannen Houser 6'4" | SG Fort Wayne Carroll | 2024 State IN (Fort Wayne Carroll H.S. 2024/Indy Heat Red 2024): Houser had a few big scoring outbursts at Run N Slam helping Indy Heat Red to a 5-1 record. His 22-point performance Saturday night definitely turned some heads as the 6'3″ guard continues to showcase his scoring prowess.
Jevon Lewis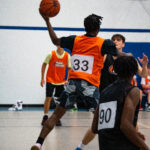 Jevon Lewis 5'9" | PG Fort Wayne Wayne | 2024 State IN (Fort Wayne Wayne H.S. 2024/OPS Black 2024): A smaller 5'9″ point guard, Lewis showed that his stature certainly doesn't keep him from scoring the basketball at a high level. The lefty poured it in for OPS Black all weekend long in Fort Wayne including a couple 20+ point outbursts. Super creative playmaker. 
Jordan Lomax
Jordan Lomax 6'3" | SG Avon | 2024 State IN (Avon H.S. 2024/Indy Heat Red 2024): A dynamic scorer who can get it done all over the floor, Lomax had some big games for Indy Heat Red in Fort Wayne as they went 5-1. Great athlete, long, and can create for himself off of the dribble. Really starting to come into his own as a prospect.
Jaxon Pardon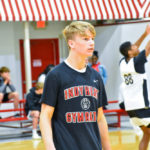 Jaxon Pardon 6'4" | SG Fort Wayne Carroll | 2024 State IN (Fort Wayne Carroll H.S. 2024/Ohio Buckets Garcia 2024): It was a great weekend for the Fort Wayne native playing in his home city at the Run N Slam. Ohio Buckets Garcia fell to Meanstreets, but Pardon scored 16 points showing impressive shot-making ability. Earlier in the day he scored 20 points in a win over Shining Stars Price.
Colin Taylor (New Castle H.S. 2024/Indiana Elite Team Indiana 2024): There weren't many prospects who shot the ball better in Fort Wayne than this 6'2″ guard. Taylor poured it in from beyond the arc multiple times on the way to Indiana Elite Team Indiana's 6-0 Trey Lyles Platinum Bracket championship.
Tucker Tornatta (Evansville Memorial 2024/Kyle Guy Elite White 2024): This 6'7″ forward continues to make a name for himself with consistent double-doubles over the course of the spring. Tornatta had a great month of April to jump onto the scene and should continue to garner more attention statewide. Excellent rebounder and scorer around the basket.